Web Tools
CSS3 Generator - By Eric Hoffman & Peter Funk. Toldo · La forma más fácil de abrir una tienda online. WebRTC. Un 2012 a todo Javascript! | Processing Café. Comienza un nuevo año y es un buen momento para aprender una nueva tecnica o ponerse a programar en un nuevo lenguaje pero cual es la tecnología más puntera del 2012?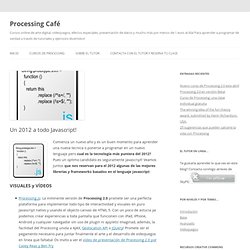 Pues un optimo candidato es seguramente Javascript! Veamos juntos que nos reservan para el 2012 algunas de las mejores librerías y frameworks basados en el lenguaje Javascript! VISUALES y VÍDEOS Processing.js: La inminente versión de Processing 2.0 promete ser una perfecta plataforma para implementar todo tipo de interactividad y visuales en puro Javascript nativo y usando el objecto canvas de HTML 5. Supersized - Full Screen Background Slideshow jQuery Plugin. Samples - Wireframes made with MockFlow. Creative Jobs and Freelance Opportunities at Behance.net. Isotope.
jQuery Quicksand plugin. Quicksand Reorder and filter items with a nice shuffling animation.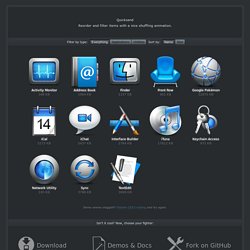 Activity Monitor 348 KB Address Book1904 KB Finder 1337 KB Front Row 401 KB Google Pokémon 12875 KB iCal 5273 KB iChat 5437 KB Interface Builder 2764 KB iTuna 17612 KB Keychain Access 972 KB Network Utility 245 KB Sync 3788 KB TextEdit 1669 KB. Email Previews and Email Marketing Analytics - Litmus. Google Streetview Static API – Jamie Thompson. It is possible to extract both thumbnails and higher resolution images (tiles) from the Google Streetview service through an unpublished, undocumented API which I will document below.
Google have not publicly released this API, but nor have they sought to secure or even obfuscate it in any way. To me, this is about as open an invitation as it gets. You might have noticed that more often than not, when viewing a location on Google Maps nowadays you get a little Streetview thumbnail linking to the appropriate location on Google Streetview. Free PDF to Flash Page Flip converter. Dear users, We are sorry to announce that we have decided to shut down our pdf to page flip conversion service.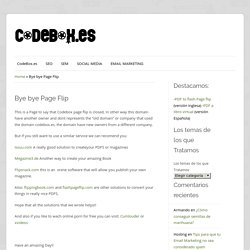 The main reason why we've made this decision is because we believe in providing a service of quality with good support, and this is not the case. This project started as a small support tool for one of our clients. Since we thought it profitable for some other users, we decided to publish it as a free service with a simple user interface. jQuery Mobile. Google Maps API Styled Map Wizard. Navigate to the map region you wish to use to preview your style.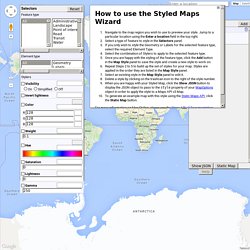 Jump to a particular location using the Enter a location field in the top right. Select a type of feature to style in the Selectors panel. If you only wish to style the Geometry or Labels for the selected feature type, select the required Element Type. jQuery Mobile Examples - JQM Gallery. Crear Pagina Web | Realizar Pagina Web | Basekit.es. Lovely Charts | Online diagramming application.
---