Cooking, Recipes
Make Spicy, Delicious Chipotle-Style Guacamole at Home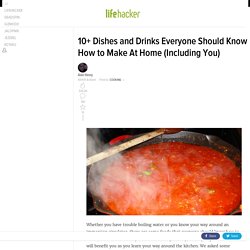 Whether you have trouble boiling water or you know your way around an immersion circulator, there are some foods that everyone should know how to make, either because they're delicious, they're easy, or they require skills that will benefit you as you learn your way around the kitchen. We asked some professional chefs (and the Lifehacker team) what you should be able to make, no matter who you are, and how. Photo by Buck. Chef Anthony Thomas - Roasted Garlic and Spaghetti Sauce Chef Anthony Thomas, of Fresh and Natural Food Service, Inc in California, points out that a basic spaghetti sauce is a great way to practice the basics in a fun and family-friendly way.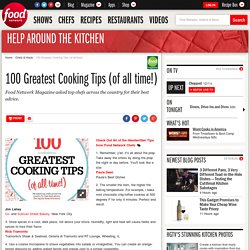 1. Remember, y'all, it's all about the prep. Take away the stress by doing the prep the night or day before. You'll look like a star.Paula Deen Paula's Best Dishes
Flip Over a Muffin Tin to Make Delicious Ready-to-Fill Cookie Bowls
Rezept für Bori-Bori (Paraguayanische Suppe mit Maisklößchen)
Budget Kitchen Upgrades for Every Kitchen that Will Change the Way You Cook (and Eat!)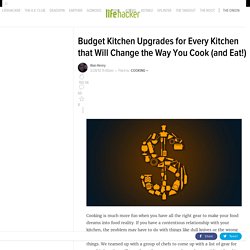 When a professional chef refers to heating evenly, he is talking about after food is added to the pan (ie heating food evenly not the metal). Aluminum, copper, and steel all will have hot and cold spots after food is added since they do not retain heat well. And if you are talking about quality metal cookware (which if you aren't your point is moot...) then cast iron is the clear winner in heat distribution and retention both. If you have experienced problems in the past you probably are one of those inexperienced home cooks who just puts their pans on the stove and begins to cook when the temperature is high enough. Cast iron requires more heat control and time, but by the immutable laws of physics, their surface temperature will become even and uniform.
I was reading the other day that chillies originated in the Americas, were taken to Europe by Columbus and only then were taken to India by Spanish traders. Considering how much the chilli is used in Indian cooking I find it incredible that the recipes have only evolved over the last 500 years. I had always assumed that India had its own chilli varieties pre-Columbus. All of this pondering about chillies reminded me of this great recipe from my mum. She serves it as a side dish to a main course but I eat it as a snack and Steve enjoys it with a cold beer. You need mild chillis for this recipe and these tend to be short and fat - although experience shows that shape is no guarantee of mildness!
Whole stuffed chillies | Coconut Raita