Musique intégrable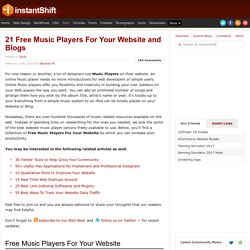 For one reason or another, a lot of designers use Music Players on their website. An online Music player needs no more introductions for web developers or simple users. Online Music players offer you flexibility and creativity in building your own Jukebox on your Web spaces the way you want.
21 Free Music Players For Your Website and Blogs | Tools
Intéger un lecteur audio dans un
Yahoo! WebPlayer: The easy way to add video & audio to your site
WARNING: Historical recordings may contain offensive language. Read the disclaimer Now Playing...