Marketing
The Anatomy Of A Perfect Landing Page. Although there is no exact formula to making a perfect landing page, there are some common rules of thumb to increase your chances of making a winning one.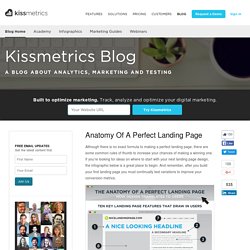 If you're looking for ideas on where to start with your next landing page design, the infographic below is a great place to begin. And remember, after you build your first landing page you must continually test variations to improve your conversion metrics. via Formstack View an enlarged version of this Infographic » 9 Reasons Why Your Content Is Not Shared on Social Networks: New Research. Do you wonder how to get your content seen amidst a sea of information?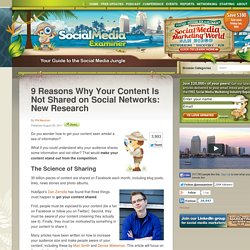 What if you could understand why your audience shares some information and not other? That would make your content stand out from the competition. The Science of Sharing. 24 Must-Have Social Media Marketing Tools. Are you looking for ways to enhance your social media marketing?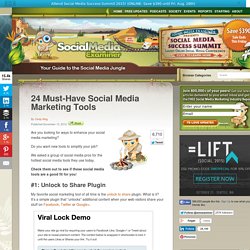 Do you want new tools to simplify your job? We asked a group of social media pros for the hottest social media tools they use today. Check them out to see if these social media tools are a good fit for you! #1: Unlock to Share Plugin. Delete Your Account. 36 Books on Digital Marketing. The rapid expansion of both the internet and ecommerce has resulted in some seriously dramatic shifts in terms of business marketing best practices.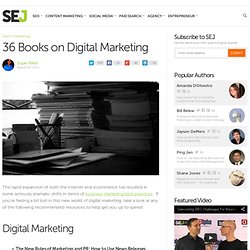 If you're feeling a bit lost in this new world of digital marketing, take a look at any of the following recommended resources to help get you up to speed! Digital Marketing The New Rules of Marketing and PR: How to Use News Releases, Blogs, Podcasting, Viral Marketing and Online Media to Reach Buyers Directly – David Meerman Scott If you've done traditional direct response marketing or promotional work in the past, Scott's book will give you all the tools needed to transfer these skills to today's digital world. How to Market Seminars. Filling empty seminar and workshop seats is not an easy task.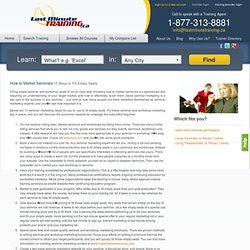 Knowing how to market seminars is a specialized skill requiring an understanding of your target market, and how to effectively reach them. Good seminar marketing is a key part of the success of any seminar -- just look at how many people out there advertise themselves as seminar marketing experts, and youll see how important it is. Below are 10 seminar marketing ideas for you to use to fill empty seats. Put these seminar and workshop marketing tips in place, and you will discover the economic rewards far outweigh the extra effort required. On line seminar listing sites. HOW TO: Write The Perfect Press Release - Get FREE Publicity. Research Report: Case Study: Autism Spectrum Disorders - Public awareness and physician detailing will drive market growth.
To date, only two products have gained approval for the treatment of ASDs; Risperdal (risperidone; Johnson & Johnson) and Abilify (aripiprazole; Bristol-Myers Squibb/Otsuka Pharmaceuticals) are both approved in the US for the treatment of irritability associated with autistic disorder.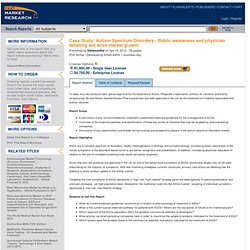 Report Scope Examination of key recommendations contained in published treatment guidelines for the management of ASDs.Overview of the treatment pathway and identification of three key points of influence that may be targeted by pharmaceutical companies.Discussion of key opportunities and threats facing existing and prospective players in the autism spectrum disorders market.Report Highlights ASDs are a complex spectrum of disorders, largely heterogeneous in etiology and symptomatology. 7 Sites Every Marketer Should Keep An Eye On. Although we would like to cover everything on marketing, it's not possible.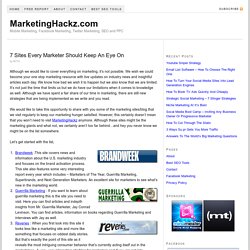 We wish we could become your one stop marketing resource with live updates on industry news and insightful articles each day. We know how bad we wish it to happen but we also know that we are limited. The Best Damn Web Marketing Checklist, Period! Marketing a website isn't particularly difficult.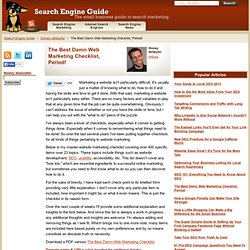 It's usually just a matter of knowing what to do, how to do it and having the skills and time to get it done. With that said, marketing a website isn't particularly easy either. There are so many factors and variables in play that at any given time that the job can be quite overwhelming. Obviously I can't address the issue of whether or not you have the skills or time, but I can help you out with the "what to do" piece of the puzzle. Top 50 Marketing Blogs To Watch In 2008. 11) ProBlogger URL: Editor: Darren Rowse Once a hobby blogger, Rowse now offers a comprehensive site aimed at helping others learn how to make money online.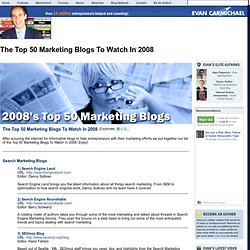 His blog covers everything from affiliate marketing to other potential income generating streams. 12) Niche Marketing – Andy Beard URL: Editor: Andy Beard. 3 things SEO copywriters need to know...right now! The 8 Essentials of Killer SEO Copywriting. Facebook Pages vs Facebook Groups: What's the Difference? Howard Greenstein is a Social Media Strategy and Marketing consultant, and President of the Harbrooke Group.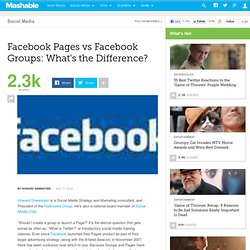 He's also a national board member of Social Media Club. "Should I create a group or launch a Page?" How to Jump Content from Your Facebook Page to Your Profile. Interactive Quizzes for Marketing. 6 Tips to Marketing Success! – | Entrepreneurial Woman Magazine. The business name is registered; the logo has been designed and the business cards and brochures are printed. Check A list of all the networking events around town have been entered into the blackberry and scheduled into the calendar. Check Your business plan has been carefully crafted and you understand the importance of marketing and to succeed in business: you've got to market to reach your customers. 10 David Ogilvy Quotes that Could Revolutionize Your Blogging. 5 Things Lady Gaga Can Teach Marketers About Community Building. What do Lady Gaga and direct-to-consumer marketing have in common? The answer is a lot. Building communities all starts with finding a common thread that brings people together. Experiences help define or typify what a community is all about.
4 Reasons Why Marketers Should Choose Facebook Pages Over Facebook Groups. Learn more about building your brand and growing your audience with our comprehensive guide to marketing on Facebook. The Facebook Marketing Bible is available at FacebookMarketingBible.com Some of the world's most well-known brands are launching marketing campaigns on Facebook, but many just getting started on Facebook may be wondering which is the best way to go: Facebook Pages or Facebook Groups? Best_Practice_Guide_042811_10.pdf (application/pdf Object) 4 Reasons Why Marketers Should Choose Facebook Pages Over Facebook Groups.
---