Chemistry
Megalomania's Link Section
Nick Semenkovich Facebook | Twitter | GitHubsemenko@alum.mit.edu About Me I graduated from MIT in 2009 with a B.S. in Course 6 (EECS) and a B.S. in Course 7 (Biology). I also served as Editor in Chief of the student newspaper The Tech, and now I'm frequently on PBS's Stay Tuned as a science & health contributor. I'm currently pursuing an M.D.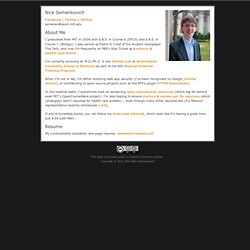 Chemical & Engineering News: What's That Stuff?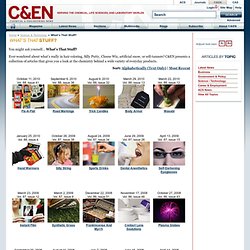 You might ask yourself... What's That Stuff? Ever wondered about what's really in hair coloring, Silly Putty, Cheese Wiz, artificial snow, or self-tanners? C&EN presents a collection of articles that gives you a look at the chemistry behind a wide variety of everyday products. Sort: Alphabetically (Text Only) | Most Recent
Skip to Main Content Chemical & Engineering News Serving the chemical, life sciences and laboratory worlds Advanced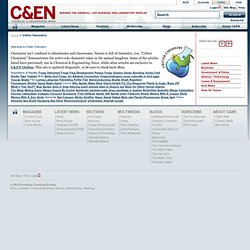 Chemical & Engineering News: Critter Chemistry
The more hazardous items are kept in a cupboard for added safety. The acids and bases come in large bottles; the brown ones are for light sensitive chemicals such as hydrogen peroxide and nitric acid, and the large heat resistant 1L graduated Schott Duran for Sulphuric. The smaller bottles (250, 100, and 50mL) contain chemicals that are not used frequently, are very expensive, or are too hazardous for mass storage (examples include mercury metal, sodium peroxide, phosphoric acid, arsenic, etc).
Sam Barros' CHEMLABS! Chemistry in action!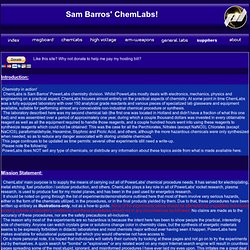 Delights of Chemistry - Chemistry Demonstrations performed in Le