Fracking
EPA fracking investigation in Wyoming revisited after objections. In December of last year, Ars reported on a major EPA study in Pavillion, Wyoming that concluded hydraulic fracking operations there had contaminated the groundwater aquifer.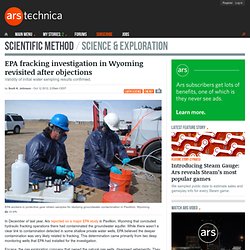 While there wasn't a clear link to contamination detected in some shallow private water wells, EPA believed the deeper contamination was very likely related to fracking. This determination came primarily from two deep monitoring wells that EPA had installed for the investigation. Fracking Lawsuit In New York Dismissed By US Judge. By Jessica Dye NEW YORK, Sept 24 (Reuters) - A federal judge in Brooklyn dismissed a lawsuit on Monday brought by New York state and environmental groups challenging proposed natural gas drilling in the Delaware River basin.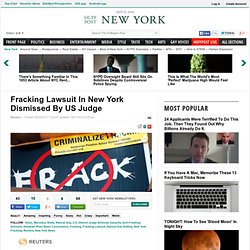 U.S. District Judge Nicholas Garaufis threw out the action on procedural grounds, saying there was no basis for the lawsuit since the regulations it sought to halt had not yet been finalized. Global Fracking Protests Planned Around The World By GlobalFrackdown Campaign. PHILADELPHIA -- Demonstrators in the United States and other countries protested Saturday against the natural gas drilling process known as fracking that they say threatens public health and the environment.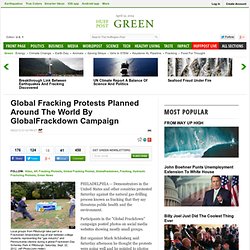 Participants in the "Global Frackdown" campaign posted photos on social media websites showing mostly small groups. But organizer Mark Schlosberg said Saturday afternoon he thought the protests were going well and he pointed to photos showing larger demonstrations in South Africa and France as well as higher turnouts in cities in California, Colorado and New York.
"I think it's really the communities all over the world coming together to say, `We want to protect our water, we want to protect our air, and we want to safeguard our climate future by getting off dirty fossil fuels and saying no to fracking. Brendan DeMelle: Deepening Doubts About Fracked Shale Gas Wells' Long Term Prospects. This month, the Pennsylvania Department of Environmental Protection released its bi-annual report on how much natural gas has been produced in the Marcellus Shale, a rock formation which stretches underneath much of Appalachia.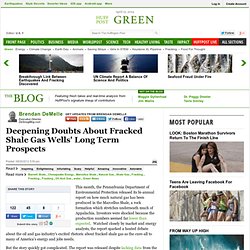 Investors were shocked because the production numbers seemed far lower than expected. Watched closely by market and energy analysts, the report sparked a heated debate about the oil and gas industry's excited rhetoric about fracked shale gas as the cure-all to many of America's energy and jobs needs. But the story quickly got complicated. Wastewater Injection Wells: The Trillion-Gallon Loophole. From ProPublica's Abrahm Lustgarten: On a cold, overcast afternoon in January 2003, two tanker trucks backed up to an injection well site in a pasture outside Rosharon, Texas.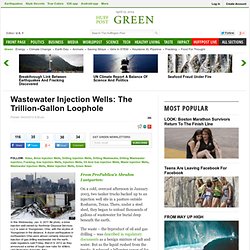 There, under a steel shed, they began to unload thousands of gallons of wastewater for burial deep beneath the earth. The waste – the byproduct of oil and gas drilling – was described in regulatory documents as a benign mixture of salt and water. But as the liquid rushed from the trucks, it released a billowing vapor of far more volatile materials, including benzene and other flammable hydrocarbons. Fracking in California takes less water. In Pennsylvania, the controversial practice of fracking can consume 4.5 million gallons of water per well, the liquid pumped deep underground to crack rocks that contain natural gas.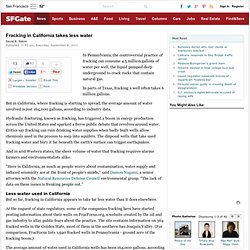 In parts of Texas, fracking a well often takes 6 million gallons. But in California, where fracking is starting to spread, the average amount of water involved is just 164,000 gallons, according to industry data. Hydraulic fracturing, known as fracking, has triggered a boom in energy production across the United States and sparked a fierce public debate that revolves around water. Critics say fracking can ruin drinking water supplies when badly built wells allow chemicals used in the process to seep into aquifers. The disposal wells that take used fracking water and bury it far beneath the earth's surface can trigger earthquakes.
Methane Making An Appearance In Pa. Water Supplies. Hide caption Mike and Nancy Leighton live in Leroy Township, Pa., where residents have been dealing with flammable gas puddles and tainted well water.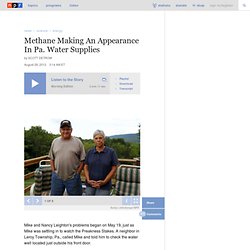 Becky Lettenberger/NPR Hide caption A local well pad in Bradford County has been leaking gas since mid-May, according to state regulators. Gas has been bubbling into this nearby creek since about the same time. Becky Lettenberger/NPR Hide caption The Morse well pad in Bradford County, which the state believes is responsible for the leaking methane. University of Texas Compounds Conflict Question in Review of Gas Report. Bob Gathany/The Huntsville Times, via Associated PressNorman R.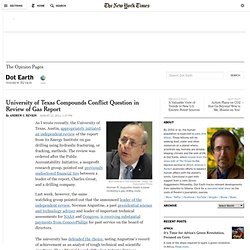 Augustine heads a panel reviewing a gas-drilling study. As I wrote recently, the University of Texas, Austin, appropriately initiated an independent review of the report from its Energy Institute on gas drilling using hydraulic fracturing, or fracking, methods. The review was ordered after the Public Accountability Initiative, a nonprofit research group, pointed out previously undisclosed financial ties between a leader of the report, Charles Groat, and a drilling company. Last week, however, the same watchdog group pointed out that the announced leader of the independent review, Norman Augustine, a past presidential science and technology adviser and leader of important technical assessments for NASA and Congress, is receiving substantial payments from ConocoPhilips for past service on the board of directors. Fact sheet: How much does fracking really affect climate change? Motivated Reasoning Skip to next paragraph Energy Trends Insider Our mission is to provide clear, objective information about the important energy issues facing the world, address and correct misconceptions, and to actively engage readers and exchange ideas.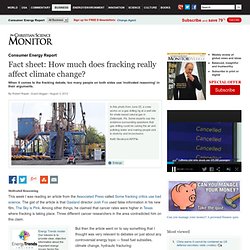 For more great energy coverage, visit Energy Trends Insider. Recent posts. Energy News - Waterless LPG Natural Gas Fracking and Tanzania Uranium. 1.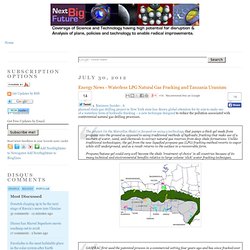 Business Insider - A planned shale gas drilling project in New York state has drawn global attention for its aim to make use of a waterless form of hydraulic fracking – a new technique designed to reduce the pollution associated with controversial natural gas drilling processes. The project (in the Marcellus Shale) is focused on using a technology that pumps a thick gel made from propane into the ground as opposed to using traditional methods of hydraulic fracking that make use of a mixture of water, sand, and chemicals to extract natural gas reserves from deep shale formations.
Can fracking contaminate drinking water? - environment - 11 July 2012. The salt of the Earth may hint at trouble for the fracking industry's safety claims, according to a new geological study – although other researchers disagree. Hydraulic fracturing uses pressurised fluid to crack open deep shale rocks to release the methane trapped within them. Geologists say this potentially harmful fluid is unlikely to percolate up through a few kilometres of rock to reach the shallow aquifers that supply drinking water – but Avner Vengosh of Duke University in Durham, North Carolina, thinks the methane itself could do so.
The gas would be an explosion risk. Last year his team claimed drinking wells close to fracking sites in Pennsylvania were contaminated with methane – perhaps from fracking – a finding that was met with a storm of criticism. Intelligence Squared Fracking Debate Discusses Pros and Cons Of Shale Gas Boom. Tell Your U.S. Legislators: Protect Our Water, Ban Fracking Now! The action you're looking for no longer exists, but don't worry! Here are some other ways to take action to protect your food and water: You have a right to know what's in your food! We can all agree that we should be able to know what's in the food that we're eating.
Fill out the form to sign the petition to legislators: I urge you to support legislation that would require the labeling of all genetically engineered foods. New hazard of gas drilling: flow-back water. New hazard of gas drilling: flow-back water Only six treatment plants in PA By TOM KANE RIVER VALLEY - According to some, every consequence of gas drilling can be taken care of except one: the disposal of the flow-back water that comes out of the well after drilling. HBO's Gasland has it right: Take caution before jumping on the 'fracking' wagon. "Whoa, that's not supposed to happen." Thus spoke Josh Fox, master of the understatement, after he witnessed a man, whose house neighbors a natural gas well, light his kitchen tap water on fire. And by "fire" I don't mean a delicate tongue of flame like on a candlestick: it's an honest-to-goodness fireball that comes blazing out of that tap. Shale gas | Gaz de schiste.
Fracking in USA. Fracking. Ohio Fracking: Earthquakes Could Incite Policy Shift. COLUMBUS, Ohio -- In Ohio, geographically and politically positioned to become a leading importer of wastewater from gas drilling, environmentalists and lawmakers opposed to the technique known as fracking are seizing on a series of small earthquakes as a signal to proceed with caution. Earthquakes caused by the injection of wastewater that's a byproduct of high-pressure hydraulic fracture drilling, aren't new. Yet earthquakes have a special ability to grab public attention. That's especially true after Saturday's quake near Youngstown, at magnitude 4.0 strong enough to be felt across hundreds of square miles. Gov. John Kasich, a drilling proponent, has shut down the wastewater well on which the quake has been blamed, along with others in the area, as the seismic activity is reviewed.
Chevron might inject steam into Arabian oil field. EPA: Natural Gas Fracking Linked to Water Contamination: Scientific American. Markell: Delaware will vote against controversial drilling in Delaware River watershed. Energy From Shale | About Natural Shale Gas, Shale Reserves, & Fracking. Here Comes Solar Energy. In Village's Fight Over Gas Drilling, Civility Is Fading | Business News. Oklahoma's 5.6 Earthquake: Is Fracking Responsible?
---