Fracking
EPA fracking investigation in Wyoming revisited after objections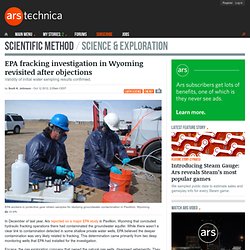 In December of last year, Ars reported on a major EPA study in Pavillion, Wyoming that concluded hydraulic fracking operations there had contaminated the groundwater aquifer. While there wasn't a clear link to contamination detected in some shallow private water wells, EPA believed the deeper contamination was very likely related to fracking. This determination came primarily from two deep monitoring wells that EPA had installed for the investigation.
Fracking Lawsuit In New York Dismissed By US Judge
By Jessica Dye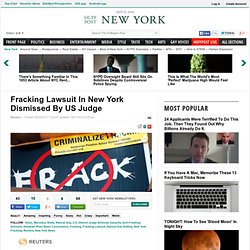 PHILADELPHIA -- Demonstrators in the United States and other countries protested Saturday against the natural gas drilling process known as fracking that they say threatens public health and the environment.
Global Fracking Protests Planned Around The World By GlobalFrackdown Campaign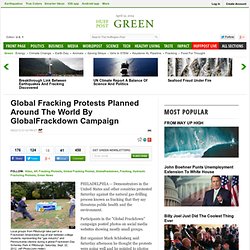 Brendan DeMelle: Deepening Doubts About Fracked Shale Gas Wells' Long Term Prospects
This month, the Pennsylvania Department of Environmental Protection released its bi-annual report on how much natural gas has been produced in the Marcellus Shale, a rock formation which stretches underneath much of Appalachia.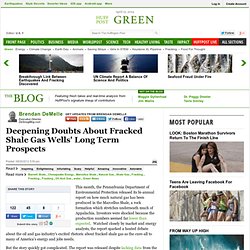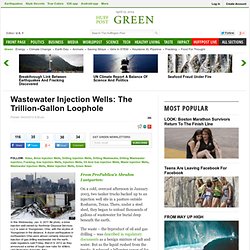 From ProPublica's Abrahm Lustgarten:
Wastewater Injection Wells: The Trillion-Gallon Loophole
In Pennsylvania, the controversial practice of fracking can consume 4.5 million gallons of water per well, the liquid pumped deep underground to crack rocks that contain natural gas. In parts of Texas, fracking a well often takes 6 million gallons.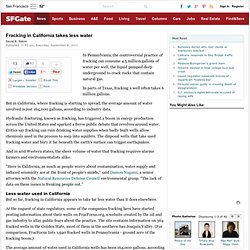 Fracking in California takes less water
Methane Making An Appearance In Pa. Water Supplies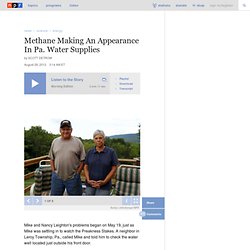 Hide caption Mike and Nancy Leighton live in Leroy Township, Pa., where residents have been dealing with flammable gas puddles and tainted well water.
University of Texas Compounds Conflict Question in Review of Gas Report
Fact sheet: How much does fracking really affect climate change?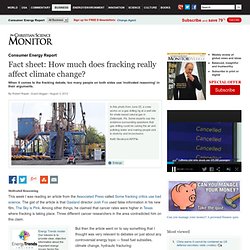 Motivated Reasoning Skip to next paragraph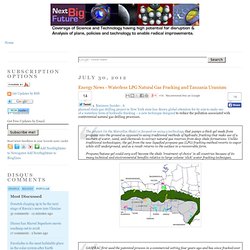 Energy News - Waterless LPG Natural Gas Fracking and Tanzania Uranium
1. Business Insider - A planned shale gas drilling project in New York state has drawn global attention for its aim to make use of a waterless form of hydraulic fracking – a new technique designed to reduce the pollution associated with controversial natural gas drilling processes. The project (in the Marcellus Shale) is focused on using a technology that pumps a thick gel made from propane into the ground as opposed to using traditional methods of hydraulic fracking that make use of a mixture of water, sand, and chemicals to extract natural gas reserves from deep shale formations.
The salt of the Earth may hint at trouble for the fracking industry's safety claims, according to a new geological study – although other researchers disagree. Hydraulic fracturing uses pressurised fluid to crack open deep shale rocks to release the methane trapped within them. Geologists say this potentially harmful fluid is unlikely to percolate up through a few kilometres of rock to reach the shallow aquifers that supply drinking water – but Avner Vengosh of Duke University in Durham, North Carolina, thinks the methane itself could do so.
Can fracking contaminate drinking water? - environment - 11 July 2012
Intelligence Squared Fracking Debate Discusses Pros and Cons Of Shale Gas Boom (VIDEO)
Tell Your U.S. Legislators: Protect Our Water, Ban Fracking Now!
The action you're looking for no longer exists, but don't worry!
New hazard of gas drilling: flow-back water
New hazard of gas drilling: flow-back water
HBO's Gasland has it right: Take caution before jumping on the 'fracking' wagon
"Whoa, that's not supposed to happen." Thus spoke Josh Fox, master of the understatement, after he witnessed a man, whose house neighbors a natural gas well, light his kitchen tap water on fire. And by "fire" I don't mean a delicate tongue of flame like on a candlestick: it's an honest-to-goodness fireball that comes blazing out of that tap.
Shale gas | Gaz de schiste
COLUMBUS, Ohio -- In Ohio, geographically and politically positioned to become a leading importer of wastewater from gas drilling, environmentalists and lawmakers opposed to the technique known as fracking are seizing on a series of small earthquakes as a signal to proceed with caution. Earthquakes caused by the injection of wastewater that's a byproduct of high-pressure hydraulic fracture drilling, aren't new.
Ohio Fracking: Earthquakes Could Incite Policy Shift
Chevron Corp. might invest as much as $40 billion to produce an extra 5 billion barrels from an oilfield along the border of Saudi Arabia and Kuwait, by injecting steam underground to make it liquid enough to pump. The San Ramon company is pressing ahead with a pilot project at the Wafra field after "very promising" results, said Ahmed al-Omer, managing director of Saudi Arabian Chevron. The venture expects to make a final decision by 2013, al-Omer said.
Chevron might inject steam into Arabian oil field
EPA: Natural Gas Fracking Linked to Water Contamination: Scientific American
Markell: Delaware will vote against controversial drilling in Delaware River watershed
Energy From Shale | About Natural Shale Gas, Shale Reserves, & Fracking
Here Comes Solar Energy
In Village's Fight Over Gas Drilling, Civility Is Fading | Business News
Oklahoma's 5.6 Earthquake: Is Fracking Responsible?