Interesting wikis
List of serial killers by number of victims
A serial killer is a person who murders two or more people, in two or more separate events over a period of time, for primarily psychological reasons.[1] There are gaps of time between the killings, which may range from a few hours to many years. This list shows serial killers from the 20th century to present day by number of victims (list of serial killers before 1900). In many cases, the exact number of victims assigned to a serial killer is not known, and even if that person is convicted of a few, there can be the possibility that he/she killed many more.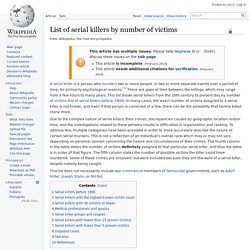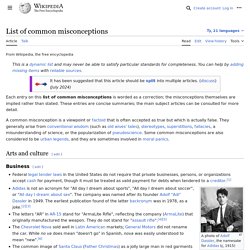 List of common misconceptions
This incomplete list is not intended to be exhaustive.
List of collective nouns
Loren Richard Mosher (September 3, 1933, Monterey – July 10, 2004, Berlin)[2][3] was an American psychiatrist,[3][4]:21 clinical professor of psychiatry,[2][5][6] expert on schizophrenia[5][6] and the chief of the Center for Studies of Schizophrenia in the National Institute of Mental Health (1968–1980).[2][3][5] Mosher spent his professional career advocating for humane and effective treatment for people diagnosed as having schizophrenia[3] and was instrumental in developing an innovative, residential, home-like, non-hospital, non-drug treatment model for newly identified acutely psychotic persons.[2] In the 1970s, Mosher, then Chief of the newly formed Center for Schizophrenia Research, wrote a grant to obtain funding for a novel idea for treating people diagnosed with schizophrenia; an intensive psychosocial milieu-based residential treatment known as the Soteria Project.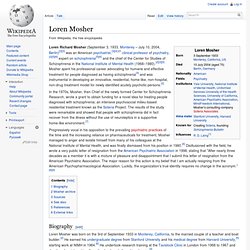 Loren Mosher
The Maricopa County Sheriff's Office (MCSO) is a law enforcement agency in Maricopa County, Arizona that has been involved in many controversies since 1995. It is the largest sheriff's office in Arizona state and provides general-service and specialized law enforcement to unincorporated areas of Maricopa County, serving as the primary law enforcement for unincorporated areas of the county as well as incorporated cities within the county who have contracted with the agency for law-enforcement services.
Maricopa County Sheriff's Office controversies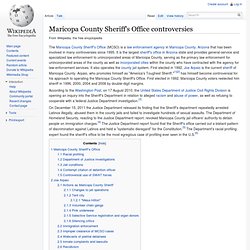 Psychopathy (/saɪˈkɒpəθi/) (or sociopathy (/ˈsoʊsiəˌpæθi/)) is defined either as an aspect of personality or as a personality disorder. As a personality disorder, it is characterized by enduring antisocial behavior, diminished empathy and remorse, and disinhibited or bold behavior.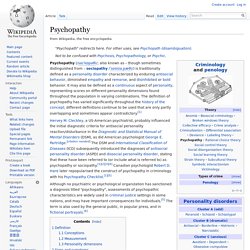 Psychopathy
Hare Psychopathy Checklist
The Hare Psychopathy Checklist-Revised (PCL-R) is the psychological assessment most commonly used to rate psychopathy.[1] It is a 20-item inventory of perceived personality traits and recorded behaviors, intended to be completed on the basis of a semi-structured interview along with a review of 'collateral information' such as official records. The PCL was originally developed in the 1970s by Canadian psychologist Robert D.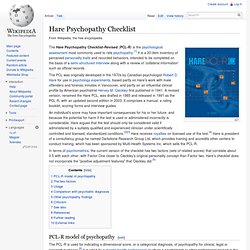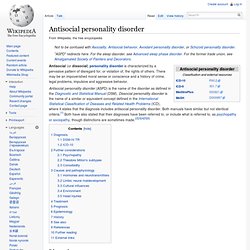 Antisocial (or dissocial) personality disorder is a personality disorder characterized by a pervasive pattern of disregard for, or violation of, the rights of others. There may be an impoverished moral sense or conscience and a history of crime, legal problems, impulsive and aggressive behavior.
Antisocial personality disorder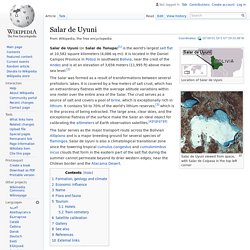 Coordinates: Location of Salar de Uyuni
Salar de Uyuni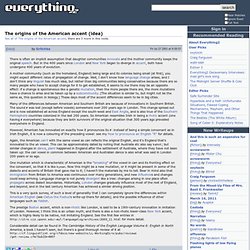 There is often an implicit assumption that daughter communities innovate and the mother community keeps the original speech. But in the 400 years since London and New York began to diverge in accent, both have undergone 400 years of evolution. A mother community (such as the homeland, England) being large and its colonies being small (at first), you might expect different rates of propagation of change.
The origins of the American accent (idea)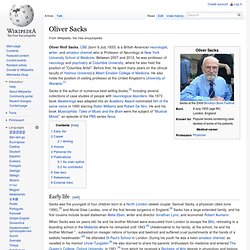 Oliver Sacks
Oliver Wolf Sacks, CBE (born 9 July 1933) is a British-American neurologist, writer, and amateur chemist who is Professor of Neurology at New York University School of Medicine. Between 2007 and 2012, he was professor of neurology and psychiatry at Columbia University, where he also held the position of "Columbia Artist". Before that, he spent many years on the clinical faculty of Yeshiva University's Albert Einstein College of Medicine.
Encephalitis lethargica
Encephalitis lethargica or von Economo disease is an atypical form of encephalitis. Also known as "sleepy sickness" (though different from the sleeping sickness transmitted by the tsetse fly), it was first described by the neurologist Constantin von Economo in 1917.[1][2] The disease attacks the brain, leaving some victims in a statue-like condition, speechless and motionless.[3] Between 1915 and 1926,[4] an epidemic of encephalitis lethargica spread around the world; no recurrence of the epidemic has since been reported, though isolated cases continue to occur.[5][6]
A meme (/ˈmiːm/; meem)[1] is "an idea, behavior, or style that spreads from person to person within a culture
Meme
The experimenter (E) orders the teacher (T), the subject of the experiment, to give what the latter believes are painful electric shocks to a learner (L), who is actually an actor and confederate.
Milgram experiment
The papacy has been surrounded by numerous legends. Among the most famous are the claims that the Papal Tiara bears the number of the beast inscriptions, that a woman was once elected pope, or that the current pope will be the last Pope. The two former claims have been independently determined to be false.
Legends surrounding the papacy
List of screw drives
Qualia
Nuba peoples
Homonymous hemianopsia
Psychoneuroimmunology
Jerome Corsi
Phineas Gage
Mount Roraima