Interesting wikis
A serial killer is a person who murders two or more people, in two or more separate events over a period of time, for primarily psychological reasons. [ 1 ] There are gaps of time between the killings, which may range from a few hours to many years. This list shows serial killers from the 20th century to present day by number of victims ( list of serial killers by victim before 1900 ). In many cases, the exact number of victims assigned to a serial killer is not known, and even if that person is convicted of a few, there can be the possibility that he/she killed many more.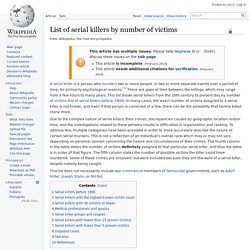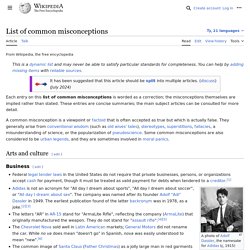 This incomplete list is not intended to be exhaustive.
Loren Richard Mosher (September 3, 1933, Monterey — July 10, 2004, Berlin ) [ 1 ] [ 2 ] was an American psychiatrist , [ 2 ] [ 3 ] :21 clinical professor of psychiatry , [ 1 ] [ 4 ] [ 5 ] expert on schizophrenia [ 4 ] [ 5 ] and the chief of the Center for Studies of Schizophrenia in the National Institute of Mental Health (1968—1980). [ 1 ] [ 2 ] [ 4 ] Mosher spent all his professional career seeking more humane and effective treatment for people diagnosed as having schizophrenia [ 2 ] and was instrumental in developing an innovative, residential, home-like, non-hospital, non-drug treatment model for newly identified acutely psychotic persons. [ 1 ] Loren Mosher founded the Soteria experience, having showed that treating psychosis also in the acute phase is possible without using restraint methods. [ 6 ]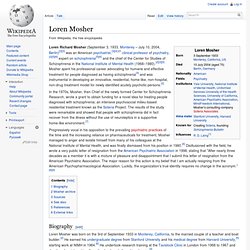 Loren Mosher
The Maricopa County Sheriff's Office (MCSO) is a law enforcement agency in Maricopa County, Arizona that has been involved in many controversies since 1995. It is the largest sheriff's office in Arizona state and provides general-service and specialized law enforcement to unincorporated areas of Maricopa County, serving as the primary law enforcement for unincorporated areas of the county as well as incorporated cities within the county who have contracted with the agency for law-enforcement services.
Maricopa County Sheriff's Office controversies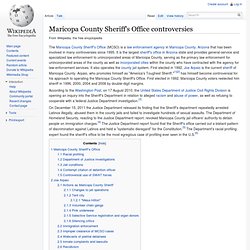 Psychopathy ( / s aɪ ˈ k ɒ p ə θ i / [ 1 ] [ 2 ] is a personality disorder that has been variously characterized by shallow emotions (including reduced fear , a lack of empathy , and stress tolerance), coldheartedness , egocentricity , superficial charm , manipulativeness , irresponsibility , impulsivity , criminality , antisocial behavior , a lack of remorse , and a parasitic lifestyle. However, there is no consensus about the symptom criteria and there are ongoing debates regarding issues such as essential features, causes, and the possibility of treatment. [ 3 ]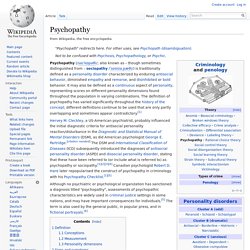 Hare Psychopathy Checklist
In contemporary research and clinical practice, Robert D. Hare 's Psychopathy Checklist, Revised (PCL-R) is the psycho-diagnostic tool most commonly used to assess psychopathy . [ 1 ] As an individual's score may have important consequences for his or her future, and because the potential for harm if the test is used or administered incorrectly is considerable, Hare argues that the test should only be considered valid if administered by a suitably qualified and experienced clinician under scientifically controlled and licensed, standardized conditions. [ 2 ] [ 3 ] Hare receives royalties on licensed use of the test. [ 4 ]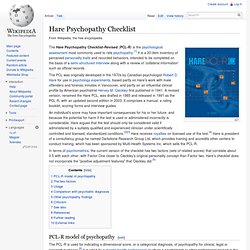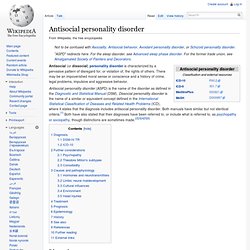 Antisocial personality disorder ( ASPD ) is described by the American Psychiatric Association 's Diagnostic and Statistical Manual , fourth edition (DSM-IV-TR), as an Axis II personality disorder characterized by "... a pervasive pattern of disregard for, and violation of, the rights of others that begins in childhood or early adolescence and continues into adulthood." [ 1 ] They have an "impoverished sense moral sense or conscience" and may have a "history of crime, legal problems, impulsive and aggressive behaviour." The antisocial personality disorder falls under the dramatic/erratic cluster of personality disorders. [ 2 ]
Antisocial personality disorder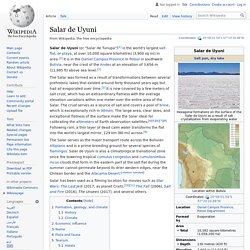 Coordinates : Location of Salar de Uyuni Salar de Uyuni viewed from space, with Salar de Coipasa in the top left corner Salar de Uyuni (or Salar de Tunupa ) is the world's largest salt flat at 10,582 square kilometers (4,086 sq mi). It is located in the Potosí and Oruro departments in southwest Bolivia , near the crest of the Andes , and is at an elevation of 3,656 meters (11,995 ft) above mean sea level. [ 1 ] The Salar was formed as a result of transformations between several prehistoric lakes.
Salar de Uyuni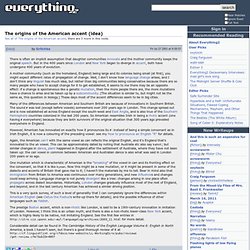 There is often an implicit assumption that daughter communities innovate and the mother community keeps the original speech . But in the 400 years since London and New York began to diverge in accent , both have undergone 400 years of evolution. A mother community (such as the homeland, England) being large and its colonies being small (at first), you might expect different rates of propagation of change.
The origins of the American accent (idea)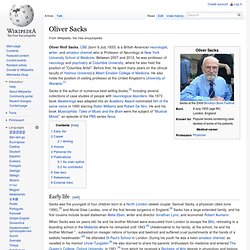 Oliver Sacks
Oliver Wolf Sacks , CBE (born 9 July 1933), is a British-American biologist , neurologist , writer , and amateur chemist known as the professor of neurology and psychiatry at Columbia University , where he held the position of "Columbia Artist". He spent many years on the clinical faculty of Yeshiva University 's Albert Einstein College of Medicine . In September 2012, Sacks was appointed clinical professor of neurology at NYU Langone Medical Center , with support from The Gatsby Charitable Foundation .
Encephalitis lethargica
Encephalitis lethargica or von Economo disease is an atypical form of encephalitis . Also known as "sleepy sickness" (though different from the sleeping sickness transmitted by the tsetse fly ), it was first described by the neurologist Constantin von Economo in 1917. [ 1 ] [ 2 ] The disease attacks the brain, leaving some victims in a statue-like condition, speechless and motionless. [ 3 ] Between 1915 and 1926, [ 4 ] an epidemic of encephalitis lethargica spread around the world; no recurrence of the epidemic has since been reported, though isolated cases continue to occur. [ 5 ] [ 6 ]
A meme ( pron.: / ˈ m iː m / ; meem ) [ 1 ] is a term employed in certain theories of culture to refer to "an idea, behavior or style that spreads from person to person within a culture." [ 2 ] A meme acts as a unit for carrying cultural ideas, symbols or practices, which can be transmitted from one mind to another through writing, speech, gestures, rituals or other imitable phenomena.
The experimenter (E) orders the teacher (T), the subject of the experiment, to give what the latter believes are painful electric shocks to a learner (L), who is actually an actor and confederate .
The papacy has been surrounded by numerous legends . Among the most famous are the claims that the Papal Tiara bears the number of the beast inscriptions, that a woman was once elected pope, or that the current pope will be the last Pope. The two former claims have been independently determined to be false.
Legends surrounding the papacy
List of screw drives
Nuba peoples
Homonymous hemianopsia
Psychoneuroimmunology
Jerome Corsi
Phineas Gage
Mount Roraima