Amigurumi
Crochet Amigurumi Patterns Cute Crochet Animals and More. Articles 1 - 10 of 101 << Prev 1 | | | Vibrant Party Owls Owls are a popular craze yet again and we can see why.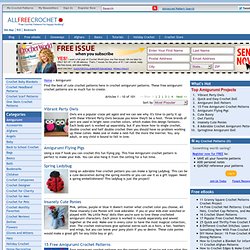 It's time to party it up with these Vibrant Party Owls because you know they'll be a hoot. Three brands of yarn are used in bright neon crochet colors, which makes this design fantastic. Each body part is worked up separately, but if you know how to single crochet, double crochet and half double crochet then you should have no problem working up these cuties. Koala Bear Amigurumi. I found a Koala Amigurumi Pattern in the Woman's Day website and I have some off-white and gray organic cotton yarns on hand, so I made a pair of these small little stuffed koalas for my kids in reverse color.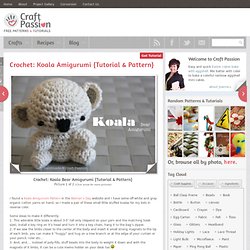 Some ideas to make it differently: 1. This adorable little koala is about 3-5″ tall only (depend on your yarn and the matching hook size), install a key ring on it's head and turn it into a key chain, hang it to the bag's zipper. 2. Fireflower. FireFlower is by request.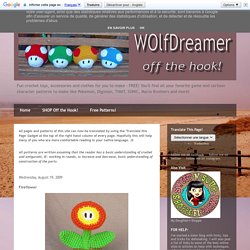 I had tons of email requests for this one. I understand that in the newer games the FireFlower isn't in a box, but I needed to put it in one so that it would stand up. So I sort of combined several different evolutions of FireFlower for this plushie :) The cube/box is done in rounds, like a ball which makes it a little different from most 'boxes'. It's done using the same technique as the cube in the Chain Chomp pattern, and is easy enough even for novice crocheters. Amigurumi. I made this little guy as a belated birthday gift for a friend, and I thought I should post the pattern!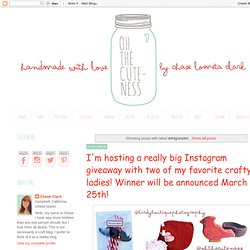 It's a great beginning amigurumi pattern because if it comes out a little wonky it's fine, because it's a mushroom, and they're all a little wonky in real life, right? I think it would be super cute with white pins in the top too so it can me useful. I was also playing with the idea of doing a "How I Make Amigurumi" photo or video tutorial using this pattern, might be fun... Anywho, if anyone catches any errors in the pattern please let me know! Mini Mushroom Amigurumi Pattern. Patterns. Can you believe how close we are to Xmas?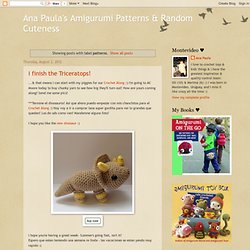 Starting today & through Xmas (Dec 24): ♥ get any pattern from the shop (including specials), and get another one of the same or lesser value for free :) *Don't buy the free one, just let me know your choice in the Message to Seller at checkout* No parece mentira lo cerquita que estamos de Navidad? Desde hoy & hasta el 24 de diciembre: By June Gilbank & Free Crochet Patterns. Tiny Striped Turtle. I whipped this little guy up this morning!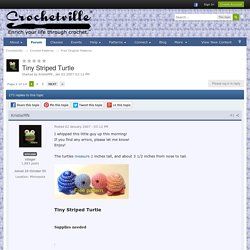 If you find any errors, please let me know! Enjoy! The turtles measure 2 inches tall, and about 3 1/2 inches from nose to tail.
---