Shopping
Working Steam Engine Model, Steam Power Plant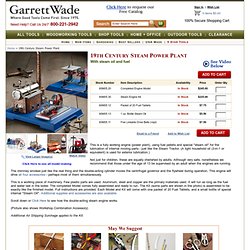 This is a fully working engine (power plant), using fuel pellets and special "steam oil" for the lubrication of internal moving parts - just like the Steam Tractor. (A light household oil (3-in-1 or equivalent) is used for exterior lubrication.) Not just for children, these are equally cherished by adults. Although very safe, nonetheless we recommend that those under the age of 13 be supervised by an adult when the engines are running.
Steampunk Clock with Thermometer: Home & Garden
Click Clock Antiques Finished Metal Wall Decor 34x17": Home & Garden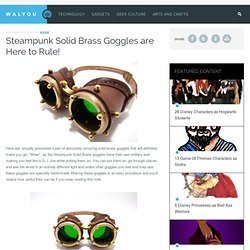 Steampunk Solid Brass Goggles are Here to Rule!
Here are proudly presented a pair of absolutely amazing solid brass goggles that will definitely make you go, "Wow!", as the Steampunk Solid Brass goggles have their own military look making you feel like a G. I. Joe while putting them on. You can put them on, go through places and see the world in an entirely different light and unlike other goggles you see and may use, these goggles are specially hand-made. Making these goggles is an easy procedure and you'll realize how useful they can be if you keep reading this note.
Gypsy Lady Hats by GypsyLadyHats on Etsy
SteamBabySteampunk goggles props and accessories by steambaby
The New Airship Entertainment Online Store
edmdesigns Artisan Studio ArtFire Buy & Sell Handmade
Decibel Artisan Studio ArtFire Buy & Sell Handmade
Steampunk Clock Parts :: Home
Steampunk - Shop for Steampunk at Polyvore
SteampunkCouture.com
The Mine furniture
Dress Like a Pirate -
Abney Park Fashion : Abney Park Market, Steampunk & Neo Tribal Fashion & Music