Food
Healthy Italian Food Recipes Photo 10. 30 Healthy Breakfast Snacks for Mornings on the Run. Photo by Perry Santanachote When it comes to breakfast, the options are endless.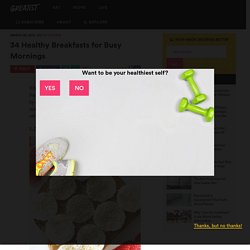 Pancakes or waffles? Bacon and eggs? Muffin, followed by a pastry? Low-Carb Side Dishes Photo 3. Do-It-Yourself Protein Bars. Healthy Dinner Recipes in a Flash. Healthy Eating Planner: 31 Days of Superfoods: Your 31-Day Meal Plan. 10 Healthy Breakfast Recipes. Lettuce rolls with peanut sauce Muscle and Fitness Hers. Serves 4 1 carrot, shredded ½ cup bean sprouts ½ small cucumber, cut into matchsticks 3 green onions, sliced ¼ cup chopped fresh cilantro 1 ½ cups cooked jasmine rice 7 oz. (½ package) light firm tofu, drained and cut into matchsticks 12 Boston lettuce leaves 12 tsp. low-fat, low-sodium bottled peanut sauce (such as Mr.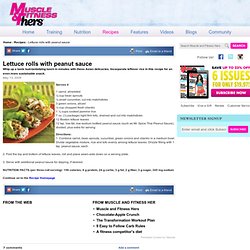 Spice Thai Peanut Sauce), divided, plus extra for serving Directions: 1. Combine carrot, bean sprouts, cucumber, green onions and cilantro in a medium bowl. Divide vegetable mixture, rice and tofu evenly among lettuce leaves. Toasted Quinoa Salad with Scallops & Snow Peas. This scallop-studded quinoa salad gets an exciting texture from crunchy snow peas, red bell pepper and scallions.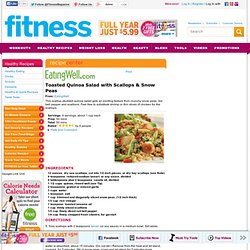 Feel free to substitute shrimp or thin slices of chicken for the scallops. Ingredients 12 ounces dry sea scallops, cut into 1/2-inch pieces, or dry bay scallops (see Note) 4 teaspoons reduced-sodium tamari, or soy sauce, divided 4 tablespoons plus 2 teaspoons canola oil, divided. My Creamy Avocado Pasta. I never liked avocados – until, as a vegetarian, I discovered cheese and avocado sandwiches.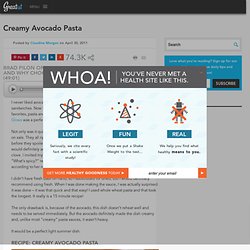 Now I find ways to use them in everything. Combining two of my (now) favorites, pasta and avocados, this 15 minute Creamy Avocado Pasta from Oh She Glows was a perfect Thursday evening dinner. Not only was it quick and healthy, but it was a great way to use the avocados I bought on sale. They all ripened at the same time, so I doubled the recipe to use them all before they spoiled. Gluten-Free Quinoa Pizza Bites. I'm crazy for quinoa and crazy for pizza.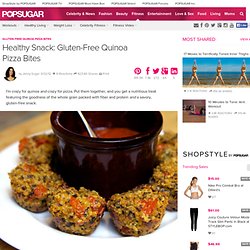 Put them together, and you get a nutritious treat featuring the goodness of the whole grain packed with fiber and protein and a savory, gluten-free snack. The original recipe calls for pepperoni, but being a vegetarian I substituted diced cherry tomatoes for a sweet juiciness that complemented the basil and oregano. Whip these up for a flavorful nibble for your next party appetizer or as a hearty afternoon snack. The Best Healthy Seafood Recipes. Lemon-Garlic Shrimp & Vegetables Shrimp Scampi lovers will enjoy this healthy twist.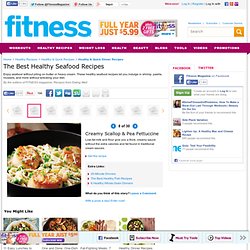 Nix the butter and add flavor with red peppers and asparagus for a refreshing meal. Serve with whole grains like quinoa, couscous, or pasta. Get the recipe What do you think of this story? Healthy Breakfast Recipe Ideas Photo 8. Healthy Blender Recipes. There are plenty of ways your kitchen can help you lose weight, but one appliance in particular is key — a blender.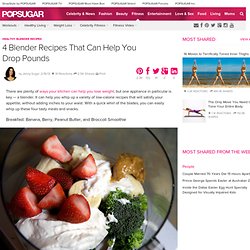 It can help you whip up a variety of low-calorie recipes that will satisfy your appetite, without adding inches to your waist. With a quick whirl of the blades, you can easily whip up these four tasty meals and snacks. Breakfast: Banana, Berry, Peanut Butter, and Broccoli Smoothie Having breakfast within 30 minutes of waking up is crucial when it comes to losing weight since it jump-starts the body's metabolism.
Bake Protein-Packed Bacon Omelet Bites. It was 11 a.m., and I was I plowed my eager mitts into the trail mix buried in my office drawer.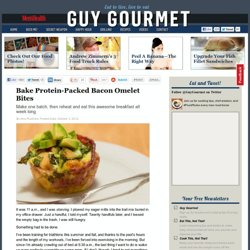 Just a handful, I told myself. Twenty handfuls later, and I tossed the empty bag in the trash. Fermentating Foods. Add to favorites I have to admit when I first heard the phrase "fermented foods", my nose went up and my ears went back.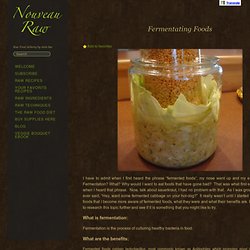 Fermentation? Roasted Beet, Walnut and Romaine Salad Recipe. Aunt Holly's Banana Bread Recipe at Epicurious. Mom's Stuffed Eggplant Recipe : Michael Chiarello. Directions Preheat oven to 350 degrees F.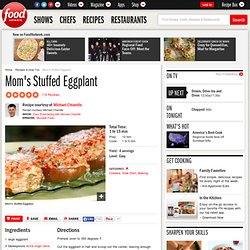 Cut the eggplant in half and scoop out the center, leaving enough meat inside the skin so that it holds its shape when baked. FAQ & Useful Links. I've organized the resources and FAQs in six categories: Sustainable Eating & Nutrition, Growing Food, Politics & Policy, Animal Welfare, Journalism & Writing, and For Parents & Kids. Under each category I've included my answers to the questions I'm most often asked on that topic.
I've also listed links to organizations, publications, individuals and companies doing useful or interesting work in these areas. While this is not a comprehensive list, there are some great resources here and I hope you'll take some time to familiarize yourself with them. Frequently Asked Questions. My Inner Chef. Gimme some oven » Blog Archive caramel apple cider cookies » gimme some oven. On Friday night, I finished season six of Mad Men. At 2am. About a week after starting the season. Quick Chiquita Banana Oatmeal Smoothie Recipe. Almonds, cooked oatmeal, bananas and yogurt meet up in your blender for a power breakfast. Drink this Banana Oatmeal Smoothie before your morning exercise routine and you'll have the energy you need to get through your workout. Pour all ingredients in blender pouring ice in last.
Blend on high for 30 seconds or until smoothie thickens. Easy Sweet Potato Veggie Burgers! With Avocado. 2 Minute Chocolate and Salted Caramel Mug Cake. Oatmeal Wheat Bread Recipe at Epicurious. Bread Pudding Recipes for Health.
---