JLPT
Get flash to fully experience Pearltrees
"What do you know about where I come from?" That was one of the first questions I ever asked Bosco Mongousso, an Mbendjele pygmy who lives in the sparsely populated Ndoki forest at the far northern tip of the Republic of Congo . We were sitting on logs around a fire one evening four years ago, eating a dinner of smoked river fish and koko, a vitamin-rich wild green harvested from the forest. I'd come to this hard-to-reach corner of the Congo basin – a spot at least 50km from the nearest village – to report a story for National Geographic magazine about a population of chimpanzees who display the most sophisticated tool-use ever observed among non-humans .
I love AKBINGO! It's one of my all time favorite Japanese variety shows, right on up there with Gaki no Tsukai. (P.S. if you haven't already heard of Gaki no Tsukai, do yourself a huge favor and check that out as well.)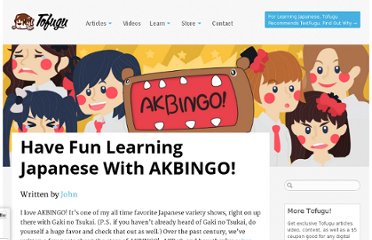 This guide is the best This guide is the best anywhere in the internet. Other sites always try and sugar coat it, but here, it's straight down to business.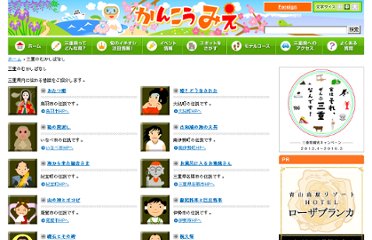 トップ ここからメインメニューです ここから本文です 三重のむかしばなし 三重県内に伝わる昔話をご紹介します。 おたつ姫
2013年04月02日 午後06:56 更新 状況が大きく変わったニュース項目などは除外する場合があります。 保守・点検のためページが表示されない場合があります。
I've only been studying Japanese for less than a month, so hopefully participating in this challenging will give me a huge kickstart to learning this notoriously difficult language. I don't know if I will be able to continue for the entire 3 month period, but I'm committed to participating for at least 2 months. So far I've been using the Power Japanese software from Transparent Language along with Pimsleur I, which I've been using passively. I've also just started watching the Let's Learn Japanese series and listening to the beginner's lessons at Japanesepod101.com. I've ordered the Assimil Japanese books and when they arrive they will form the backbone of my study along with the Let's Learn Japanese programs.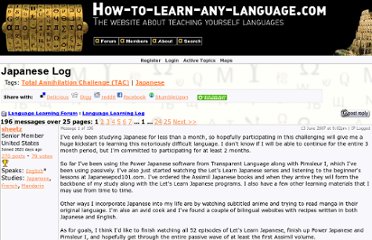 hen learning Japanese, reading often makes up the bulk of it. Needless to say, by reading a lot of different material, you can learn and pick up various new words and phrases. Learning words in context this way is useful since you can see the actual word 'in action'. I often come across many interesting reading articles on either the internet, magazines, my textbooks, news clippings etc. Here in The Great Chokochoko Library you'll find articles I've collected over time (or written myself). Each article is either one or two pages long, written in a clear and easy to read format (easy levels feature big fonts) and includes a handy word list.
COOL JAPAN 発掘!かっこいいニッポン BS1|日|午後11時00分 〜 11時44分 [再放送] BS1|土|午後6時〜6時44分、BS1|日| 午前8時00分 〜 8時44分。 NHKワールドプレミアム(国際放送) |翌木|午前0時47分〜1時31分 [再放送] 翌木|午後3時15分 〜3時59分。