ESOL
English vocabulary
Chinese vocabulary
Vocabulary game
Online Word Games & Exercises
clicknlearn.net
<HR NOSHADE SIZE=99><h2>This quiz requires a JavaScript enabled browser.<BR>You either have JavaScript turned off or are using a browser that doesn't support JavaScript.</h2><HR NOSHADE SIZE=99>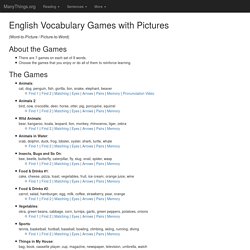 It's never too early for your child to become familiar with letters and numbers. Sebran's ABC's colorful pictures, pleasant music, and gentle games teach letters, numbers, simple math, and rudiments of reading. The program teaches using either Afrikaans, Bahasa Indonesian, Breton, Catalan, Croatian, Czech, Danish, Dutch, English, Estonian, Finnish, French, German, Greek, Hungarian, Icelandic, Italian, Lithuanian, Norwegian, Polish, Portuguese, Romanian, Samoan, Slovak, Slovenian, Spanish, Turkish, Swahili or Swedish (in Swedish, the droll zebra gracing the main screen is called "sebran"). The six simpler exercises display four possible answers.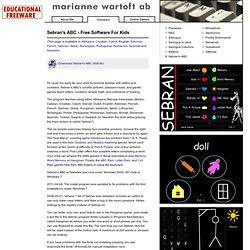 Different types of words can be used to make your writing more interesting and easier to read. You need to know when to use them and how to spot them. In writing, words are grouped together into phrases, sentences, clauses and paragraphs. Linking these building blocks together in the right way makes your writing easy to understand and interesting to read. Use your commenting skills to identify what's wrong with these pieces of writing.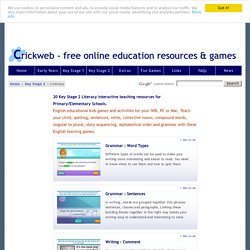 The Learning Edge
Introduction to compound words
Consumer Rights
Interactive workshops
Visuwords™ online graphical dictionary — Look up words to find their meanings and associations with other words and concepts. Produce diagrams reminiscent of a neural net. Learn how words associate.