Meadowbrook
LinkedIn 4 Times Better Than Facebook & Twitter For B2B Leads. While not as illustrious as other sites, LinkedIn has developed a solid footing by becoming the main portal for businesses and professionals to establish a presence online.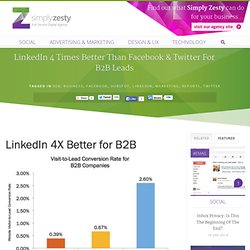 While it doesn't have the user numbers Facebook boasts, its main pull is its ability to generate leads for businesses and customers. Back in January, Hubspot compiled a study that found LinkedIn generated the highest visitor-to-lead conversion rate at 2.74 per cent, three times higher than both Twitter and Facebook. Now new research has emerged which shows that the gap separating LinkedIn with Facebook and Twitter has increased with the site's visitor-to-lead conversion rate being four times greater, according to new findings from Hubspot. Revealed by David Meerman Scott, LinkedIn's conversion rate is now 2.60 per cent, less than what it was back in January, but this is far greater than its nearest rivals Twitter and Facebook, which has 0.67 per cent and 0.39 per cent respectively. Which Social Network Should You Use -- and When? [INFOGRAPHIC]
Want to make the most of the social web?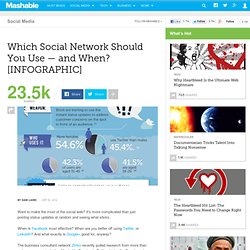 It's more complicated than just posting status updates at random and seeing what sticks. When is Facebook most effective? When are you better off using Twitter, or LinkedIn? Social Media Basics.
---