Guide Through Entrepreneurship
The Hacker's Guide to Investors. April 2007 (This essay is derived from a keynote talk at the 2007 ASES Summit at Stanford.)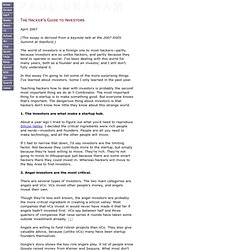 The world of investors is a foreign one to most hackers—partly because investors are so unlike hackers, and partly because they tend to operate in secret. I've been dealing with this world for many years, both as a founder and an investor, and I still don't fully understand it. In this essay I'm going to list some of the more surprising things I've learned about investors. 270+ Tools for Running a Business Online. Last August we featured a post with more than 230 online apps for running your business.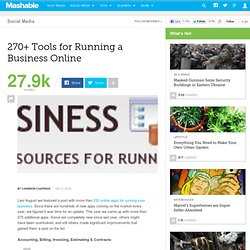 Since there are hundreds of new apps coming on the market every year, we figured it was time for an update. This year we came up with more than 270 additional apps. Some are completely new since last year, others might have been overlooked, and still others made significant improvements that gained them a spot on the list. Accounting, Billing, Invoicing, Estimating & Contracts. 4 Hiring Tips for Your Lean Startup. There's a ton do when you're first starting a company.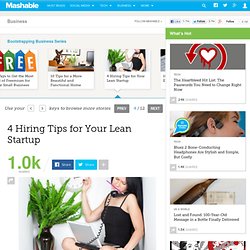 Each co-founder or employee executes several job descriptions jumbled together, and it seems a simple solution to just hire a new person and delegate away responsibilities, never to be worried about again. This becomes especially relevant post-funding, because it suddenly becomes plausible to hire with the intended result of getting more done faster. But this isn't necessarily true, according to Eric Ries, creator of the Lean Startup methodology. Patents, Trademarks, Licenses: Best Way to Protect Your Brilliant Ideas. Everyone has ideas.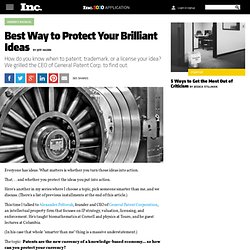 What matters is whether you turn those ideas into action. That... and whether you protect the ideas you put into action. Traits of a Truly Entrepreneurial Mindset. I've spent most of my life working with small-business owners.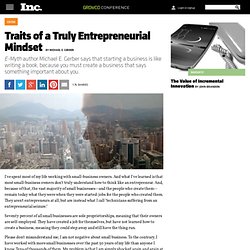 And what I've learned is that most small-business owners don't truly understand how to think like an entrepreneur. And, because of that, the vast majority of small businesses--and the people who create them--remain today what they were when they were started: jobs for the people who created them. They aren't entrepreneurs at all, but are instead what I call "technicians suffering from an entrepreneurial seizure. " Seventy percent of all small businesses are sole proprietorships, meaning that their owners are self-employed.
The Hacker's Guide to Investors. 3 Tradeoffs to Consider Before Partnering. Omar H.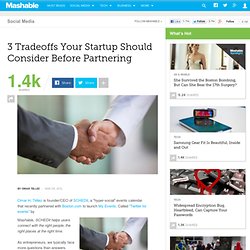 Téllez is founder/CEO of SCHEDit, a "hyper-social" events calendar that recently partnered with Boston.com to launch My Events. Called "Twitter for events" by Mashable, SCHEDit helps users connect with the right people, the right places at the right time. As entrepreneurs, we typically face more questions than answers. Then, we reach that first moment of glory: We confirm that a) our product does indeed work, and b) there is a demand for it. How to Start a Startup. March 2005 (This essay is derived from a talk at the Harvard Computer Society.)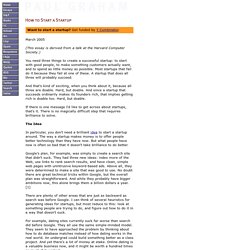 You need three things to create a successful startup: to start with good people, to make something customers actually want, and to spend as little money as possible. Most startups that fail do it because they fail at one of these. How to Start Your Business on the Cheap--With Help From the Crowd. If you need help turning your brilliant idea for a product or service into a functioning business--and get that help for a pittance--look to the Internet.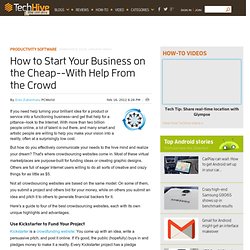 With more than two billion people online, a lot of talent is out there, and many smart and artistic people are willing to help you make your vision into a reality, often at a surprisingly low cost. But how do you effectively communicate your needs to the hive mind and realize your dream? That's where crowdsourcing websites come in. Most of these virtual marketplaces are purpose-built for funding ideas or creating graphic designs. Theyrule. How To Hire a Great Developer [FLOW CHART] Thomas Edison once said that "genius" is 1% inspiration and 99% perspiration.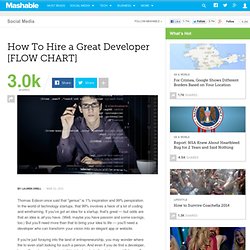 In the world of technology startups, that 99% involves a heck of a lot of coding and wireframing. If you've got an idea for a startup, that's great — but odds are that an idea is all you have. (Well, maybe you have passion and some savings, too.) But you'll need more than that to bring your idea to life — you'll need a developer who can transform your vision into an elegant app or website. Is Starting A Business Safer Than Your Job? [Infographic] Share: With a slow economy, many people have turned to entrepreneurship as a means to pay the bills.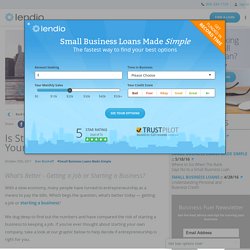 Which begs the question, what's better today — getting a job or starting a business? Variable Cost Definition. A corporate expense that varies with production output. Variable costs are those costs that vary depending on a company's production volume; they rise as production increases and fall as production decreases. Variable costs differ from fixed costs such as rent, advertising, insurance and office supplies, which tend to remain the same regardless of production output. Fixed costs and variable costs comprise total cost. 21 Books Every Entrepreneur Should Read. Wed, 02/22/2012.
Dave's picks for the new DaVinci site. 5 Things You Should Never Say While Negotiating. If you're new to negotiating or find it difficult, here are some missteps to avoid. Getty Whenever you negotiate, remember that it pays to stay calm. some time haggling, whether it is with customers, suppliers, investors, or would-be employees. Most business owners are street smart, and seem to naturally perform well in negotiations. You probably have a trick or two—some magic phrases to say, perhaps—that can help you gain the upperhand. 6 Rags-to-Riches Millionaires | Power Your Future. Provided by by Andrea N. Browne, John Miley, Susannah Snider and Michael Stratford From Oprah Winfrey to Steve Jobs to J.K.
Rowling, entrepreneurial success stories are the stuff from which American dreams are made. Ecommerce Software and Shopping Cart Software by CoreCommerce. What credit cards can I accept? E-onlinedata supports Visa, MasterCard, American Express, and Discover. You can apply for all four in just one application. How and when do I get paid? Funds are deposited directly via ACH into your checking account within 24-48 hours. I am not located in the United States.
Writing a Business Plan
10 Things to Plan for When Developing a Mobile App. Idea Evaluation. Pitching a Business Idea. Never Get a Real Job. Raising Start-up Capital. TechStars » Funding and Mentorship from the #1 Startup Accelerator in the World. The Young Entrepreneur Council (Y.E.C.) | The World's First Help Desk for Young Entrepreneurs. 106 Excuses That Prevent You From Ever Becoming Great.
---