Guide Through Entrepreneurship
The Hacker's Guide to Investors
April 2007 (This essay is derived from a keynote talk at the 2007 ASES Summit at Stanford.) The world of investors is a foreign one to most hackers—partly because investors are so unlike hackers, and partly because they tend to operate in secret. I've been dealing with this world for many years, both as a founder and an investor, and I still don't fully understand it. In this essay I'm going to list some of the more surprising things I've learned about investors.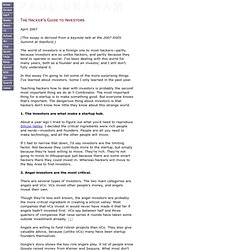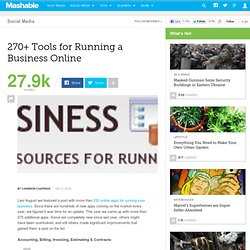 Last August we featured a post with more than 230 online apps for running your business .
4 Hiring Tips for Your Lean Startup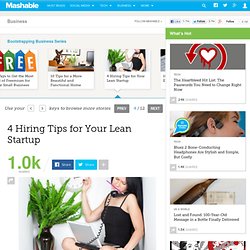 There's a ton do when you're first starting a company. Each co-founder or employee executes several job descriptions jumbled together, and it seems a simple solution to just hire a new person and delegate away responsibilities, never to be worried about again. This becomes especially relevant post-funding, because it suddenly becomes plausible to hire with the intended result of getting more done faster. But this isn't necessarily true, according to Eric Ries, creator of the Lean Startup methodology.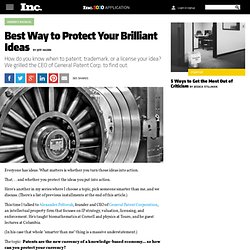 Patents, Trademarks, Licenses: Best Way to Protect Your Brilliant Ideas
How do you know when to patent, trademark, or a license your idea? We grilled the CEO of General Patent Corp. to find out. 96 in Share
E-Myth author Michael E. Gerber says that starting a business is like writing a book, because you must create a business that says something important about you. Getty 417 in Share Connect with Evernote: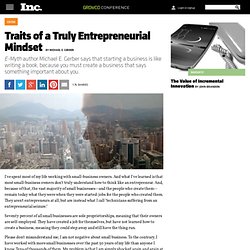 Traits of a Truly Entrepreneurial Mindset
The Hacker's Guide to Investors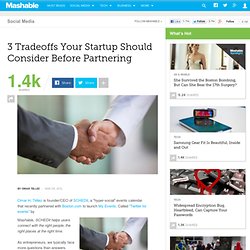 3 Tradeoffs to Consider Before Partnering
Omar H. Téllez is founder/CEO of SCHEDit, a "hyper-social" events calendar that recently partnered with Boston.com to launch My Events. Called "Twitter for events" by Mashable, SCHEDit helps users connect with the right people, the right places at the right time. As entrepreneurs, we typically face more questions than answers. Then, we reach that first moment of glory: We confirm that a) our product does indeed work, and b) there is a demand for it. Surely, one of the most pressing questions is determining the optimal market path, and specifically, whether partnering with an established distribution platform, portal or brand can add transformative value to your company.
March 2005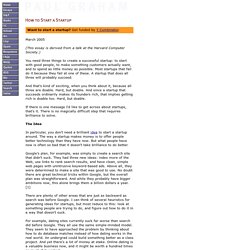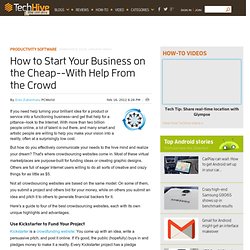 If you need help turning your brilliant idea for a product or service into a functioning business--and get that help for a pittance--look to the Internet. With more than two billion people online, a lot of talent is out there, and many smart and artistic people are willing to help you make your vision into a reality, often at a surprisingly low cost. But how do you effectively communicate your needs to the hive mind and realize your dream? That's where crowdsourcing websites come in. Most of these virtual marketplaces are purpose-built for funding ideas or creating graphic designs.
How to Start Your Business on the Cheap--With Help From the Crowd
How To Hire a Great Developer [FLOW CHART]
Thomas Edison once said that "genius" is 1% inspiration and 99% perspiration. In the world of technology startups, that 99% involves a heck of a lot of coding and wireframing. If you've got an idea for a startup, that's great — but odds are that an idea is all you have. (Well, maybe you have passion and some savings, too.) But you'll need more than that to bring your idea to life — you'll need a developer who can transform your vision into an elegant app or website.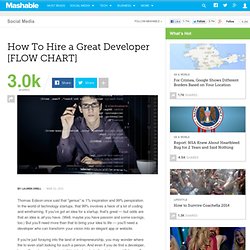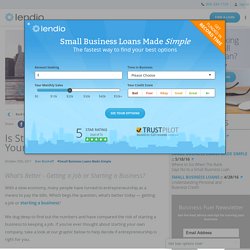 With a slow economy, many people have turned to entrepreneurship as a means to pay the bills. Which begs the question, what's better today — getting a job or starting a business? We dug deep to find out the numbers and have compared the risk of starting a business to keeping a job.
Variable Cost Definition
Dave's picks for the new DaVinci site
5 Things You Should Never Say While Negotiating
If you're new to negotiating or find it difficult, here are some missteps to avoid. Getty Whenever you negotiate, remember that it pays to stay calm. some time haggling, whether it is with customers, suppliers, investors, or would-be employees. Most business owners are street smart, and seem to naturally perform well in negotiations. You probably have a trick or two—some magic phrases to say, perhaps—that can help you gain the upperhand.
With CoreCommerce you can use any merchant account provider you choose. If you currently do not have a merchant account, CoreCommerce offers you access to the highest quality credit card processing and payment solutions. Sign up with e-onlinedata and get a merchant account and gateway (Authorize.net). Accept all MAJOR Credit Cards on your CoreCommerce store Funds deposited directly into your business checking account Accounts INCLUDE real time payment gateway and virtual terminal NO SETUP FEES NO APPLICATION FEES NO ANNUAL FEES NO Address Verification Fees (AVS) NO Leasing NO Early termination fees 2.19% Visa/Mastercard Apply for American Express and Discover on the application $0.30 per transaction $10.00 Monthly Service Fee (includes monthly statement) $25.00 Monthly Processing Minimum Toll free 24/7 Tech support and daily customer service support
Ecommerce Software and Shopping Cart Software by CoreCommerce
David Tucker is a principal architect at Universal Mind . As the resident Apple and Adobe expert, he works closely with Universal Mind's clients to develop rich user experiences that leverage many of today's exciting new development platforms. Follow David on Twitter @mindmillmedia . Many companies have mobile apps at the top of their to-do lists, but while churning out a quick app is fairly straightforward, developing a strategic application or digital "solution" is considerably more complex. Smart planning is essential.
10 Things to Plan for When Developing a Mobile App
Never Get a Real Job
Unemployment and underemployment have become global epidemics. The age-old mantra that says "Work hard, get good grades and go to school to get a job" is antiquated. Now more than ever, to protect your livelihood and your financial future, you must learn how to create your own job to keep a job. To help you do just that, here are five tips and a few reality checks. 1. Kill your ego now Entrepreneurship is not about yachts, fancy cars and making millions.
The Young Entrepreneur Council (Y.E.C.) | The World's First Help Desk for Young Entrepreneurs