Grafika
301 blue ice. Stripe Pattern Generator Tool. Seamless Pattern Background Designs. 23 Oct 2013, 18:01 Hi, and thank you for sharing your wonderful pattern creator.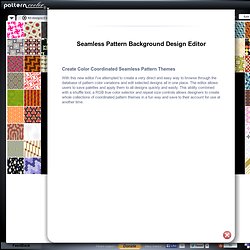 I'm getting the hang of it, but there is one option that I cannot figure out how to use. I go to Pattern Cooler home and select a pattern that I want to edit (colors). I click the option to edit colors but the editor never comes up. It seems as though it gets stuck and never gets to the editor. Please help :( Icon Gallery / 325,508 Free Icons to Search and Download. 25 Examples of Perfect Color Combinations in Web Design. Today we will show you some examples of websites that are using beautiful and inspiring color combinations that match perfectly and create an eye candy result.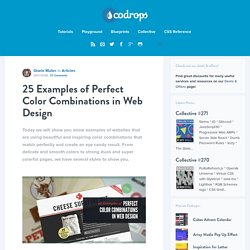 From delicate and smooth colors to strong duos and super colorful pages, we have several styles to show you. Color is definitely a very important element of web design, and if you are familiar with the Color Theory used in visual arts, you may know that even with a lot of studies, the reaction to colors is pretty subjective and people react differently. Some reactions are based on background, others are based on personal taste and even psychological feelings. The color theory is actually a science that helps us design our projects, and it's certainly something to consider when creating a website.
In case you are interested, here are some nice color related tools: COLOURLovers, Kuler Adobe, Color Scheme Designer and remember you can sometimes use Firebug to discover which colors people are using in a design. C HTML5 Logo. The Movement You're excited about HTML5; we are too.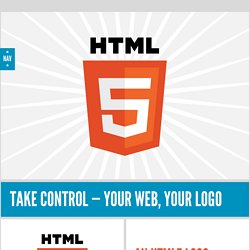 You've not just been enjoying the HTML5-powered web already — you're building it! As adoption and inspiration spreads, the web community will find creative ways to apply HTML5 and related technologies, spark trends, and capture best practices. As momentum builds, we hope you bring this logo along for the ride and paint the world orange. You know that HTML5 badge you've placed oh-so perfectly in your footer? Warszawa 1947. Zdjęcia zniszczonej Warszawy i zdjęcia z 2011 - Galeria - Newsweek.pl.
CSS3 buttons by Chad Mazzola. Map Icons Collection | Google Maps Icons, Map Markers, Free POI Icons, GIS Symbols. Google+ Styled UI Buttons, Icon Buttons & Dropdown Menu Buttons. Zdjęcia Royalty Free Stock na pl.fotolia.com. High Definition | Dual Monitor Wallpapers For Your Computer.
---