Dev.
Get flash to fully experience Pearltrees
There are plenty of different places to get a mobile application designed. The problem is that they're quite expensive. You might be able to figure out how to create your own, but it will probably look very basic. Instead, a good mobile application development software can make it even easier, so that you can build great looking apps all by yourself.
When I wrote my Introduction to NEON on iPhone , I considered some knowledge about the iOS devices' processors as assumed to be known by the reader. However, from some discussions online I have realized some of this knowledge was not universal; my bad. Furthermore these are things I think are useful for iPhone programming in general (not just if you're interested in NEON), even if you program in high-level Objective-C. You could live without them, but knowing them will make you a better iPhone programmer.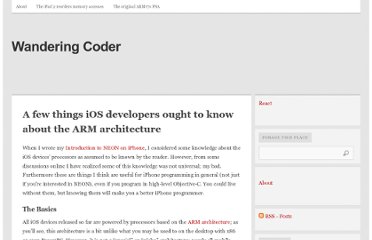 Actually, it's the most useful code I've extended ; credit for the core idea goes to Dave Dribin with his Handy NSString Conversion Macro . LOG_EXPR (x) is a macro that prints out x , no matter what type x is , without having to worry about format-strings (and related crashes from eg. printing a C-string the same way as an NSString ). It works on Mac OS X and iOS.
Iwac the first Iphone SDK online. Design your mobile websites and mobile applications Iwac is a SDK for iPhone usable online. The SDK is available for PC/Mac or Linux OS, directly usable online (without setup or downloading). Iwac offers easy tools to develop iphone web application (for beginner or expert users) without developer experience.