Living Ideas
Shelf Space: Stepped-Up Living Room for Daylight & Display. The stairs are nice, spaces attractive, and finishes appealing … but what really sells this ultra-modern house design is the stepped-up living-and-study area, surrounded on all sides by shelves … a light-filled wooden box against the dark-stained background of the broader home.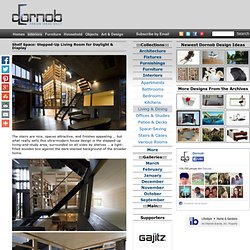 This core portion of the layout was derived by Atelier Ryo Abe Works from two challenges: on the one hand, the residence sits on a small lot with little access to sunlight (except where neighbors could also view in), and, on the other hand, the clients wanted plenty of shelving for a series of items collected over the years. Cool black steel and darkened wood planks create circulation and secondary spaces around the center, but the clear focus is on this towering box that builds up and out from one corner, filled with slots for objects and lit up at night with semi-concealed, indirect artificial lights. Storage and display are anything but secondary in this unique project. Lofted Space-Saving Furniture for Bedroom Interiors. Tumidei is more than just a furniture company – they construct modern and relatively inexpensive (no, not cheap) pieces of furniture that they also create compositions from – interior design photos that you can use to shape your own space.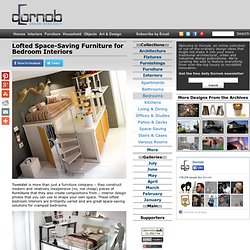 These lofted bedroom interiors are brilliantly varied and are great space-saving solutions for cramped bedrooms. A lot of these lofted interiors are clearly designed for children and teens in terms of sizes, colors and material quality. They incorporate elements needed for a student office, plenty of clothing, game and toy storage and stairs that older people might not be as eager to climb. For a small space (and a small person) one could really see the appeal of fitting everything in. Aerogel: See-Through, Strong as Steel & Ligher than Air. Despite its incredibly low density, aerogel is one of the most powerful materials on the planet.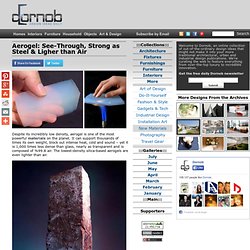 It can support thousands of times its own weight, block out intense heat, cold and sound – yet it is 1,000 times less dense than glass, nearly as transparent and is composed of %99.8 air. The lowest-density silica-based aerogels are even lighter than air. Despite its fragility in certain regards and its incredible lack of density, aerogel has amazing thermal, acoustical and electrical insulation properties as illustrated by the images here. A single one-pound block can also support half a ton of weight. NASA continues to find new space-based applications for this incredible material. A Huge List of Cool Stuff.
Qlocktwo Word Clock. Temperature Sensitive LED Faucet. Temperature Sensitive LED Faucet - $40 When the water flows through the glass tray, the temperature sensor could detect the water temperature and reflect the result to the LED lights.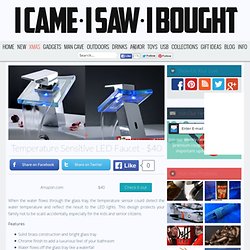 This design protects your family not to be scald accidentally, especially for the kids and senior citizens. FeaturesSolid brass construction and bright glass trayChrome finish to add a luxurious feel of your bathroom Water flows off the glass tray like a waterfall Durable ceramic cartridge to avoid lead Hot & Cold water hoses included Single lever handle, single hole mount Easy to install Temperature sensitive0-30C/0-86F = Blue LED30-40C/87-104F = Green LED41-50C/105-122F = Red LED50-100C/123-212F = flashing Red LED.
---