VIZ
101 posters
albums browse your computer drag and drop here Ctrl + V paste from your clipboard By uploading, you agree to our terms of service
Formation Experience Design avec Paul Kahn - Xebia Training
Jour 1 : Thèmes abordés : Recherche et analyse de l'UX. Sujet : La recherche fondamentale pour le design UX. "Effective questioning brings insight, which fuels curiosity, which cultivates wisdom." −Chip R. Bell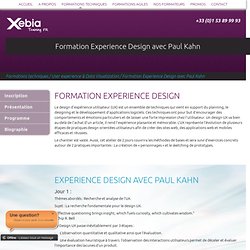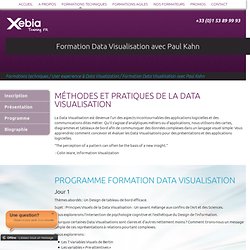 Jour 1 Thèmes abordés : Un Design de tableau de bord efficace. Sujet : Principes Visuels de la Data Visualisation : Un savant mélange aux confins de l'Art et des Sciences. Nous explorerons l'intersection de psychologie cognitive et l'esthétique du Design de l'information.
Formation Data Visualisation avec Paul Kahn - Xebia Training
Vehicle Speed Comparison ~ Classic Star Wars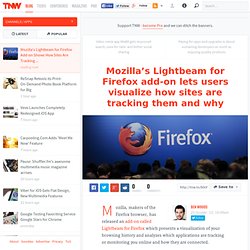 Mozilla, makers of the Firefox browser, has released an add-on called Lightbeam for Firefox which presents a visualization of your browsing history and analyzes which applications are tracking or monitoring you online and how they are connected. The company had previously released an experimental add-on for Firefox called Collusion in a bid to better understand how first-party website tools shape a visitor's experience and how their data is tracked. Following on from its work with Collusion, this second phase of the project now aims to allow users to see exactly who is getting access to their data, and how, with a view to changing Web behaviour of individuals and businesses alike.
Mozilla's Lightbeam for Firefox Add-on Shows How Sites Are Tracking Us
VIZ-THINK-REFERENCES by Arnaud Velten
#FORMATION #FREE : Introduction à l'infographie et la visualisation de données by @AlbertoCairo #dataviz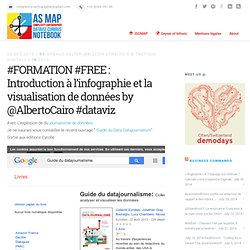 Avec L'explosion de du journalisme de données Je ne saurais vous conseiller le récent ouvrage " Guide du Data Datajournalism" Sortie aux editions Eyrolle Voila une Trés bonne nouvelle qui arrive du TEXAS (oui c'est possible). Un MOOC ( en anglais : massive open online course )
Course: Doing Journalism with Data, First Steps, Skills and Tools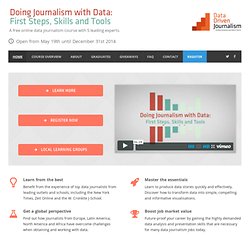 Who can enrol in this course? The course is open to anyone in the world who has an Internet connection and wants to learn how to tell stories with data. Where can I register for the course? You can register for the course at: https://ejcnet.wufoo.com/forms/data-journalism-course-registration. How much does the course cost?
#FORMATION #FREE : Introduction à l'infographie et la visualisation de données by @AlbertoCairo #dataviz
Le Cloud Mapping - Caliente Raymond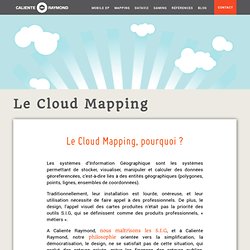 Les systèmes d'Information Géographique sont les systèmes permettant de stocker, visualiser, manipuler et calculer des données géoreferencées, c'est-à-dire liés à des entités géographiques (polygones, points, lignes, ensembles de coordonnées). Traditionnellement, leur installation est lourde, onéreuse, et leur utilisation nécessite de faire appel à des professionnels. De plus, le design, l'appel visuel des cartes produites n'était pas la priorité des outils S.I.G, qui se définissent comme des produits professionnels, « métiers ». A Caliente Raymond, nous maîtrisons les S.I.G, et à Caliente Raymond, notre philosophie orientée vers la simplification, la démocratisation, le design, ne se satisfait pas de cette situation, qui exclut des acteurs privés, grève les finances des acteurs publics, n'attirent pas le plus grand nombre vers la cartographie interactives. D'ailleurs à Caliente Raymond, nous préférons parler de cartographie interactive.
Kahn%3DLenk%3DKacz
Map Book Gallery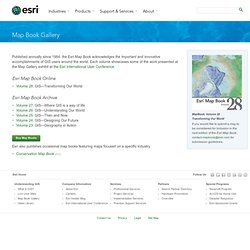 Published annually since 1984, the Esri Map Book acknowledges the important and innovative accomplishments of GIS users around the world. Each volume showcases some of the work presented at the Map Gallery exhibit at the Esri International User Conference. Esri Map Book Online Volume 28: GIS—Transforming Our World
Dropbox - ISOMAP-Carto2.0-Revue-de-blog-4.pdf
16-09-2013 DATA & VIZ Hot next week : d3.js & city By @swissnexsf #SanFrancisco during @okcon #Geneva #Opendata
ZenDay | To-do + Calendar - Applications Android sur Google Play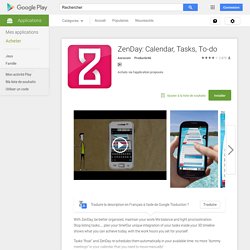 ZenDay (formerly Zime) is a personal time organizer. Stop listing tasks… plan your time! Sync with Google Tasks with our plug-in: http://bit.ly/zenday-gtask Sync with your calendars, add your to-dos in your timeline and plan all your commitments in one place. With our unique ZenDay 3D timeline, you can clearly see what's ahead of you, so you can take the right action. • schedule tasks & meetings • sync with all your calendars • prioritize your tasks and set future tasks • dynamic scheduling: your tasks follow the flow of time • set your deadlines and get reminded • debrief on your previous weeks
Un article de Wikipédia, l'encyclopédie libre. Le plan de Turgot Contexte[modifier | modifier le code] En 1734, Michel-Étienne Turgot, alors à la tête de la municipalité parisienne (en tant que prévôt des marchands), décide de promouvoir l'image de Paris auprès des élites (parisiennes, provinciales et étrangères) en faisant réaliser un nouveau plan de Paris. Il confie à Louis Bretez, membre de l'Académie de Peinture et de Sculpture et professeur de perspective, le soin de lever et de dessiner le plan de Paris et de ses faubourgs. Par contrat, il lui est demandé une observation de grande précision et une reproduction très fidèle, il dispose même d'un mandat de visite l'autorisant à entrer dans les hôtels, les maisons et les jardins.
Plan de Turgot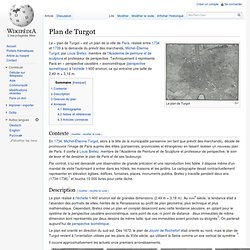 Bienvenue
Bienvenu(e) sur le site de VizThink en France. Ce site est un portail pendant francophone d'une communauté de "VizThinker" lancée aux Etats-Unis dans le milieu des années 2000. L'idée de créer des communautés en France est née de la rencontre avec les fondateurs de VizThink lors de la 1ère conférence VizThink Europe à Berlin en 2008. Vizthink se veut le reflet de l'émergence d'une réflexion et d'une pratique autour de l'expression visuelle, à la croisée des arts et du design graphiques, de l'animation/facilitation, et du story telling.
Mise à jour septembre 2013 Certains "amis" sur Facebook pourraient-ils nuire à l'évaluation de votre profil de risque lors d'une prochaine demande de crédit? Oui, fort probablement, si l'on en croit la journaliste Adrianne Jeffries qui signait en 2011 un article intitulé: As Banks Start Nosing Around Facebook and Twitter, the Wrong Friends Might Just Sink Your Credit sur Betabeat. "Une nouvelle vague de start-up" travaille pour les banques, rapportait-elle, sur des algorithmes de collecte de données à partir du graphe social ("social graph") dans lequel chaque personne représente un nœud lié à un ensemble d'autres nœuds (illustration). Les banques, disait-elle, utilisent déjà les médias sociaux pour être en contact avec leurs clients, et de plus en plus, avec les amis de leurs clients.
Votre réseau social actuel nuira-t-il bientôt à votre crédit?
Influence Networks is an open-source, collaborative directory of relationships between people, institutions and companies. Each relation has its own level of trustworthiness, so that facts can be distinguished from noise. You can explore the database on your own and contribute by adding a relation. If you can't think of any interesting relationship right now, you can also review what other users have input and improve the reliability of the data.
Influence Networks ‹ OWNI
Fizz : la cartographie de votre réseau Facebook et Twitter
Everyday, we blitz you with news of exotic technologies that will change the world -- and so does everyone else. You'd have to be Ray Kurzweil to keep it all straight. But luckily, technologist Michell Zappa has created a simple cheat sheet mapping out all the buzziest technologies in development today. [Click to see full-size] There are two layers of data at work here.
Zoom it intégrer des grandes photos sur votre blog
20 Inspiring Animated Infographics