Outil community manager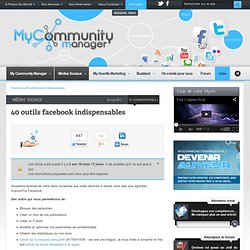 Cet article a été publié il y a 2 ans 10 mois 17 jours, il est possible qu'il ne soit plus à jour. Les informations proposées sont donc peut-être expirées. Deuxième épisode de notre série consacrée aux outils destinés à rendre votre web plus agréable. Aujourd'hui Facebook. Des outils qui vous permettrons de : Bloquer des personnesCréer un livre de vos publicationsCréer un F-storeModifier et optimiser vos paramètres de confidentialitéObtenir des statistiques sur vos amisSavoir qui a consulté votre profil (ATTENTION : ceci est une blague.
Whether looking for a job or building up your career, it is important for your online image to represent you professionally and consistently. Start Now You're about to see a permissions dialog box from Facebook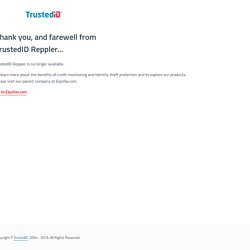 Facebook Met A Jour L'Outil D'invitation Pour Ses Évènements
Social media can help ecommerce businesses. And although social media sites — Twitter, Facebook, LinkedIn, YouTube — are cost-free, they are not time-free. In fact, managing just a single social network business page can be a full-time job, not to mention managing three or four on multiple incompatible platforms — which is what many businesses try to do. Enter social-media-management software, applications that help your business manage multiple social network accounts simultaneously in one spot. They (a) provide a secure place to house your multiple passwords and usernames, (b) allow simultaneous posting across platforms, and (c) schedule and even automatically post to the platforms, if needed. Look at some of these options and find the one that best suits your business's needs.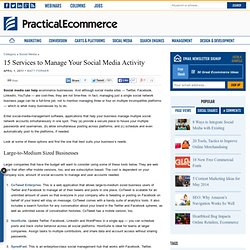 15 Services to Manage Your Social Media Activity