Infographie
Social Media: A History #infographic #social | Community Management
Francesco Franchi – Infographics. A Visual Definition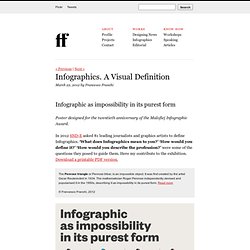 Poster designed for the twentieth anniversary of the Malofiej Infographic Award. In 2012 SND-E asked 81 leading journalists and graphics artists to define Infographics. 'What does Infographics mean to you?'
How To Be Productive #Infographic | Personnal_hacking_by@bizcom
The Ultimate List of Educational Websites via ... | E-education_by_@B…
social-media-map.pdf
#FORMATION #FREE : Introduction à l'infographie et la visualisation de données by @AlbertoCairo #dataviz
Avec L'explosion de du journalisme de données Je ne saurais vous conseiller le récent ouvrage " Guide du Data Datajournalism" Sortie aux editions Eyrolle Voila une Trés bonne nouvelle qui arrive du TEXAS (oui c'est possible). Un MOOC ( en anglais : massive open online course ) Introduction à l'infographie et la visualisation de données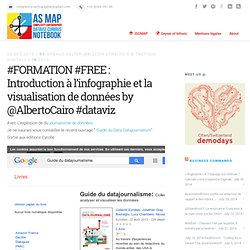 [This is a guest post by Csönge Balla*, about her infographic project "System of my Relationships"] In the spring semester of 2013, one of our projects at the Hungarian University of Fine Arts was to design an infographic poster of our relationships. As I have many acquaintances from various places and periods of my life, I wanted this to appear on my infographic, too. That's why I decided to display much data and build a rather complex visual system of my relationships. Having set dimensions of the poster also helped: I was able to plan with tiny details, because we had to design a 70×100 poster.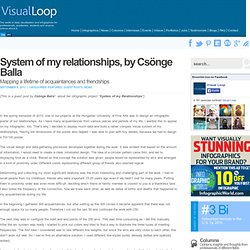 System of my relationships, by Csönge Balla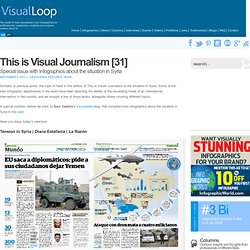 Similarly to previous posts, the topic in hand in this edition of This is Visual Journalism is the situation in Syria. Some of the best infographic departments in the world have been depicting the details of the escalating threat of an international intervention in the country, and we brought a few of those works, alongside others covering different topics. A special mention, before we start, to Saul Castillo's Inconsolata blog, that compiled more infographics about the situation in Syria in this post. Hope you enjoy today's selection: Tension in Syria | Diana Estefania | La Razón (image: Diana Estefania | La Razon)
This is Visual Journalism [31]
publié le 13 novembre 2012, de Camille Blaise Commentaires Vous vous souvenez ? Nous avions déjà parlé sur ce blog de quels outils choisir pour faire une infographie en ligne , depuis d'autres médias en ont parlé et les outils présentés se sont même améliorés!
Trucs et astuces pour créer une belle (et riche) infographie
Big Data is Big Business in Banking
Market Intelligence Investments ROI
Beyond "like" and "follow us." The next stage ... | E-commerce_by_@...
Link building anatomy 2012 #Infographic | Seo_by_@bizcom
What is your Social Media personality? ... | Social_Media_by_@Bizcom
7 Key Steps to Creating an Awesome Infographic
The younger generation would rather watch a 2 minute video than read a page of text. How do I know that?…because I asked them. Last week I was standing in front of thirty young adults at the International College of Management aged from 18 to 25 and I posed the question. Would you rather read a blog article or watch a 2 minute video? Twenty five out of the thirty said " video "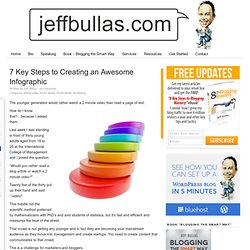 5 Killer Facebook Marketing Infographics
83 +1 343 Share 2549 Tweet 570 Share 3656 Pin It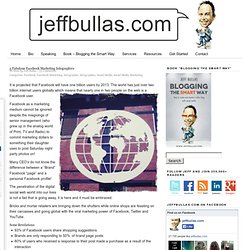 Visual Loop
It's not often you see a major update in a popular service being welcomed both by users and critics, but so far it's what happening to the 'new' Google Maps – everyone who tried it, loved the new features. Google seems really decided to leave the competition behind, when it comes to online maps – although the visualizations featured in today's selection include some created with different development platforms. On a different topic, the organization of the ICC 2013 just opened a call for short papers (15 mins with 5 mins for questions) on aspects of research into design as it relates to web mapping for inclusion and 5 minute lightning talks that share an idea, open a debate or deal with a very specific issue.
Digital Cartography [4]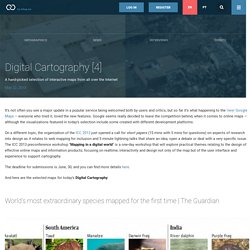 Security threats by the numbers
email_marketing
SXSW Revealed: What Really Happens on A Typical Day (and Night)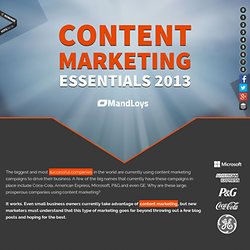 Content Marketing Explained in a Dynfographic by MandLoys
Agile marketing is quickly becoming a big buzzword along with content marketing and it's an important trend for content creators to be aware of and follow. Agile marketing includes measuring and tracking all efforts put into content, analyzing content results to figure out what is working and what isn't working.
infographie_Randstad-Award_2013
L'avènement des « infographies »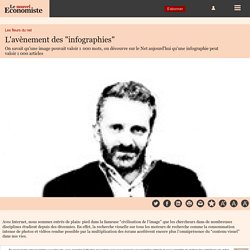 Les fleurs du net On savait qu'une image pouvait valoir 1 000 mots, on découvre sur le Net aujourd'hui qu'une infographie peut valoir 1 000 articles Avec Internet, nous sommes entrés de plain- pied dans la fameuse "civilisation de l'image" que les chercheurs dans de nombreuses disciplines étudient depuis des décennies. En effet, la recherche visuelle sur tous les moteurs de recherche comme la consommation intense de photos et vidéos rendue possible par la multiplication des écrans accélèrent encore plus l'omniprésence du "contenu visuel" dans nos vies.
Evaluez votre Page Fan Facebook avec cet Aide-Mémoire [Infographie] | Emarketinglicious
Bonjour! Si vous visitez Emarketinglicious pour la 1ère fois, abonnez-vous à notre flux RSS pour recevoir nos dernières actualités. Vous êtes-vous jamais demandé si vous aviez mis en place toutes les bonnes pratiques pour votre Page Fan Facebook ?
Social Media & Marketing / Public or private: the risks of posting in #social networks - #SocialMedia
Bleu Ciel d'EDF. Electricité et gaz naturel pour les particuliers
Green building's many benefits
The Future of Big Data
Can We Teach Compassion? [Infographic] « B2B-TechCopy Technology Marketing Blog
Facebook provides a wide ranging and encompassing online social network ecosystem that allows you to share music, photos and information that can be seen by your friends in their timeline and ticker.
5 Reasons Why Facebook Drives Consumer Buying - Infographic
Social media is emerging from its adolescent phase and is rapidly maturing. Initially social networks had an image problem with some CEO's and executives thinking Facebook was for teenagers to post the weekend's party photos and Twitter was for narcisstic attention seekers with a limited vocabulary.
5 Insights into Global Social Media in 2012 [Infographic]
Ne pas perdre son lecteur par des infographies incompréhensibles |
Ce 1er Novembre, le jour Business Week a souhaité a priori illustrer le caractère de plus en plus coûteux des catastrophes naturelles. Voici la data-visualisation qu'ils ont élaboré:
Le responsive design expliqué à ma grand-mère !
que j'ai mené il y a deux semaines ( ) , j'ai eu le temps de me pencher vraiment sur l'adaptabilité des sites internet sur tablette, smartphone et sur la notion de « Responsive webdesign ».
Infographie: Optimisez votre marketing relationnel
?utm_source=dlvr
Infographic: Which States Have the Worst Air? - Environment
?utm_source=dlvr
Guide de dimensions des images pour vos médias sociaux | Sirocco Communication
hark
Une très très très courte histoire de la typographie. #infography
[Infographie] Quel utilisateur des médias sociaux êtes vous? » Brand E-reputation
Crayola Crayon Chronology
Infographic of Who's Who Of Social Influence Measurement Klout Rules
izing Pi
Social-Media-Demographics-972
Concevoir, lire et comprendre, évaluer un wireframe | Marketing éditorial et avatars
Images : Les smartphones peuvent finir par nous tuer - Infographie Smartphones
The Marketers Guide to Pinterest - Infographic
What is the value of a Facebook fan? | Thought leadership in branding and digital marketing
The state of the global spy game: Graphic
[Infographie] LeWeb'11 en chiffres et en images !
Internet et les TPE en France