iPad stuff
The Best Of. The 10 Comandments of iPad Tablets. We all have probably heard the story of Moses, bringing down the 10 commandments on two stone tablets from Mount Sinai, but there are also commandments that apply to our iPad tablets.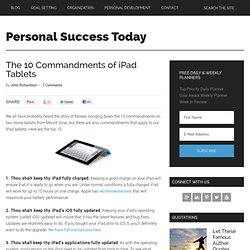 Here are the top 10. 1. Thou shalt keep thy iPad fully charged. Keeping a good charge on your iPad will ensure that it is ready to go when you are. Top 200 best iPad apps 2011. If you've got yourself an iPad Air or new iPad mini, you'll want to start downloading the best iPad apps straight away.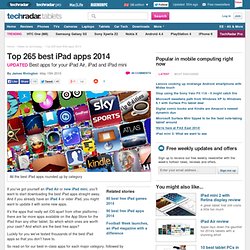 And if you already have an iPad 4 or older iPad, you might want to update it with some new apps. It's the apps that really set iOS apart from other platforms - there are far more apps available on the App Store for the iPad than any other tablet. So which which ones are worth your cash? And which are the best free apps? Luckily for you we've tested thousands of the best iPad apps so that you don't have to. iPad News, Reviews, iPad Games, iPad FAQs, iPad Accessories, iPad Tips Tricks, iPad Forums. iPad News, Reviews, Apps, Accessories, and Tips.
iPadNewsDaily.com - Apple iPad tablet news, reviews, apps, games and accessories. iPad Creative. iPad Insight | iPad blog for app reviews, news, tips,how-tos. Quick Hit - Saving Documents from iP@d to Dropbox #edchat #edtech. I wanted to share with everyone a way to save Pages and Keynote files from the iPad to your Dropbox account.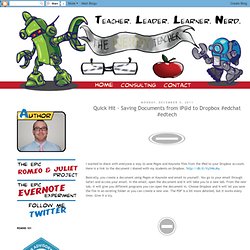 Here is a link to the document I shared with my students on Dropbox. Basically, you create a document using Pages or Keynote and email to yourself. You go to your email through Safari and access your email. In the email, open the document and it will take you to a new tab. iPad Insight | iPad blog for app reviews, news, tips,how-tos. Best iPhone And iPad Apps.
---