Bilgegercek
Bilge Gercek
AROUND THE WORLD. Tom Dixon's CLUB revises the traditional gentlemen's club look, infusing the collection of furniture and accessories with multicultural influences and modern, almost futuristic vision.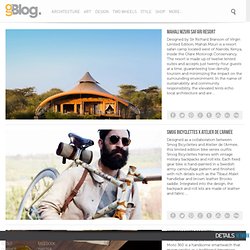 Made for work and play, CLUB includes everything from lighting to cocktail shakers, all dressed to the nines in rich colors and metallic finishes. Looking through the preview, one will find floor lamps inspired by traditional Indian water vessels, industrial pendant lamps with automotive flair, and ... The Magic of Doing One Thing at a Time - Tony Schwartz. By Tony Schwartz | 8:53 AM March 14, 2012 Why is it that between 25% and 50% of people report feeling overwhelmed or burned out at work? It's not just the number of hours we're working, but also the fact that we spend too many continuous hours juggling too many things at the same time. What we've lost, above all, are stopping points, finish lines and boundaries.
Academic
ProjectManagement. PHOTOGRAPHY. Pearltrees videos. Help. Zeytinolsa.
---