Maps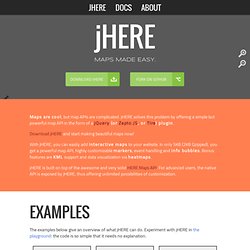 Maps are cool, but map APIs are complicated. jHERE solves this problem by offering a simple but powerful map API in the form of a jQuery (or Zepto.JS, or Tire) plugin. Download jHERE and start making beautiful maps now! With jHERE, you can easily add interactive maps to your website. In only 5KB (2KB Gzipped), you get a powerful map API, highly customizable markers, event handling and info bubbles. Bonus features are KML support and data visualization via heatmaps.
jHERE - Maps Made Easy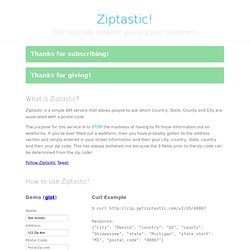 Ziptastic is a simple API that allows people to ask which Country,State and City are associated with a Zip Code. The purpose for this service is to STOP the madness of having to fill those information out on webforms. If you've ever filled out a webform, then you have probably gotten to the address section and simply entered in your street information and then your city, state, country and then your zip code. This has always bothered me because the 3 fields prior to the zip code can be determined from the zip code!
Ziptastic
jQuery Map Marker Plugin makes it easy to put multiple markers on Map using Google Map API V3. Map Marker is very useful when you have a list of data & you want to show all of them on Map too. Like most of the jQuery plugins, this plugin is very straight forward to setup. It has some nice options & uses JSON formatted data for every Locations. Also make note that you must have to pass the Location values using Lattitude & Longitude co-ordinates of the that Location (due to Google map API limitation). Below steps will make more sense of using this plugin.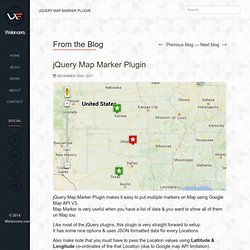 jQuery Map Marker Plugin | Welancers
An Open-Source JavaScript Library for Mobile-Friendly Interactive Maps ← Back to the list of tutorials This step-by-step guide will quickly get you started on Leaflet basics, including setting up a Leaflet map, working with markers, polylines and popups, and dealing with events. Hello world!I am a popup. View example on a separate page →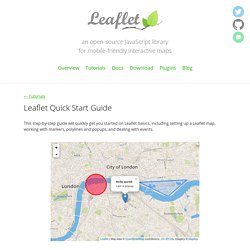 Kartograph is a simple and lightweight framework for building interactive map applications without Google Maps or any other mapping service. It was created with the needs of designers and data journalists in mind. Actually, Kartograph is two libraries. One generates beautiful & compact SVG maps; the other helps you to create interactive maps that run across all major browsers. Kartograph.py A powerful Python library for generating beautiful, Illustrator-friendly SVG maps.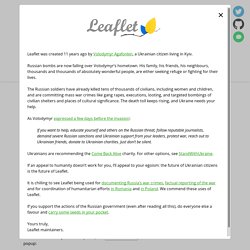 An Open-Source JavaScript Library for Mobile-Friendly Interactive Maps November 18, 2013 — Leaflet 0.7 Release, MapBox & Plans for Future (Blog Post) Leaflet is a modern open-source JavaScript library for mobile-friendly interactive maps.
jQuery Geo
jQuery Geo - a JavaScript mapping API jQuery Geo, an open-source geospatial mapping project from Applied Geographics, provides a streamlined JavaScript API for a large percentage of your online mapping needs. Whether you just want to display a map on a web page as quickly as possible or you are a more advanced GIS user, jQuery Geo can help! You can check back here or follow @jQueryGeo on Twitter for release announcements. Also, head over to the lead developer's Twitter account, @ryanttb, for development info, links, or to ask questions. Download