Language
I Learned to Speak Four Languages in a Few Years: Here's How. English Language and Usage - Stack Exchange. Learn a new Language - Pimsleur Language Programs. Living Language - Home. The Michel Thomas Method - The Natural Way to Learn a New Language. Home. Welcome to fsi-language-courses.org - the home for language courses developed by the Foreign Service Institute.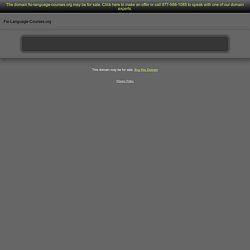 This site is dedicated to making these language courses freely available in an electronic format. ; it is an independent, non-profit effort to foster the learning of worldwide languages. Courses here are made available through the private efforts of individuals who are donating their time and resources to provide quality materials for language learning. Catching Up January 16, 2011. Verbling. Polyglot Club Official Website - Find a friend to exchange languages!
Language Learning with Livemocha | Learn a Language Online - Free! Fluent in 3 months.
---