Plugins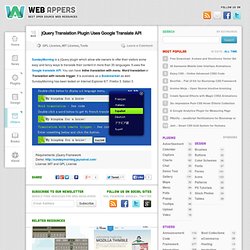 SundayMorning is a jQuery plugin which allow site-owners to offer their visitors some easy and fancy ways to translate their content in more than 30 languages.
jQuery Translation Plugin Uses Google Translate API
What's new Version 2 is completely rewritten with new features and updated graphics. Notable changes Extendable using helpers Responsive (try resizing window while fancyBox is open) Integrated slideshow New gallery transitions Uses CSS3 (shadows, round corners) Updated plugin options (not compatible with previous versions) Now licensed under Creative Commons Attribution-NonCommercial 3.0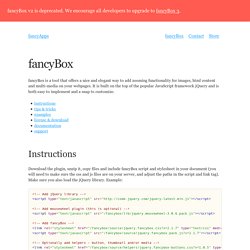 jQuery.SerialScroll
Click here for the new version of this plugin This is my first jQuery plugin. I wrote several jQuery scripts but never made a real plugin just because I was I afraid of it's complexity.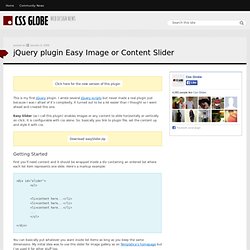 Plunging into the sea of jQuery plugins – Part I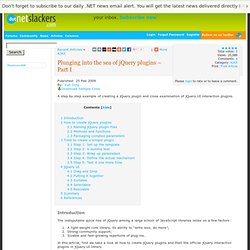 A step by step example of creating a jQuery plugin and close examination of jQuery UI interaction plugins.
Introduction This plugin allows you to easily animate any series of elements, by sequentially scrolling them.
jQuery.SerialScroll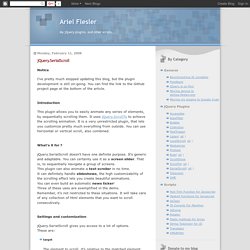 CrossSlide is a jQuery plugin implementing in 2kB 1 of Javascript code some common slide-show animations, traditionally only available via Adobe Flash™ or other proprietary plugins. CrossSlide builds upon jQuery's animation facility, so it is as portable across browsers as jQuery itself (that is, a lot!)
jQuery.LocalScroll
What does this plugin do ?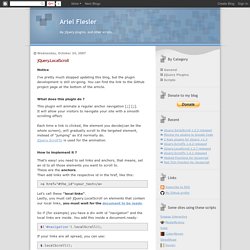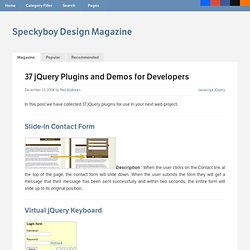 Slide-In Contact Form
Hover above and feel for yourself, the nifty effect of Lava Lamp. What you just experienced is nothing but the LavaLamp menu packaged as a plugin for the amazing jQuery javascript library .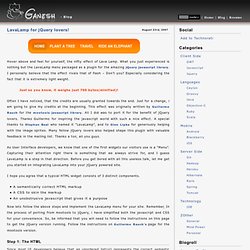 Gradient jQuery plugin | Programming blog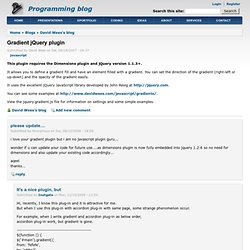 The server encountered an internal error or misconfiguration and was unable to complete your request.
jQuery Plugins - Best for Web Designers
jgrowl
I released a small updated to jGrowl today that fixes an issue when triggering the shutdown method (thank you Joana for reporting it!), basically the multi-notification closer would be left behind (though not visible) and remain in limbo. The fix cleans out all nodes in the container emptying it completely out upon shutdown.
the interwebs home of josh nathanson
Update: I've released an updated version of this code which is more flexible. Please check it out . I've just discovered jQuery which is an awesome JavaScript library.
Switch stylesheets with jQuery | kelvinluck.com
22 Firefox 3 Plugins Web Designers Can't Live Without
Mozilla Firefox has always been considered a "user-friendly" browser, but with all the customizable extensions, it has become probably the most "developer-friendly" browser as well.
Safari users have been enjoying the search-as-you-type extension Inquisitor for a long time, and now Firefox users can, too . Although it was originally developed independently for Safari by David Watanabe (creator of apps like Acquistion and Newsfire), it was acquired by Yahoo! back in May. Apparently, that resulted in a preview of a Firefox version, which seems to work just as well as its Safari counterpart. If you like the idea of instant search results, displayed as you type, give it a try.
Inquisitor search plugin now available for Firefox - Download Squad
Clone Detective for Visual Studio - Home
News 26 January 2013 - Version 2.1.1 Relased This release adds support for jQuery 1.9.0 along with a couple of other bug fixes. If you're using a version of jQuery later than 1.8, be extra sure you're not rendering your page in quirks mode to avoid breaking tooltips for IE users. See jQuery's notes on quirks compatiblity for more info. See the full changelog for details of all changes. 15 October 2012 - Version 2.1 Released This release is primarily a bug-fix release, but also adds support for Internet Explorer 10.
Blog Archive » 240 plugins jquery
240 plugins jquery | Computer and Technoloy News
Sxipper