Collection
20 Most Interesting Silverlight Tutorials | AjaxLine. In this article Jeff Wilcox provides a comprehensive guide about using the AutoCompleteBox control in Silverlight.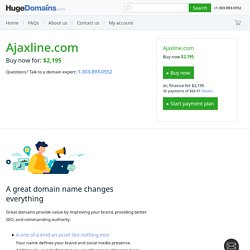 Cal Schrotenboer posts an article about developing Silverlight 2 application with Ruby and Python. He also tells about several demo applications in this article. Scott Hansellmann posts an article about creating charts in Silverlight Technology. The RSS feeds is common attribute of modern web sites. Suprotim Agarwal shows how to read and display RSS feed in Silverlight DataGrid.
Try Fun Science Experiments At Home With These 6 Websites | MakeUseOf.com. Were you the type of kid that would get in trouble because you were always blowing something up or mixing things together that shouldn't be mixed?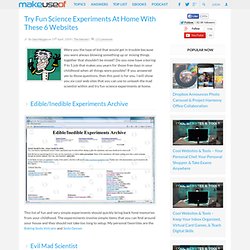 Do you now have a boring 9 to 5 job that makes you yearn for those free days in your childhood when all things were possible? If you answered yes to those questions, then this post is for you. 5 Easy-to-use Freeware Video Converters | MakeUseOf.com. Our lives have turned into a big media center.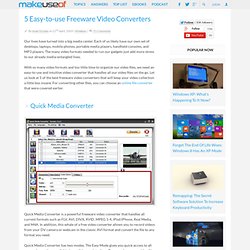 Each of us likely have our own set of desktops, laptops, mobile phones, portable media players, handheld consoles, and MP3 players. The many video formats needed to run our gadgets just add more stress to our already media-entangled lives. Free Portable Software USB Flash Drive Applications | Pendriveapps. Free Disposable Email Services | Universe Firefox. Best Anonymous Temporary Email: The Top Disposable E-Mail Services And Tools - Mini-Guide - Robin Good's Latest News. Melt MailMelt Mail is a service that allows you to create a temporary email address that can be used for one-time registrations, or to avoid giving away your personal address.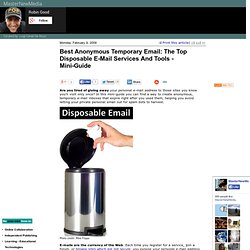 You can even specify how long your temporary inbox will last. Free to use and with no registration needed, Melt Mail allows you to check the expiration of your mailbox in a handy auto-updating pop-up window. is a service to create a disposable email inbox that you can use to filter the spam at your personal inbox. You can use it to register to those sites you plan to visit just once in your lifetime. Your temporary inbox can last from 12 hours to three months. MailExpire is free and no registration is required to use the service. MailIncognito mail is a clean, simple service to create a disposable email address that you can use for one-shot registration purposes and stop spam to reach your personal email address. 25 Must-Have Thumb Drive Apps for Geeks : Crazeegeekchick.com. Federation of American Scientists :: Military Aircraft and Aircraft Equipment Tutorials. The leading free stock photography site.
Gallery. Rincewind Warhammer Oldala. Mighty Optical Illusions. Julie Bell & Boris Vallejo. Alex Ross Art - Original Art For Sale. Apps To Go - Exceptional portable applications. USB applications. This document was originally located at USB apps | HAQ | AutoHotkey | Batch files This is a selection of freeware and OSS Windows programs that run from USB keydrives with full functionality.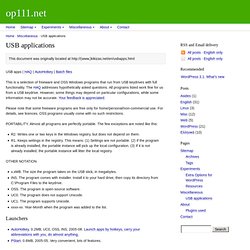 The HAQ addresses hypothetically asked questions. All programs listed work fine for us from a USB keydrive. News. Desideriamo informare gli utenti che è attualmente in corso lo sviluppo di alcune caratteristiche della nostra piattaforma che introdurranno nuove funzionalità, tra cui il supporto multilingua.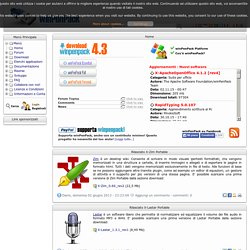 Per questo motivo abbiamo dovuto rallentare temporaneamente l'aggiornamento degli X-Software, che speriamo possa riprendere prima possibile. Purtroppo, l'esiguo numero dei collaboratori attivi e il carattere principalmente volontario del progetto non ci permettono di portare avanti lo sviluppo dei vari componenti di winPenPack, gli aggiornamenti e il sito web come vorremmo. A questo proposito abbiamo deciso di ampliare il winPenPack Team, dando la possibilità a nuovi sviluppatori di entrare a far parte del nostro gruppo. Portable software for USB drives. Stand Alone Apps. Portable Programs and Apps. Portable apps for USB flash Drives. Today we've gathered together a bunch of applications that you can use directly off your flash drive.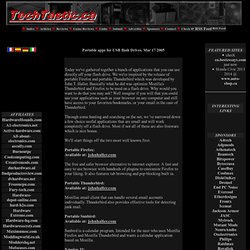 We we're inspired by the release of portable Firefox and portable Thunderbird which was developed by John T. Haller. Basically what he did was optimize Mozilla's Thunderbird and Firefox to be used on a flash drive. Why would you want to do that you may ask? Best Free Portable Software for Windows. The best completely Free Windows Software - Freeware.
No shareware, no nagware, no adware. Reviewed continuously, Categorized conveniently. 24 Killer Portable Apps For Your USB Flash Drive - Download Squad. My flash drive works pretty hard, so I've spent a lot of time gathering a reliable, powerful set of portable tools that allow me to work hard and play hard, even if I can't do it on my own PC.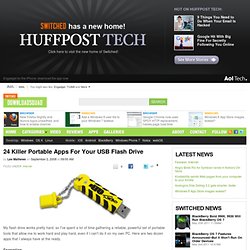 Here are two dozen apps that I always have at the ready. Encryption Truecrypt - Why is TrueCrypt first on the list? Absolutely Del.icio.us Tools Collection. [Regularly Updated] Looking for the best delicious tools, mashups, hacks and services on the web.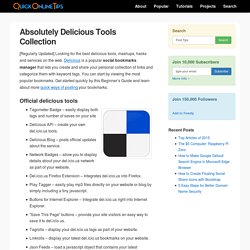 Delicious is a popular social bookmarks manager that lets you create and share your personal collection of links and categorize them with keyword tags. You can start by viewing the most popular bookmarks. Wallpaper Roundup - Simplehelp. A number of blogs have recently pointed out the amazing collection of desktop wallpapers that can be found in the Flickr Wallpapers Group. So I thought I'd share a few of my favorite desktop wallpaper sites.. It doesn't matter which Operating System you use, everyone loves a good desktop wallpaper site. Here are my favorites (all are pop-up free): Interfacelift.com has 980+ wallpapers, in wide-screen and standard sizes. You can sort the images by date, popularity, category and resolution.
---