Liens utiles
Apps Marketplace - OpenClass. OpenClass integrates seamlessly with Google Apps for Education, enabling easy setup and single sign-on and offering tools that support the automatic import of content from external sources.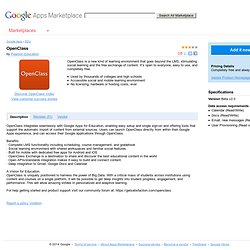 Users can launch OpenClass directly from within their Google Apps experience, and can access their Google applications through OpenClass. Benefits · Complete LMS functionality including scheduling, course management, and gradebook · Social learning environment with shared workspaces and familiar social features · Built for mobile with dedicated free apps for Android and iOS · OpenClass Exchange is a destination to share and discover the best educational content in the world · Open APIs/standards integration makes it easy to build and connect content · Deep integration to Gmail, Google Docs and Calendar.
Orientation et Formation. Formation continue - Toute la formation continue avec Pourseformer.fr. Centre Inffo. Le portail national de la Validation des Acquis de l\'Expérience (V.A.E.) - Ministère du Travail, des Relations sociales et de la Solidarité.
---