MusicStreaming
We Are Hunted is not available at the moment. About We Are Hunted We Are Hunted is one of the World's leading music discovery services. The company publishes awesome music charts, recognized by industry insiders as the best source of new music in the world today. As well as its popular website, We Are Hunted has developed a series of innovative iPhone, iPad, Android and Spotify apps. Behind the scenes, We Are Hunted is a software company that has developed proprietary search technology that continuously scans the web to find the hottest new music in the World today.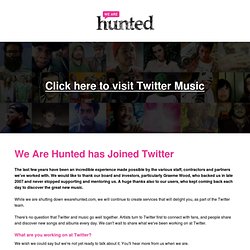 Spotify + We Are Hunted
Vous aviez aimé la saison dernière mes 5 playlists Spotify de la semaine ? Vous adorerez la Spotify Party . Encore plus de playlists, de Lol, de bizarreries, de méga bonne musique, on se croirait sur NRJ dans les années 80 tellement cette certitude est forte, vous en tremblez tellement que vous avez peine à cliquer pour voir cette page dans son intégralité.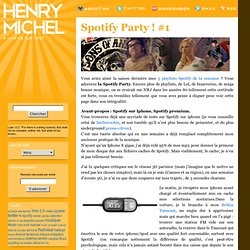 Spotify Party ! #1
Listiply - Discover and share Spotify playlists - Welcome
Disco SpoTwitFy Spotify playlists shared on Twitter
Only the best! | Share Spotify Playlists at ShareMyPlaylists.com
Trois outils pour Spotify
Spotify , le service (et son application) de streaming de musique a fait l'objet de quelques développements de services ou d'utilitaires par des tierces parties. En voici trois exemples. Spotify Mac Remote [ 1.0 - 258 Ko - Mac OS X 10.4 - Gratuit] permet de piloter le logiciel avec l'Apple Remote : commandes de lecture et réglage du volume. Il faut d'abord installer - si ce n'est déjà fait - le fichier SIMBL (il va se placer dans Bibliothèque (à la racine du disque) > InputManagers). Puis on installe manuellement le module Spotify Mac Remote dans Bibliothèque (du dossier utilisateur) > Application Support > SIMBL.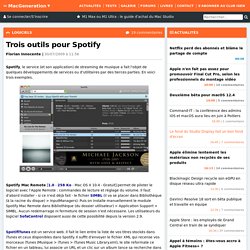 Home » Liens du soir 18 septembre 2009 Par Benoit Darcy 1 867 lectures Pas de commentaire Liens du soir : quelques liens prospectifs, humoristiques ou informatifs, issue de ma revue de presse perso ou envoyés par les amis via les canaux modernes de partage de l'information… A consommer sur place, et sans aucune modération ! Bien entendu, vous êtes invités à réagir dans les commentaires. Et, si par hasard vous aviez repéré une information susceptible de figurer ici (c'est à dire tournant autour des thèmatiques de l'innovation, du buzz, des médias, de la musique ou des technologies), n'hésitez pas non plus à en faire part en postant le lien dans les commentaires… Bonne soirée !
Spotify : chiffres et stratégie, innovation, affaire Hortefeux,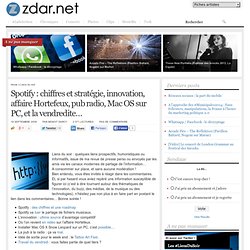 Spotify boss reveals subscriber numbers and plans to become a so
Spotify boss Daniel Ek has revealed that fewer than 10 per cent of users pay to listen to the music-streaming service , even after a spike in premium subscriptions following the recent launch of its mobile app . Interviewed before an audience of entrepreneurs and start-up types by Virginia Eastman off of Working Lunch , at an event organised by Glasshouse London , the accordion-playing Swede revealed a new social direction for Spotify and discussed the company's gestation period. The plan, when the company was founded in 2006, was to broker deals with record labels in six months -- it ultimately took two and a half years. Despite this, Ek says he was "never in doubt that we could build a better product than piracy."
DropPlay - Music for Everyone!
EBONY CUTS - rare disco / soul / funk & old school mixes by glor
Pour Spotify, l'idée d'un succès instantané est dangereuse et fa
Search results at Spotifyfriends.com