Food
Recipe: Salad Dressing. Carrots | Jamie Oliver Recipes. Yeast Free Pizza Crust & Homemade Pizza. 2 c. flour 1 tsp. salt 2 tsp. baking powder 2/3 c. water 1/4 c. vegetable oil Tomato sauce Ground pork or hamburger, browned Chopped onion 1/2 tbsp. pizza seasoning Mushrooms Shredded pizza cheese Mix flour, salt, baking powder and water.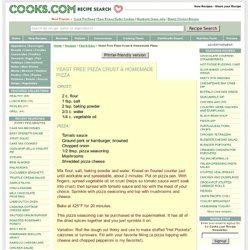 Knead on floured counter just until workable and spreadable, about 2 minutes. Put on pizza pan. With fingers, spread vegetable oil on crust (helps so tomato sauce won't soak into crust) then spread with tomato sauce and top with the meat of your choice. Nigel Slater's classic tzatziki recipe. The recipe CucumberOlive oilYogurt (preferably goat's or sheep's, strained)Crushed garlicDill or mintLemon juiceA little salt Made from two or three ingredients, this Greek recipe is easier to make than it is to spell and sometimes appears as tzadziki or tsatsiki.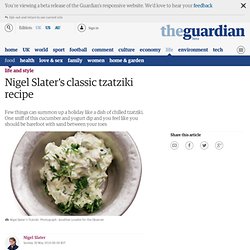 If it doesn't appear with your holiday mezze and a plate of warm pitta with which to scoop it up, it will come as a sauce for your souvlaki or your meat. You will find it in Turkey and Cyprus, and elsewhere with local alterations. The yogurt is usually goat's or sheep's and is of the strained variety. Five-Minute Chocolate Mug Cake. Warm Toasted Marshmallow S'more Bars. Recipe_choc_raspberry_trifle. Chocolate Rum Pots De Creme. HERSHEY'S Kitchens Home Page Recipes.
Credit crunch meal planner | Cheap family meals | Cheap recipes. With food prices up a whopping 12% this year, you may find that there's a lot less in your shopping basket for the same money.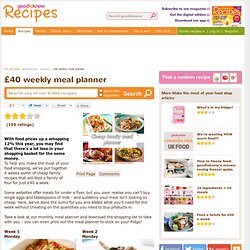 To help you make the most of your food shopping, we've put together 4 weeks worth of cheap family recipes that will feed a family of four for just £40 a week. Some websites offer meals for under a fiver, but you soon realise you can't buy single eggs and tablespoons of milk - and suddenly your meal isn't looking so cheap. Here, we've done the sums for you and added what you'll need for the week without cheating on the quantities you need to buy products in. Take a look at our monthly meal planner and download the shopping list to take with you - you can even print out the meal planner to stick on your fridge!
---