Food
Recipe: Salad Dressing
2 c. flour 1 tsp. salt 2 tsp. baking powder 2/3 c. water 1/4 c. vegetable oil Tomato sauce Ground pork or hamburger, browned Chopped onion 1/2 tbsp. pizza seasoning Mushrooms Shredded pizza cheese Mix flour, salt, baking powder and water. Knead on floured counter just until workable and spreadable, about 2 minutes. Put on pizza pan. With fingers, spread vegetable oil on crust (helps so tomato sauce won't soak into crust) then spread with tomato sauce and top with the meat of your choice.
Yeast Free Pizza Crust & Homemade Pizza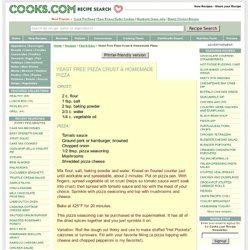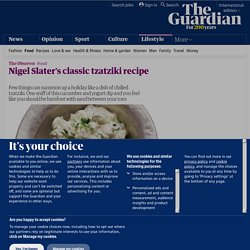 Nigel Slater's classic tzatziki recipe | Life and style | The Observer
Nigel Slater's Tzatziki. Photograph: Jonathan Lovekin for the Observer The recipe Cucumber Olive oil Yogurt (preferably goat's or sheep's, strained) Crushed garlic Dill or mint Lemon juice A little salt
recipe_choc_raspberry_trifle
Chocolate Rum Pots De Creme
With food prices continuing to rise, you may find that there's a lot less in your shopping basket for the same money. According to June 2009 figures on the mySupermarket website which tracks UK supermarket food prices, a basket of 24 staple grocery items increased by 18% in the 12 months between December 2007 and December 2008. Although food price rises have been slowing, they're still higher than they have been. To help you beat the credit crunch, we've put together a fortnight's worth of cheap family recipes that will feed a family of four for just £40. Some websites offer meals for under a fiver, but you soon realise you can't buy single eggs and tablespoons of milk - and suddenly your meal isn't looking so cheap.
Credit crunch meal planner | Cheap family meals | Cheap recipes