Cakes
Recipe-Tools/Print/Recipe.aspx?RecipeID=12209&origin=detail&servings=18. Makes » how to make a rainbow cake! Aaannnndddd, she's back!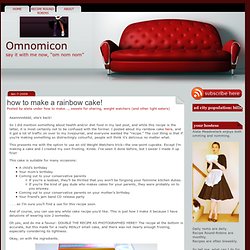 So I did mention something about health and/or diet food in my last post, and while this recipe is the latter, it is most certainly not to be confused with the former. I posted about my rainbow cake here, and it got a lot of traffic on over to my livejournal, and everyone wanted the "recipe." The cool thing is that if you're making something so distractingly colourful, people will think it's delicious no matter what. This presents me with the option to use an old Weight Watchers trick—the one-point cupcake. Except I'm making a cake and I created my own frosting.
Devil's Cake Balls. If you haven't heard of cake balls yet, I recommend that you check out Bakerella's website to see what the fuss is all about.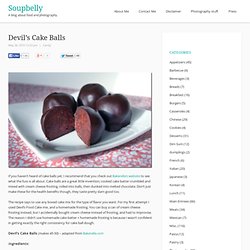 Cake balls are a great little invention; cooked cake batter crumbled and mixed with cream cheese frosting, rolled into balls, then dunked into melted chocolate. Don't just make these for the health benefits though, they taste pretty darn good too. The recipe says to use any boxed cake mix for the type of flavor you want. Grandma's Caramel Cake. Blue Velvet Cake With Cream Cheese Frosting. My friend Alana hosted a "Galaxy Quest"-themed party this past weekend, complete with blue jello shots and blue mixed drinks, yum!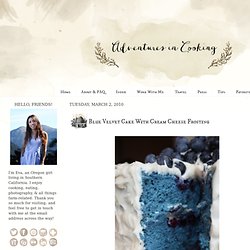 So of course, I wanted to make a dessert and I wanted it to be blue. Red velvet cake is my favorite cake of all cakes! Thus, I decided to try to make it with blue food coloring instead and see how it turned out. Rainbow Cake recipe @Not Quite Nigella. I have always found rainbows beautiful.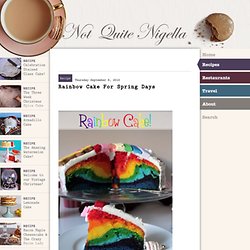 Usually because when I see them I'm usually out and about and cursing the rain and its effect on my shoes but then a rainbow suddenly appears and instantly everything is all right with the world again. I think "Oh yes that's right, _that _was what we were all waiting for! ". I was snapping a picture of a rainbow while shopping on Oxford Street and a group of chic fashionistas walked past me holding bags that weighed more than they did. They paused and looked at what I was photographing. Five-Minute Chocolate Mug Cake.