The organic life
Shipping Container Homes. Shared Earth the Largest Community Garden on the Planet! | SharedEarth. Hyperlocavore. "Food Sovereignty" law passed in small Maine town to allow sale of locally produced food without interference of regulators. Town Hall in Sedgwick Maine Update March, 2013: Brooksville Becomes Ninth Maine Town to Pass Food Sovereignty Law Here's a Way to Eliminate the Regulators and Lawyers, and Build Community At the Same Time: Organize and Declare "Food Sovereignty," Like Sedgwick, Maine by David E.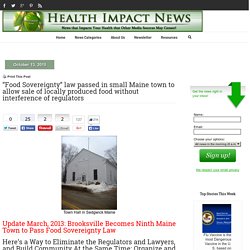 Gumpert The Complete Patient. Neighborhood Cows and Pigs: Real Food Sovereignty. "You don't actually drink the milk do you?"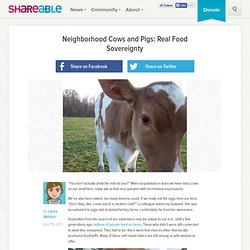 When acquaintances learn we have dairy cows on our small farm, many ask us that very question with incredulous expressions. We've also been asked, too many times to count, if we really eat the eggs from our hens. "Don't they, like, come out of a chicken's butt?" 7 Mega-Cartels That Kill the Free Market and Our Sovereignty. Activist Post Think we have a free market?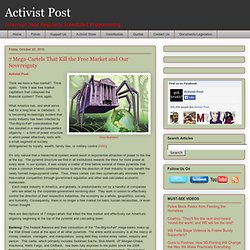 Think again. Think it was free market capitalism that collapsed the financial system? Shaping Traditional Oral knowledge: about project. "Observing the food and therefore changing the notion of food preservation, we could find the answer to current situations such as the overuse of energy and food wastage.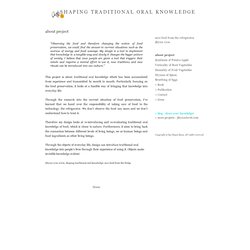 My design is a tool to implement that knowledge in a tangible way and slowly it changes the bigger picture of society. I believe that once people are given a tool that triggers their minds and requires a mental effort to use it, new traditions and new rituals can be introduced into our culture. " 'The Urban Food Revolution' Goes High Rise. Solviva Salad?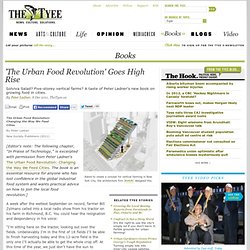 Five-storey vertical farms? A taste of Peter Ladner's new book on growing food in cities. Asked to create a concept for vertical farming in New York City, the architecture firm WorkAC designed this. The Urban Food Revolution: Changing the Way We Feed Cities Peter Ladner New Society Publishers (2011) TED - The Subversive Plot. Re:farm the city.
I will share here a low cost solution for the recycling of organic waste, appropriate for apartments and urban housing that do not have a piece of land or an outdoor area.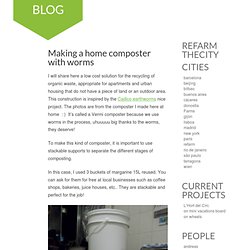 This construction is inspired by the Cadico earthworms nice project. The photos are from the composter I made here at home : ) It's called a Vermi composter because we use worms in the process, uhuuuuu big thanks to the worms, they deserve! Grown in the City. Root Cellars. There are various types of Root Cellars including ones connected and those separate from your home.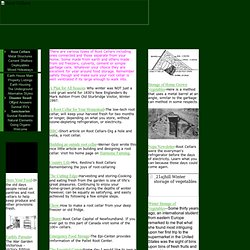 Some made from earth and others made from old freezers, culverts, cement or simple garbage cans. Whatever your choice they are excellent for year around food storage. 15 houseplants to improve indoor air quality | MNN - Mother Nature Network - StumbleUpon. Who Are The Young Farmers Of 'Generation Organic'? : The Salt. Hide caption Maryland farmer Josie Johnson learns about extending the farming season by growing crops under caterpillar tunnels.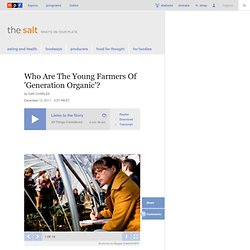 The lecture was part of a conference for young farmers held in Tarrytown N.Y., in early December. All photos by Maggie Starbard/NPR Hide caption Young farmers get their hands dirty picking parsnips while singing worksongs during a workshop at the 2011 Young Farmers Conference. Hide caption Jack Algiere demonstrates how to harvest parsnips. He's the farm manager at Stone Barns Center for Food and Agriculture, which hosted the conference. Hide caption From left: Mitra Sticklen, Rachel Fleury and Nate Kraus-Malett learn traditional farming work songs. Urban Permaculture Institute.
The Homesteaders Free Library - StumbleUpon. Whole Earth Catalog Stay Hungry Stay Foolish. To Build Community, an Economy of Gifts by Charles Eisenstein. For a multitude of reasons, we need to need each other. posted Dec 27, 2011 Wherever I go and ask people what is missing from their lives, the most common answer (if they are not impoverished or seriously ill) is "community.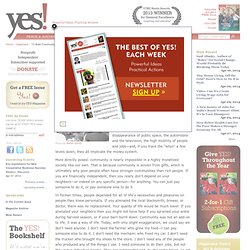 " What happened to community, and why don't we have it any more? There are many reasons—the layout of suburbia, the disappearance of public space, the automobile and the television, the high mobility of people and jobs—and, if you trace the "whys" a few levels down, they all implicate the money system. Rocket stove mass heater.
---