Design
Scholar's Layouts - Flexible Squares: The Young Victoria. Layout Style: Flexible Squares.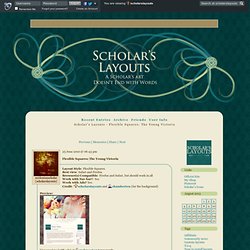 Best view: Safari and Firefox Browser(s) Compatible: Firefox and Safari, but should work in allWork with Nav bar? : YesWork with Ads? Yes. Credit: scholarslayouts and. Re:modern :: Sustainable Modern Design :: Furniture, Home Accessories and Design Gifts for Green Living :: www.re-modern.com - Re:modern (www.re-modern.com) - StumbleUpon. Belle maison - StumbleUpon. Tree Inspired Shelves! | - StumbleUpon. A completely renovated first&apartment - StumbleUpon. What a makeover!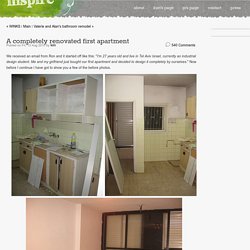 This made me feel 'myownapartamentsick' even more than ever :)bulb-lamp is great, i also made something like that, but there were less bulbs so the effect wasn't that stunning. love the shower, look really great, also the brick wall and, what surprised me, that green tone in the bedroom. you had great ideas and you fortunately put them into effect. the one thing i dislike is a study room. i hate that desk and chair, they just so boring actually. but i adore the red wall and those cat-things, sorry, i have no idea how to call it. ;) great job! Bedroom Decorating Ideas: Yellow Fever - iVillage - StumbleUpon. Beautiful Headboards Youll Never Find In Any Furniture Store. Pour a Glass of Wine and Sink Into One of These Unusual, Luxurious Bathtubs. The Luxury Dhigu Resort, Maldives | Luxury Furniture, Property, Travel & Interior Design | Adelto - StumbleUpon.
The luxury Dhigu Resort, Maldives Anantara Dhigu Resort & Spa is encircled by mystic lagoons and unspoilt crystal shores, the resort is a heavenly sanctuary on a secluded paradise island, offering barefoot elegance in one of the world's most celebrated tropical havens.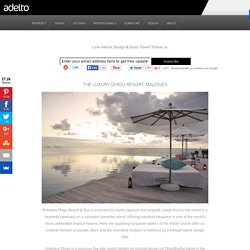 Here the sparkling turquoise waters of the Indian Ocean offer an endless horizon of aquatic allure and the evocative location is matched by a tranquil island design style. Anantara Dhigu is a luxurious five-star resort hidden on tropical terrain on Dhigufinolhu Island in the Maldives' South Male Atoll, a mere 35 minute speedboat journey from the island nation's international airport, or a scenic five minutes by private chartered seaplane. The Luxury Casa Son Vida 1 Property in Mallorca, Spain | Luxury Property, Interior Design, Exclusive Travel & Bespoke Furniture | Adelto. Victor - en bildblogg. Interior Decorators Toronto : Interior Design : Jen Backstein Interiors : Interior Decorating Toronto Interior Decorators Toronto Ontario.
Transformer Furniture: A Sofa Bed With A Twist. Traditional sofa beds, where you have to remove all the cushions and unfold the bed, are a pain and not very comfortable.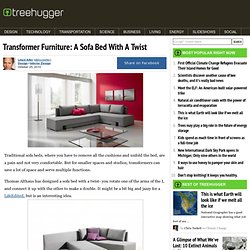 But for smaller spaces and studios, transformers can save a lot of space and serve multiple functions. Thomas Althaus has designed a sofa bed with a twist- you rotate one of the arms of the L and connect it up with the other to make a double. It might be a bit big and jazzy for a LifeEdited, but is an interesting idea. The sofa in transit... The sofa as double bed.
---