Bertrandchai
YHYQArt | A Creative Platform for Graphic Designers, Photographers & Web Developers.
BerTom. I T. Tuto. Boum.org. Un webdocumentaire sur l'industrie de la prison. Partners. NoV/A:day. Thomasdennequin. Places. Sciences. Curiosities | Official website Lux in arcana - Vatican Secret Archives reveals itself. MUSIQUE. Vidéos. ARTS. Actualitées. Grand est le désordre, la situation est donc excellente (K.Marx) - STREET ART UTOPIA. C215: "I paint anywhere I go portraits in the streets under the name of C215, and I try to pay homage to the people who constitute the city, especially to those who live in its streets, like children and homeless people, turning all the anonymous into icons.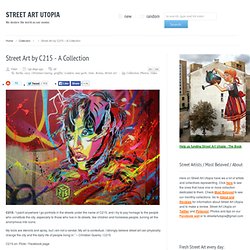 My tools are stencils and spray, but I am not a vandal. My art is contextual. Multitouch et interfaces naturelles. I LOVE THAT | The art of riding. PostSecret Chat :: Index.
---