iMac
Solved: Gmail, iPad, iPhone, and multiple from addresses - Modern Nerd. For a long time I've forwarded many email addresses to a single Gmail account, a setup I call Inbox Heaven.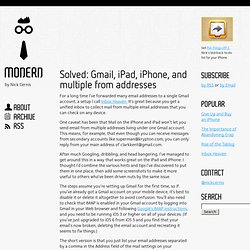 It's great because you get a unified inbox to collect mail from multiple email addresses that you can check on any device. One caveat has been that Mail on the iPhone and iPad won't let you send email from multiple addresses living under one Gmail account. This means, for example, that even though you can receive messages from secondary accounts like superman@krypton.com, you can only reply from your main address of clarkkent@gmail.com. After much Googling, dribbling, and head bangering, I've managed to get around this in a way that works great on the iPad and iPhone. SyncMate: sync Google Mac | Google sync. Jailbreak iPod touch 3.1.3 Firmware. Advertisements The newly released iPhone 3.1.3 firmware for iPhone and iPod touch brings bug fixes and more stability for iPhone 3GS, 3G, 2G and iPod touch users.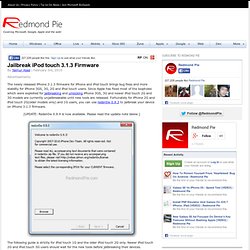 Since Apple has fixed most of the loopholes which were exploited for jailbreaking and unlocking iPhone 3GS, 3G and newer iPod touch 2G and 3G models are currently unjailbreakable until new tools are released. Fortunately for iPhone 2G and iPod touch 2G(older models only) and 1G users, you can use redsn0w 0.9.3 to jailbreak your device on iPhone 3.1.3 firmware. [UPDATE: Redsn0w 0.9.4 is now available. Please read the update note below.] Assistance — MobileMe.
MobileMe to iCloud migration and calendar sharing. Over the weekend I migrated two accounts from MobileMe to iCloud and configured two iPhones and two iPads to sync to the iCloud accounts and everything went flawlessly thanks in large part to the instructions posted at me.com/move.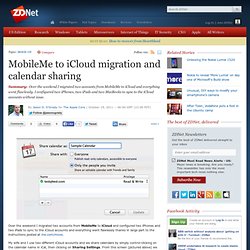 My wife and I use two different iCloud accounts and we share calendars by simply control-clicking on the calendar name in iCal, then clicking on Sharing Settings. From this screen (pictured above) we just click the radio button for "Only the people you invite" then we add the other person's email using the "+" icon at the bottom. This is a little different than Ralleykeeper's (somewhat unorthodox) method below. When I migrated our accounts to iCloud over the weekend I had no idea that you could add multiple iCloud accounts to one iOS device and pick and choose what items to sync -- although it makes sense.
What you gain—and lose—by transitioning from MobileMe to iCloud. Apple has officially opened iCloud up to the public, offering the promise of cloud syncing between computers and iOS devices.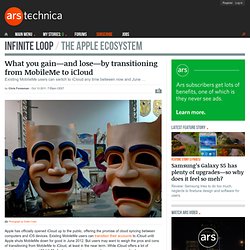 Existing MobileMe users can transition their accounts to iCloud until Apple shuts MobileMe down for good in June 2012. But users may want to weigh the pros and cons of transitioning from MobileMe to iCloud, at least in the near term. iCloud transition off to a rocky start for MobileMe, family users. Apple's transition from MobileMe to iCloud brings the promise of centralized, cloud-based storage for all your important data.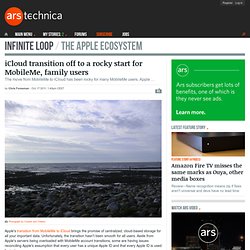 Unfortunately, the transition hasn't been smooth for all users. Aside from Apple's servers being overloaded with MobileMe account transitions, some are having issues reconciling Apple's assumption that every user has a unique Apple ID and that every Apple ID is used for just one person. This Is How You'll Transition From MobileMe To iCloud [Gallery.
Here is a quick run through of what you can expect when you start the process of moving from MobileMe to iCloud.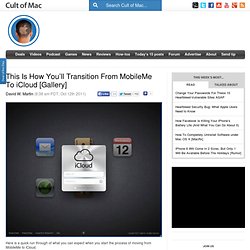 This step-by-step process transitions your email, calendars, contacts and bookmarks to iCloud. After updating to Mac OS X Lion 10.7.2 you'll have a new iCloud control panel in System Preferences. You'll log into the iCloud control panel with your Apple ID or MobileMe account ID. You'll be asked to move your MobileMe account mail, contacts, calendars and bookmarks to iCloud. Here's where the process to move to iCloud starts in your web browser. Basics4Mac - Moving Your iPhoto Library to an External Drive. NOTE: Updated with instructions for iPhoto '11 (part of iLife '11).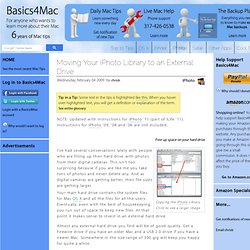 Instructions for iPhoto '09, '08 and '06 are still included. Free up space on your hard drive Copying the iPhoto Library Click to see a larger image I've had several conversations lately with people who are filling up their hard drive with photos from their digital cameras. This isn't too surprising because if you are like me you take tons of photos and never delete any. Transfert iPhoto mac> nouveau mac et sauvegarde. Transfert des projets imovie vers un autre mac. Bonjour, et bonne fêtes de fin d'années à tous.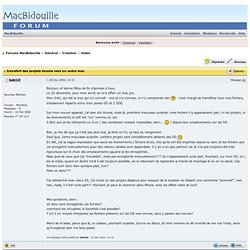 Le 20 décembre, pour mon annif, on m'a offert un mac pro. Mon chéri, qui est le mec qui s'y connaît - moi je n'y connais, ni n'y comprends rien.
---