Permaculture
Neil Simpson, Phil Gall, Sandy King, Vasko Drogriski (Australia) [Conference Day 2 @ 19:30 - Submitted Paper] It tends to be assumed that urban living entails having to live with urban blight: traffic choked roadways; polluted air and watercourses; suburban sprawl and alienated social environments. Less obvious is the extraordinary inefficiency of cities in dealing with energy needs, the supply of resources such as food and materials, the disposal of waste and the fact that private transport contributes significantly to greenhouse gas emissions. The Local Agenda 21 Document agreed to at the 1992 Rio Earth Summit stipulates that 'development' and the protection of the environment cannot be separated. Many financiers are no longer investing in the more dysfunctional cities, and there is now a world-wide movement seriously looking at radical solutions to the urban crisis.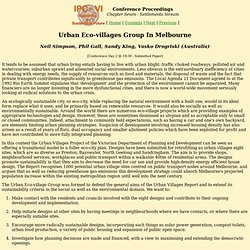 Urban Eco-villages Group In Melbourne
Bega Eco-Neighbourhood Developers Inc. is a not-for-profit Incorporated Association that formed in December 2002. It aimed to purchase a particular site on which to develop a working ecologically and socially sustainable urban housing neighbourhood where people of diverse socio-economic status can flourish. This is essentially complete, with a series of Lots in the eco-subdivision passing into the ownership of future residents in March and April 2009. Much has been done and achieved - explore the relevant tabs above to see how our various project teams and objectives progressed. Last Block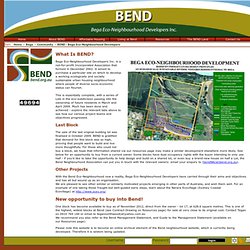 Bega: BEND - Bega Eco-Neighbourhood Developers
Permaculture is a branch of ecological design, ecological engineering, and environmental design that develops sustainable architecture and self-maintained agricultural systems modeled from natural ecosystems.[1][2] The term permaculture (as a systematic method) was first coined by Australians Bill Mollison and David Holmgren in 1978. The word permaculture originally referred to "permanent agriculture" [3] but was expanded to stand also for "permanent culture," as it was seen that social aspects were integral to a truly sustainable system as inspired by Masanobu Fukuoka's natural farming philosophy. "Permaculture is a philosophy of working with, rather than against nature; of protracted and thoughtful observation rather than protracted and thoughtless labor; and of looking at plants and animals in all their functions, rather than treating any area as a single product system." - Bill Mollison [4] History[edit]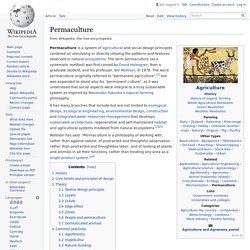 Permaculture College Australia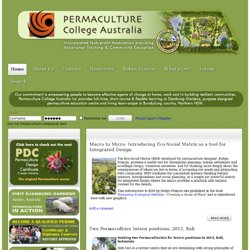 George Monbiot announced in the Guardian on Monday " We were wrong on peak oil. There's enough to fry us all ", an article which concluded "peak oil hasn't happened, and it's unlikely to happen for a very long time". Several people have written, and even stopped me while I've been out shopping, to ask for my take on his piece, so here it is.
Transition-Illawarra - home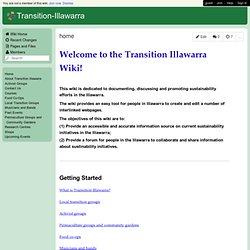 You are not a member of this wiki. Join now Dismiss guest|Join|Help|Sign In home Edit 0 7 … Welcome to the Transition Illawarra Wiki!
Living Schools
CityFood Growers
Dennett (left) and local homebirth midwife Sally McCray at Hepburn Shire International Women's Day ceremony. Su Dennett, David Holmgren's partner in permaculture development and the backbone of the HD, was inducted to the Hepburn Shire's Women's Honour Roll . Su was recognised as a role model for women choosing a home and community based lifestyle as an empowering and effective way to contribute to a better world. Below you can read her induction speech written and delivered by Dr Anne Gleeson on this year's International Women's Day ceremony.
PermaWiki
The Permaculture Association of South Australia - Book List