Paginas servicios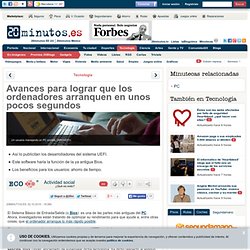 Avances para lograr que los ordenadores arranquen en unos pocos segundos
Un usuario manejando un PC portátil. (ARCHIVO) El Sistema Básico de Entrada/Salida (o Bios) es una de las partes más antiguas del PC. Ahora, investigadores están tratando de optimizar su rendimiento para que ayude a, entre otras cosas, que el ordenador arranque lo más rápido posible. El considerado reemplazo de la bios, conocido como UEFI, será el componente predominante en los PC que se diseñen a partir del próximo año, según informa la web de la cadena BBC.
Muchas veces nos llega el momento de compartir un archivo a un gran grupo de personas. La mejor forma de hacerlo es a través de un PDF, el popular formato desarrollado por la empresa Adobe, práctico, liviano y con la posibilidad de visualizarlos desde cualquier plataforma. No habrá que preocuparse por las fuentes ni por ningún otro detalle, todo será incluido y permanecerá con la apariencia que deseamos. Hasta hace un tiempo, la mayoría de las personas instalaban programas extraños, algunos funcionales y otros que dejaban mucho que desear a la hora de crear su PDF, ya sea el caso más común de .doc a .PDF.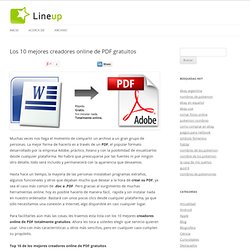 Los 10 mejores creadores online de PDF gratuitos | Destacados en Lineup
ExpressPDF :: Convert online Word, Excel, Web pages to PDF Free !
Convert Word document to PDF - Free & Online
Como crear un portable sin instalar nada [Facilisimo]
LoadEvery.com | No.1 Meta Search Engine for free stuffs sharing on internet world
Introduction The Web server (running the Web Site) encountered an unexpected condition that prevented it from fulfilling the request by the client (e.g. your Web browser or our CheckUpDown robot) for access to the requested URL. This is a 'catch-all' error generated by the Web server. Basically something has gone wrong, but the server can not be more specific about the error condition in its response to the client. In addition to the 500 error notified back to the client, the Web server should generate some kind of internal error log which gives more details of what went wrong.