Side Dishes!
Get flash to fully experience Pearltrees
I've had many variations of Spinach Strawberry Salad through the years, and chances are that you have, too. They always have strawberries and spinach, of course. The other ingredients vary widely. Nuts are often included: toasted or candied pecans, walnuts or almonds are most common.
Oh Monday… you look good. I've made no bones about it: growing up, pasta was just not my thing. Combined with my utter distaste for all tomato sauce, noodles never ever did it for me.
The only reason we go to Texas Roadhouse is for their rolls. They are to die for. They are served with a Cinnamon Honey Butter that is so good. I've been seeing their copycat recipe all over the internet, so I thought I would give them a try to go along with our yummy dinner we had tonight. The verdict..... They were awesome!
Is it just me or it is hard to get back to posting after a very long weekend? Well, Thanksgiving was good. Our friends, Shirley and Kevin came to celebrate it with us.
These Hasselback potatoes looks beautiful, don't' they? Here, I also added several cloves of garlic to these Swedish version of baked potatoes to enhance the flavor. It turned out great, they were very delicious, crispy on the outside and tender on the inside.. Hasselback Potatoes (Printable Recipe) Ingredients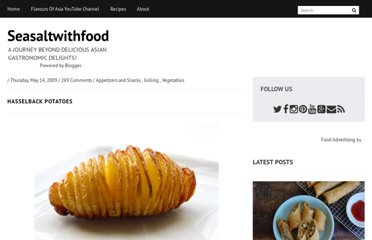 This recipe will got great with the Mama Mia's Minestrone from yesterday or any other great Italian meal. It is a recipe that I adapted from one I found in an issue of Simple and Delicious. These are easy to make because they start off with a can of refrigerated biscuit dough.
I just finished reading a book (Cooking for Mr. Latte) written by Amanda Hesser, a food writer for the New York Times. In one of her chapters she writes, "I have a few favorite dishes, I rarely make them." She goes on further to describe those old tried and true recipes, "You know, ones that I'll want to return to for years and years.