Food
Pink Ombre Swirl Cake. Pomegranate Ice Cream — Pretty Shiny Sparkly. Amazing Artisan Bread for 40 Cents a Loaf - No Kneading, No Fussing, No Kidding. What if I told you that instead of buying bakery bread for four or five dollars a loaf, you could make delicious handmade bread whenever you wanted, at a fraction of the cost and it is so easy a kid could do it?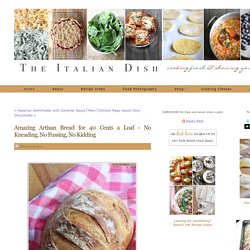 Well, read on because this method of making artisan bread at home will change your life. You can make incredible bread without having to do all the usual time consuming tasks of breadmaking : The Italian Dish - Posts - Chocolate Panna Cotta. Panna Cotta is one of those great desserts that you can make ahead of time.
It's so quick and easy and can be served in any pretty glass. When I make this recipe, I always have some mixture left over and I pour the extra into small ramekins. Italian Easter Bread, Revisited. When I first posted the recipe for Italian Easter Bread three years ago, I couldn't believe the response.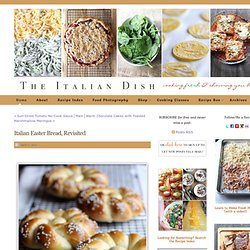 Every year as Easter approaches, I still get many e-mails about this recipe, so I thought I would make it again in a little different way and this also gives me the chance to update the recipe a little. This bread is a sweet, delicious bread and so kids love it. When I've made it for my kids I've usually topped it with colored sprinkles and eggs dyed different colors. Perfect Panna Cotta Recipe. Panna cotta is incredibly easy to make, and if it takes you more than five minutes to put it together, you're doing something wrong.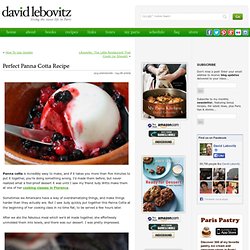 I'd made them before, but never realized what a fool-proof dessert it was until I saw my friend Judy Witts make them at one of her cooking classes in Florence. Sometimes we Americans have a way of overdramatizing things, and make things harder than they actually are. But I saw Judy quickly put together this Panna Cotta at the beginning of her cooking class in no time flat, to be served a few hours later. After we ate the fabulous meal which we'd all made together, she effortlessly unmolded them into bowls, and there was our dessert.
I was pretty impressed. Vanilla roasted pears. I think this should be your new favorite way to show off.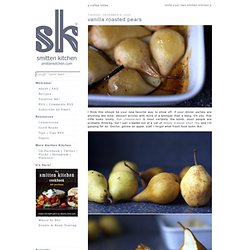 If your dinner parties are anything like mine, dessert arrives with more of a whimper than a bang. Oh yes, that trifle looks lovely, that cheesecake is most certainly the bomb, most people are probably thinking, but I just crawled out of a vat of deeply braised short ribs and I'm gasping for air. Doctor, gimme an apple, stat! I forgot what fresh food looks like. Flaky blood orange tart. Have you ever lost a recipe?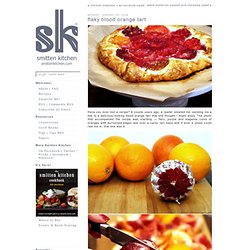 A couple years ago, a reader emailed me, sending me a link to a delicious-looking blood orange tart that she thought I might enjoy. The photo that accompanied the recipe was startling — fiery, purple and magenta coins of oranges with burnished edges laid over a rustic tart base and if ever a photo could reel me in, that one was it. Unfortunately, nearly as instantly as I fell for the tart, I lost it. How to turn "water" into marbles. 20 Alcoholic Beverages Inspired By The Harry Potter Series: Pics, Videos, Links, News. Chinese Tea Eggs. Eggs, how do I love thee?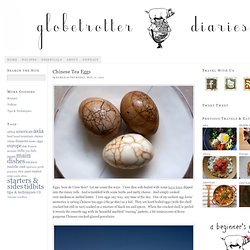 Let me count the ways. I love thee soft-boiled with some kaya toast dipped into the runny yolk. And scrambled with some herbs and melty cheese. And simply cooked over-medium in melted butter. I love eggs any way, any time of the day. Chai Cookies « Angry Cherry :: a baking & food blog. The Pastry Affair - Home - Cauldron Cakes. This is part II of my mini-series on Harry Potter snacks from the books brought to life (part I is on Honeydukes treats, part III features every wizard's favorite drink—butterbeer!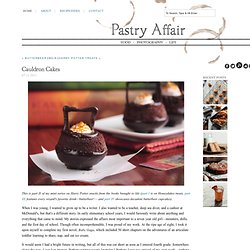 — and part IV showcases decadent butterbeer cupcakes). When I was young, I wanted to grow up to be a writer. I also wanted to be a teacher, deep sea diver, and a cashier at McDonald's, but that's a different story. In early elementary school years, I would furiously write about anything and everything that came to mind. My stories expressed the affairs most important to a seven year old girl—monsters, dolls, and the first day of school. The Pastry Affair - Home - Butterbeer Cupcakes. This is part IV in a mini-series of Harry Potter snacks from the books brought to life (part I is on Honeydukes treats, part II is all about the cauldron cakes, and part III features every wizard's favorite drink—butterbeer!).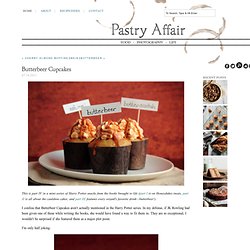 I confess that Butterbeer Cupcakes aren't actually mentioned in the Harry Potter series. In my defense, if JK Rowling had been given one of these while writing the books, she would have found a way to fit them in. The Pastry Affair - Home - Plum Clafouti. I am but a humble self-taught photographer.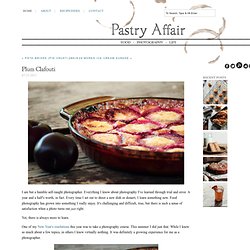 Everything I know about photography I've learned through trial and error. A year and a half's worth, in fact. Every time I set out to shoot a new dish or dessert, I learn something new. Food photography has grown into something I really enjoy.
---