B
5 New Online Services Perfect for Small Businesses
101 Common-Sense Rules for Leaders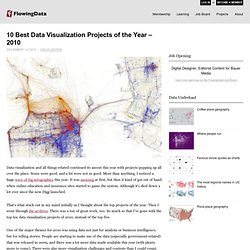 Data visualization and all things related continued its ascent this year with projects popping up all over the place. Some were good, and a lot were not so good. More than anything, I noticed a huge wave of big infographics this year. It was amusing at first, but then it kind of got out of hand when online education and insurance sites started to game the system.
The main goal of data visualization is its ability to visualize data, communicating information clearly and effectivelty. It doesn't mean that data visualization needs to look boring to be functional or extremely sophisticated to look beautiful. To convey ideas effectively, both aesthetic form and functionality need to go hand in hand, providing insights into a rather sparse and complex data set by communicating its key-aspects in a more intuitive way. Yet designers often tend to discard the balance between design and function, creating gorgeous data visualizations which fail to serve its main purpose — communicate information. In both print and web design infographics — visual representations of information, data or knowledge — are often used to support information, strengthen it and present it within a provoking and sensitive context, depending on designer's creativity.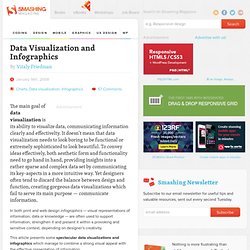 From navigating the Web in entirely new ways to seeing where in the world twitters are coming from, data visualization tools are changing the way we view content. We found the following 16 apps both visually stunning and delightfully useful. Visualize Your Network with Fidg't Fidg't is a desktop application that aims to let you visualize your network and its predisposition for different types of things like music and photos. Currently, the service has integrated with Flickr and last.fm, so for example, Fidg't might show you if your network is attracted or repelled by Coldplay, or if it has a predisposition to taking photos of their weekend partying. As the service expands to support other networks (they suggest integrations with Facebook, digg, del.icio.us, and several others are in the works), this one could become very interesting.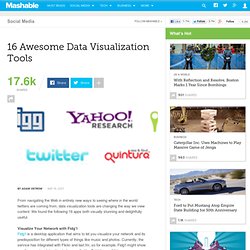 Posted: August 30th, 2009 | Author: Manuel Lima | Filed under: Uncategorized | – "The purpose of visualization is insight, not pictures" Ben Shneiderman (1999) – Over the past few months I've been talking with many people passionate about Information Visualization who share a sense of saturation over a growing number of frivolous projects. The criticism is slightly different from person to person, but it usually goes along these lines: "It's just visualization for the sake of visualization", "It's just eye-candy", "They all look the same". When Martin Wattenberg and Fernanda Viégas wrote about Vernacular Visualization, in their excellent article on the July-August 2008 edition of interactions magazine, they observed how the last couple of years have witnessed the tipping point of a field that used to be locked away in its academic vault, far from the public eye.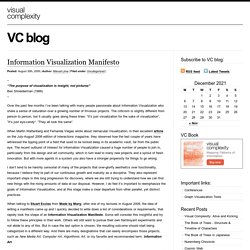 Data Visualization is a method of presenting information in a graphical form. Good data visualization should appear as if it is a work of art. This intrigues the viewer and draws them in so that they can further investigate the data and info that the graphic represents. In this post there are 15 stunning examples of Data Visualization that are true works of art.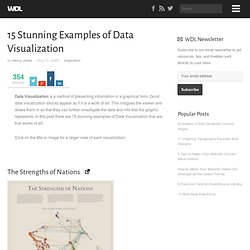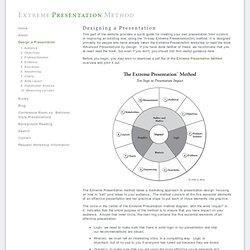 This part of the website provides a quick guide for creating your own presentation from scratch, or improving an existing one, using the 10-step Extreme Presentation(tm) method. It is designed primarily for people who have already taken the Extreme Presentation workshop or read the book Advanced Presentations by Design . If you have done neither of these, we recommend that you at least read the book, but even if you don't, you should still find useful guidance here.
In my workshops, participants sometimes raise the concern that Conference Room Style presentations use paper handouts, and that this is harmful for the environment. In order to help understand the tradeoffs, I decided to investigate the environmental implications of some presentation technology options. To simplify the analysis, I focused only on the energy consumption of each technology—the energy required to produce the paper and to run the various electronic devices (i.e. projector, laptop, tablet/iPad). I ignored the cost of producing and then disposing of the electronic devices. It turns out that it costs approximately 12 Watt/hours of energy to create one sheet of paper (for 100% recycled paper; non-recycled paper requires more energy). Tablets/iPads consume 15 W of energy while laptops consume 62 W.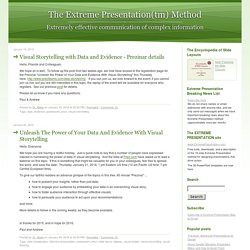 The Extreme Presentation(tm) Method
Associated concepts to Berlin - on the eyeMap from eyePlorer.com
8 Ways of visualizing the news - 10,000 Words
When journalists first began using Flash to produce multimedia stories, it changed the way news could be displayed. Hyperlinks and long blocks of text still exist (in a much cleaner form), but they are now supplemented by the new form of storytelling. The following news aggregators are the next step in the visualization of news and how users will interact with content in the future.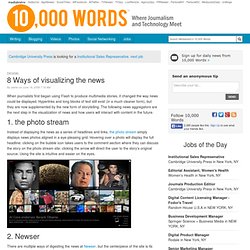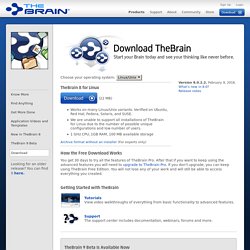 Choose your operating system: TheBrain 7 for Windows Windows 8, Windows 7, Vista, XP, 2003, or 2000 1 GHz CPU, 1GB RAM, 100 MB available storage Works on both 32-bit and 64-bit versions of Windows 64-bit specific installer (Only recommended for users needing drag and drop from Outlook 64-bit)
Get what you DON'T pay for: Here are 196 programs that cost nothing but will make your computing life richer—all while keeping your wallet fat. We don't want to make you feel bad, but, uh... are you really still paying for software? Wow. Well, we're here to spread the word: There's no lack of free software to be found online.