On line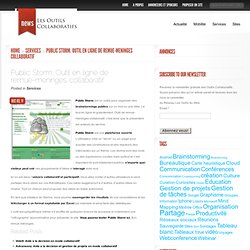 Public Storm. Outil en ligne de remue-meninges collaboratif | Les Outils Collaboratifs
Public Storm est un outils pour organiser des brainstormings publics sur un mot ou une idée. Le tout en ligne et gratuitement. Outil de remue-méninges collaboratif, c'est ainsi que le présentent les auteurs du service. Public Storm est une plateforme ouverte.
Téléchargez gratuitement Mindmanager pour Ipad et Iphone ad vitam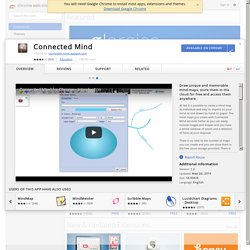 Draw unique and memorable mind maps, store them in the cloud for free and access them anywhere At last it is possible to create a mind map as individual and easy to imprint on your mind as one drawn by hand on paper. The mind maps you create with Connected Mind are even better as you can easily include images and shapes and you have a whole rainbow of colors and a selection of fonts at your disposal. There is no limit to the number of maps you can create and you can store them in the free cloud storage provided. There is no need to create an account.
welcome back! Forget your password? Click here. Trouble signing in? Click here. Not a member?