Annotation
Me - Personal and collaborative sticky notes web-app | http://corkboard.me
Screen Draw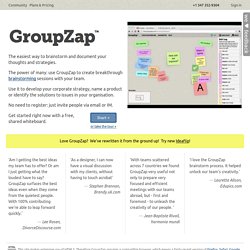 The easiest way to brainstorm and document your thoughts and strategies. The power of many: use GroupZap to create breakthrough brainstorming sessions with your team. Use it to develop your corporate strategy, name a product or identify the solutions to issues in your organisation. No need to register: just invite people via email or IM.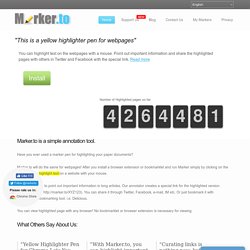 Have you ever used a marker pen for highlighting your paper documents? Marker.to will do the same for webpages! After you install a browser extension or bookmarklet and run Marker simply by clicking on the icon, you can highlight text on a website with your mouse.
MyStickies lets you save the web for later To put it simply, MyStickies allows you to place little yellow squares of digital paper anywhere and everywhere you feel like in the whole wide web. Along with the ability to put sticky notes on webpages mystickies offers a powerful interface to browse, search, sort, edit and generally have a wonderfull time with your sticky notes from any computer that has internet access. Goodbye to Bookmarks?
the Awesome Highlighter
Bounce
A.nnotate is an online annotation, collaboration and indexing system for documents and images, supporting PDF, Word and other document formats. Instead of emailing different versions of a document back and forth you can now all comment on a single read-only copy online. Documents are displayed in high quality with fonts and layout just like the printed version. It is easy to use and runs in all common web browsers, with no software or plugins to install.