Google
Get flash to fully experience Pearltrees
DrEdit PHP is a sample Google Drive app for the Google Drive SDK written in PHP. It is a text editor capable of editing files with the MIME types text/* and extensions such as .txt , .html , .csv , .xml , etc. that are stored in a user's Google Drive.
You can use the Google Feed JSON interface to write feed applications in any language that can handle a JSON -encoded result set with embedded status codes.
Table of Contents Google Feed API JavaScript reference Constructor
Google Documents API Google Calendar API Google Spreadsheet API Blogger API Contacts API Google Data Authentication The new Force.com Toolkit for Google Data APIs makes it easy to develop Force.com applications that make the most of the capabilities of Google Data APIs, including read and write access to data and content in Google Apps. The toolkit provides you direct access to the Google Data APIs from Force.com's Apex code, allowing the easy creation of new user experiences and Web applications that connect directly to Force.com's database, integration, Apex programming language, and Visualforce user interface capabilities.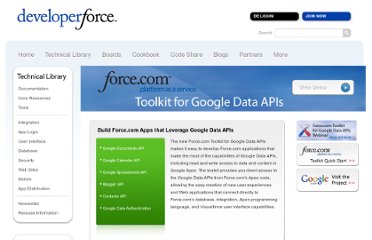 You can embed a simple map, a set of driving directions, a local search, or My Maps created by other users. Here's how:
Google API loader allows you to easily import one or more APIs, and specify additional settings (such as language, location, API version, etc.) applicable to your needs.
The Google Spreadsheets data API allows client applications to view and update Spreadsheets content in the form of Google data API feeds.
Important: Version 3 of the Google Documents List API has been officially deprecated as of September 14, 2012. It will continue to work as per our deprecation policy , but we encourage you to move to the Google Drive API . The Google Documents List API allows client applications to view and manipulate files in a user's Documents List.
The following APIs will help you and your users interact with, configure, and extend Gmail. Gadgets