Screencasting
Prezi - The Zooming Presentation Editor. 12 Screencasting Tools For Creating Video Tutorials. Ever wondered how people show you so clearly what is happening on their computer, like in the Photoshop Video Tutorials we shared with you?
Thanks to screencasting software, anyone can do it. So what's stopping you now from making your own how-to videos? Five Best Screencasting Tools. @TuxBobble: depends on how poor the competition is.
I've tried Camstudio and Jing and both are, basically, crap. Jing point-blank refuses to work, whereas Camstudio can see my soundcard but is inexplicably incompatible with it, not to mention the videos it record are terrible - jerky, messed up picture that bears no resemblance to what was actually showing on-screen. I'm going to give Screentoaster a try but, if it's as poor as the other two, for Windows that pretty much leaves Camtasia to win by default. Screencasting software: Comparison and features | Dream Web Designs. Jing Screencasting Software Screencasting is an excellent way to communicate to clients, potential customers, or people in general.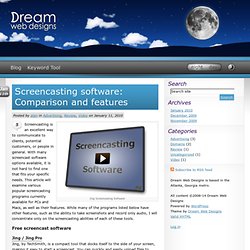 With many screencast software options available, it is not hard to find one that fits your specific needs. This article will examine various popular screencasting programs currently available for PCs and Macs, as well as their features. Nicholas Zambetti – LiveView for iPhone & iPad. LiveView is a specialized remote screen viewing application intended as a tool to help designers create graphics for mobile applications, it has also proven to be useful for creating quick and dirty simulations, demos, and experience prototypes.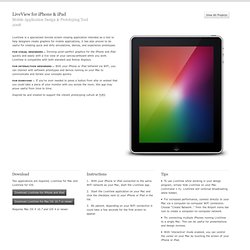 For visual designers — Develop pixel–perfect graphics for the iPhone and iPad quickly and easily with a live view of your canvas/artboard while you work. LiveView is compatible with both standard and Retina displays. For interaction designers — With your iPhone or iPad tethered via WiFi, you can interact with software prototypes and demos running on your Mac to communicate and iterate your concepts quickly. For everyone — If you've ever needed to press a button from afar or wished that you could take a piece of your monitor with you across the room, this app may prove useful from time to time. Inspired by and created to support the vibrant prototyping culture at IUAV. Screencasting Software - ScreenFlow Overview - Telestream. Record.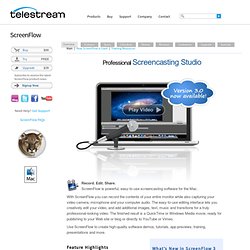 Edit. Share. ScreenFlow is powerful, easy-to-use screencasting software for the Mac.
---