LikeKottke
Techcrunch
Federated Media - Welcome to our advertising platform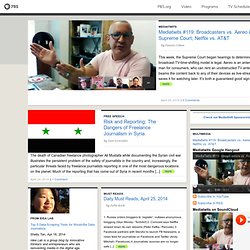 MediaShift
1. Mozilla co-founder Brendan Eich resigns as CEO, leaves foundation board (Kara Swisher / Re/code) 2. Leaked NSA documents will be stored in public database (Adrianne Jeffries / The Verge) 3. Turkey lifts Twitter ban after court ruling (Ozge Ozbilgin & Orhan Coskun / Reuters) 4.
MAKE: Blog
Cynical-C Blog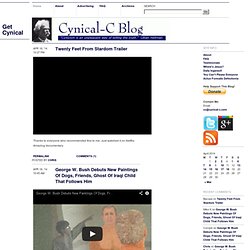 From Gawker: A popular community college professor was suspended after posting a photo of his daughter wearing an oversized T-shirt bearing a tagline from this season of Game of Thrones—Daenerys Targaryen's "I will take what is mine with fire and blood."Francis Schmidt, who teaches art and animation at Bergen Community College in New Jersey, shared the photo on Google+, where it was seen by several of his work contacts. One of them, a dean, decided the shirt was a veiled threat of some kind.The faculty union is currently in conflict with the school administration over promotions and tenure, and recently registered a vote of no-confidence against the school's president. Schmidt himself had just filed a grievance after being denied a sabbatical.
Thursday, 20 April 2006 There's no other way for me to start this other than by firing away: Last week I left my full-time job at Joyent, for the sole reason so that I can write Daring Fireball as a full-time job. Two years ago, when I made tentative steps in this direction, it was like I put the idea out there and then poked it with a stick to see what happened. What I'm doing now is like jumping out of a plane with this idea as my parachute. When I launched the membership program two years ago, I wasn't sure whether it would be a failure, a bonanza, or something in-between.
Initiative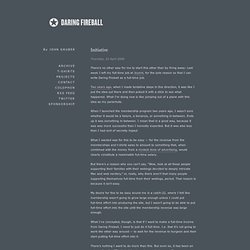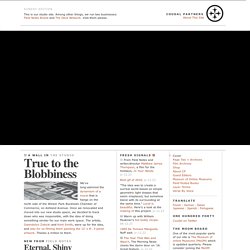 Even the drink doesn't seem to have cheered Buster up. Steve Jobs versus HAL 9000. Due to an embarrassing administrative error, the Busy Beaver Button Museum was absent from the MoOM's Permanent Collection. This situation has been remedied. "Next time you wander down the cereal aisle with your shopping cart, ask yourself this: Why on Earth are all the cartoon mascots--Fred Flintstone, Cap'n Crunch, the Trix Rabbit, and so on--staring directly at your crotch?
Coudal Partners
Links Miniblog
April 19, 2014 April 18, 2014 April 17, 2014 To Be (GIF collage community, buying prints/shirts pays the artists)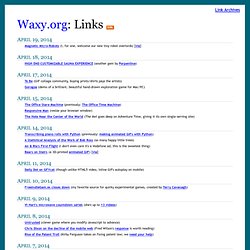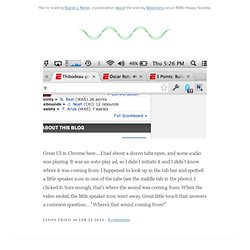 A design and usability blog: Signal vs. Noise (by 37signals)
Much intellectual capital is spent examining the logical advantages and disadvantages of our programming tools. Much ego invested in becoming completely objective examiners of productivity. The exalted ideal: To have no emotional connection to the workbench.
Mr. Jalopy mentions that you can store the contents of the Complete New Yorker on your hard drive. (I got this link from BoingBoing.)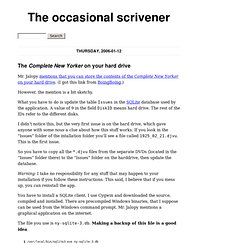 The <em>Complete New Yorker</em> on your hard drive - The occasional scrivener - Gustaf Erikson's weblog
Decisive Moments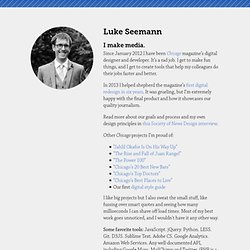 I make media. Since January 2012 I have been Chicago magazine's digital designer and developer. It's a rad job. I get to make fun things, and I get to create tools that help my colleagues do their jobs faster and better. In 2013 I helped shepherd the magazine's first digital redesign in six years.
Skinnyj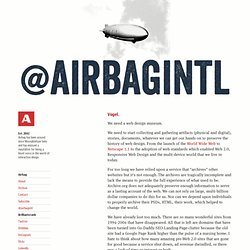 Fig. 1—The administrator panel as seen by the Airbag Dept. of Publishing There has been some lamenting about the death of blogs as of late. Ok, maybe it's been over the last year or two but it's become a lingering topic. For me, if I look behind the curtain, I really stopped writing in 2010 (see fig. 1). Honestly, thats when my personal and professional life became much, much more complicated and stressful than at any time previously. Those complications doubled and quadrupled for a number of years and thankfully they are on the decline.
Airbag Industries — Design is not superficial vanity, it's better communication.
Subtraction 7.0
Last weekend I found some time to make some tech improvements to our house which are probably only mildly interesting to most people but hey, that's why I have this blog. The headline item was probably replacing our generic thermostat with a Nest thermostat. The physical installation was easy, but I was surprised by some bugs getting the Nest thermostat to successfully connect to our AirPort wi-fi network. I routinely connect new devices without a problem, but the Nest just couldn't make it happen on its own.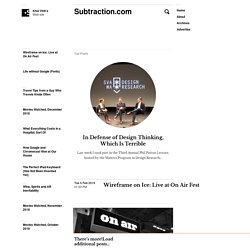 Just a Thought
Who? Working the web since 1995, Derek Powazek is the creator of many award-winning websites, a couple of which still exist. Derek is the author of Design for Community, San Francisco Stories, and has contributed to many other books. Derek is a writer and performer, leading the storytelling magazine/movement Fray.
Romantimatic — the little app I wrote to remind the distracted or forgetful to text nice things to their significant other — is a month old today. It's been an interesting month. The app has sold just over 875 copies, across a couple of dozen countries, making me about $885.
An Entirely Other Day
hello, typepad
All of these questions are variations on "Why did Yahoo! spend one-third of their cash on hand to buy a company that by all accounts is about to run out of money?" Read this post, and hopefully these questions will not need to be asked again! Why did Yahoo! make this acquisition?
In 2008 I moved to the US and within six months I'd paralysed my left arm doing something stupid in the office. For a while I didn't know if it was ever going to recover. It was one of the most disturbing experiences of my life and it happened in the most trivial of ways. I first published this piece on Medium in August 2012 and only moved it over to plasticbag.org in March 2013. If you're interested in seeing it in its original context you can do so here: On Falling Over.
plasticbag.org - a weblog by Tom Coates
Metafilter | Community Weblog
Forgotten NY