LikeKottke
Techcrunch. Federated Media - Welcome to our advertising platform. MediaShift. 1.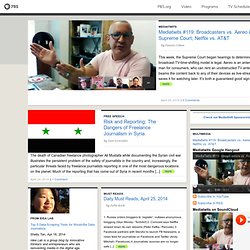 Russia orders bloggers to 'register'; outlaws anonymous blogging (Glyn Moody / Techdirt) 2. Comcast says Netflix slowed down its own streams (Peter Kafka / Re/code) 3. Facebook partners with Storyful to launch FB Newswire, a news feed for journalists on Facebook and Twitter (Andy Mitchell / Facebook) 4 Journalists' sources are no longer safe [...] more » MAKE: Blog. Cynical-C Blog. Initiative. Thursday, 20 April 2006 There's no other way for me to start this other than by firing away: Last week I left my full-time job at Joyent, for the sole reason so that I can write Daring Fireball as a full-time job.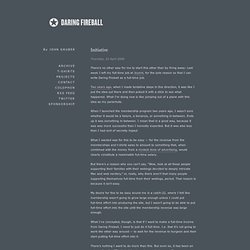 Two years ago, when I made tentative steps in this direction, it was like I put the idea out there and then poked it with a stick to see what happened. What I'm doing now is like jumping out of a plane with this idea as my parachute. When I launched the membership program two years ago, I wasn't sure whether it would be a failure, a bonanza, or something in-between.
Coudal Partners. Links Miniblog. April 19, 2014 April 18, 2014 April 17, 2014 To Be (GIF collage community, buying prints/shirts pays the artists)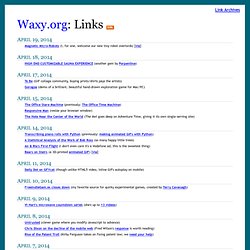 A design and usability blog: Signal vs. Noise (by 37signals) The <em>Complete New Yorker</em> on your hard drive - The occasional scrivener - Gustaf Erikson's weblog. Mr.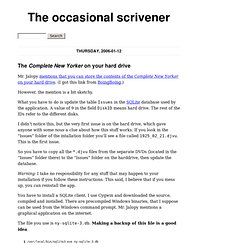 Jalopy mentions that you can store the contents of the Complete New Yorker on your hard drive. (I got this link from BoingBoing.) Decisive Moments. I make media.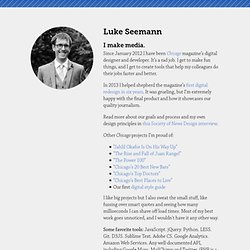 Since January 2012 I have been Chicago magazine's digital designer and developer. It's a rad job. I get to make fun things, and I get to create tools that help my colleagues do their jobs faster and better. In 2013 I helped shepherd the magazine's first digital redesign in six years. Skinnyj. Airbag Industries — Design is not superficial vanity, it's better communication. Subtraction 7.0. Just a Thought. Who?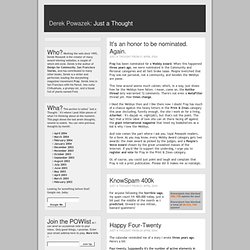 Working the web since 1995, Derek Powazek is the creator of many award-winning websites, a couple of which still exist. Derek is the author of Design for Community, San Francisco Stories, and has contributed to many other books. Derek is a writer and performer, leading the storytelling magazine/movement Fray. An Entirely Other Day. Hello, typepad. Plasticbag.org - a weblog by Tom Coates. Metafilter | Community Weblog. Forgotten NY.
---