List og menning
Other Voices: The eJournal of Cultural Criticism.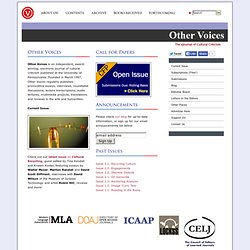 Other Voices is an independent, award-winning, electronic journal of cultural criticism published at the University of Pennsylvania. Founded in March 1997, Other Voices regularly publishes provocative essays, interviews, roundtable discussions, lecture transcriptions, audio lectures, multimedia projects, translations and reviews in the arts and humanities. Current Issue Check out our latest issue on Cultural Recycling, guest edited by Tina Kendall and Kristen Koster, featuring essays by Walter Moser, Marilyn Randall and David Scott Diffrient; interviews with David Wilson of the Museum of Jurassic Technology and artist Robin Hill; reviews and more!
ART PAPERS
Online Literature - Fiction, Poetry, Interviews | Identity Theory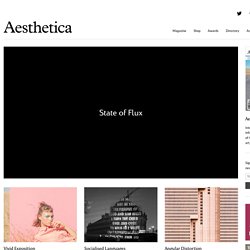 The Art and Culture Magazine: Inside Issue 56 American Dreams An overview of Jim Dow's Americana. Unrivalled Iconography
contemporary monkey //
Jon Rafman: The Nine Eyes of Google Street View 26 July - 3 September, 27 September - 7 October, 14 October - 4 November In 2007 Google sent out an army of hybrid electric automobiles, each one bearing nine cameras on a single pole. Armed with a GPS and three laser range scanners, this fleet of cars began an endless quest to photograph every highway and byway in the free world.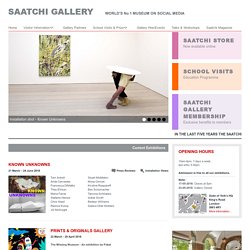 Tate Channel
LAND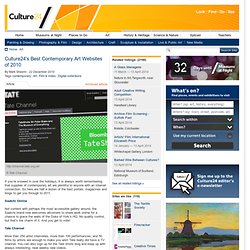 Culture24's Best Contemporary Art Websites of 2010
http://channel.tate.org.uk/© Tate Channel If you're snowed in over the holidays, it is always worth remembering that supplies of contemporary art are plentiful to anyone with an internet connection. So here are half a dozen of the best portals, magazines and blogs to get you through to 2011. Saatchi Online Not content with perhaps the most accessible gallery around, the Saatchi brand now welcomes allcomers to share work online for a chance to grace the walls of the Duke of York's HQ.
Kevin McMadden reads from his poetry, June, 2007 Sarah Arvio, A Reading from Sono, April 1, 2006 "The Virtuous Republic, A Civic Conversation," Virginia Festival of the Book, March 2006, with Mark McGarvie and Barbara Smith; Katherine McNamara, moderator.
archipelago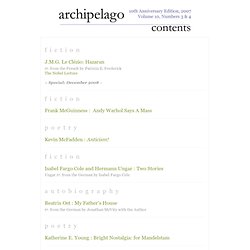 Updated daily with arts reviews
The Bridge, Series 2, BBC Four / Hinterland, BBC One Wales Jasper Rees Sunday, 05 January 2014 Why has Nordic noir been such an addictive novelty? Yes the plots are great, the locations moodily cool, the flat dialogue...