List og menning
Other Voices: The eJournal of Cultural Criticism. The New Yorker. Juxtapoz Magazine. ART PAPERS. Online Literature - Fiction, Poetry, Interviews | Identity Theory. Art Project, powered by Google. Aesthetica Magazine - The Art & Culture Publication. Contemporary monkey // Saatchi Gallery. Tate Channel. LAND. ArtReview. Culture24's Best Contemporary Art Websites of 2010. Tate Channel If you're snowed in over the holidays, it is always worth remembering that supplies of contemporary art are plentiful to anyone with an internet connection.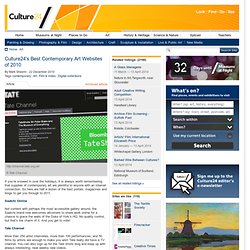 So here are half a dozen of the best portals, magazines and blogs to get you through to 2011. Saatchi Online Not content with perhaps the most accessible gallery around, the Saatchi brand now welcomes allcomers to share work online for a chance to grace the walls of the Duke of York's HQ. Archipelago. Kevin McMadden reads from his poetry, June, 2007 Sarah Arvio, A Reading from Sono, April 1, 2006 "The Virtuous Republic, A Civic Conversation," Virginia Festival of the Book, March 2006, with Mark McGarvie and Barbara Smith; Katherine McNamara, moderator.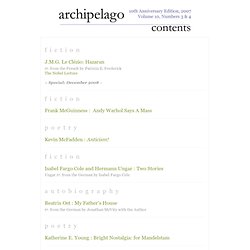 Updated daily with arts reviews.
---