Í fréttum er þetta helst
Center for Media and Democracy | Publishers of PR Watch
Access Restricted
End the Lie - Independent News | Alternative News Daily
Fight Stigma, Not the Stigmatized by David Connor / April 11th, 2014 Back in 1945, Dr. Walter Freeman struck out across America on a mission to save the mentally ill by selling his unique prescription door-to-door: transorbital lobotomy. Over his life, he executed some 2,900 of them.
Dissident Voice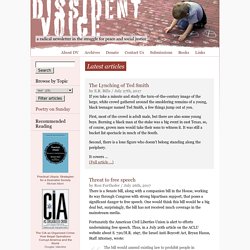 A daily TV/radio news program, hosted by Amy Goodman and Juan Gonzalez, airing on over 900 stations, pioneering the largest community media collaboration in the United States.
AxisofLogic - Activism News and Comments
Worldchanging: Bright Green
Home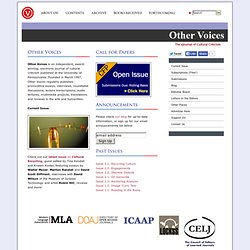 Other Voices is an independent, award-winning, electronic journal of cultural criticism published at the University of Pennsylvania. Founded in March 1997, Other Voices regularly publishes provocative essays, interviews, roundtable discussions, lecture transcriptions, audio lectures, multimedia projects, translations and reviews in the arts and humanities. Current Issue Check out our latest issue on Cultural Recycling, guest edited by Tina Kendall and Kristen Koster, featuring essays by Walter Moser, Marilyn Randall and David Scott Diffrient; interviews with David Wilson of the Museum of Jurassic Technology and artist Robin Hill; reviews and more!
Other Voices: The eJournal of Cultural Criticism.