Literatura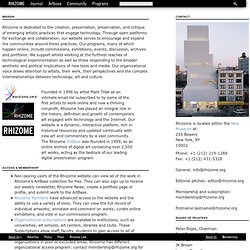 General Information
Rhizome is dedicated to the creation, presentation, preservation, and critique of emerging artistic practices that engage technology. Through open platforms for exchange and collaboration, our website serves to encourage and expand the communities around these practices. Our programs, many of which happen online, include commissions, exhibitions, events, discussion, archives and portfolios. We support artists working at the furthest reaches of technological experimentation as well as those responding to the broader aesthetic and political implications of new tools and media. Our organizational voice draws attention to artists, their work, their perspectives and the complex interrelationships between technology, art and culture.
Rhizomes » Issues Archive Issues Archive Current Issue » Rhizomes #25: Graffiti (2013)
issues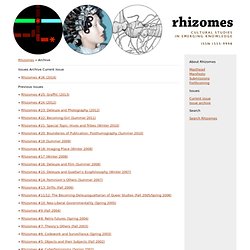 Audio / Vidéo - Littérature française moderne et contemporaine :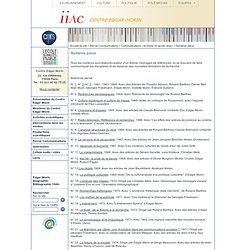 Tous les numéros sont élaborés autour d'un thème. Ouvrages de références, ils se soucient de faire communiquer les disciplines et de dessiner des nouvelles directions de recherche. Numéros parus N° 1 , N° 2 , N° 3 - 1961, 1963, 1964. Avec des articles de Theodor Adorno, Roland Barthes, Daniel Bell, Alan Blum, Georges Friedmann, Edgar Morin, Violette Morin, Évelyne Sullerot. N° 4, Recherches sémiologiques , 1964.
Centre Edgar-Morin - Numéros parus