Bads.gotta.fix.itself
Beth M
:]
Virtual reality contact lenses that beam images directly into your eyes could be on sale in 2014. Equivalent to a 240-inch 3D television from 10 feetCan layer 'augmented reality' information over worldCompany also working with U.S. army By Rob Waugh Updated: 16:02 GMT, 3 February 2012 Contact lenses which focus 3D screens directly into people's eyeballs could be on sale as early as 2014, says U.S. company Innovega.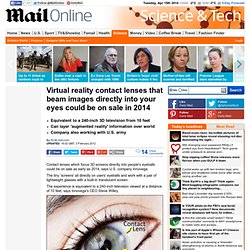 The tiny 'screens' sit directly on users' eyeballs and work with a pair of lightweight glasses with a built-in translucent screen. The experience is equivalent to a 240-inch television viewed at a distance of 10 feet, says Innovega's CEO Steve Willey. The lenses sit directly on the eyeball, and have been engineered using nanoscale techniques to work as a focusing device that pairs with a pair of hi-tech glasses. Marijuana.
Body Mods. Music. Pictures. Where You Can Find Me. Movies. Television.
Style. Bulbapedia, the community-driven Pokémon encyclopedia. • ASL • American Sign Language.
---