Tutorials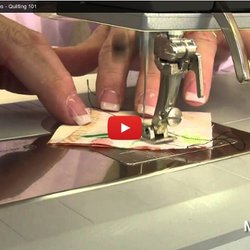 This video is currently unavailable. Sorry, this video is not available on this device. Video player is too small.
How to make Half Square Triangles - Quilting 101
How to Apply Ric Rac with Holly Holderman of Lakehouse Dry Goods
How to: sew four-patch quilt blocks (two at a time)
Color Bars Quilt
I've had the pedal to the metal all last week stitching up this star top. I used the wonky star tutorial here but instead of giving my stars wonky points I did even ones. I added the wonkiness when I placed the blocks into my quilt instead (does that make sense?), just to ring those ch-ch-changes. I'm liking how the colours played out in this one, it started out as a *****massy quilt but I think it turned out with a bit more year round useability than I thought it might.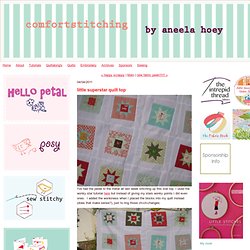 little superstar quilt top - comfortstitching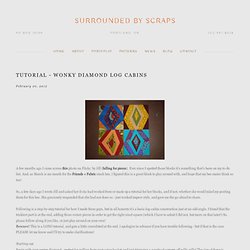 Tutorial - wonky diamond log cabins — Surrounded by Scraps
A few months ago I came across this photo on Flickr, by Jill (falling for pieces). Ever since I spotted those blocks it's something that's been on my to-do list. And, as March is my month for the Friends + Fabric stash bee, I figured this is a great block to play around with, and hope that my bee mates think so too! So, a few days ago I wrote Jill and asked her if she had worked from or made up a tutorial for her blocks, and if not, whether she would mind my posting them for this bee.
Free Project: Wonky Cottage Lap Quilt from Stash Happy Patchwork!
Wonky House Quilt Block Tutorial
Happy Valentine's Day! (OK, now that we've gotten that out of the way...) I have wanted to make a "Wonky House" block for quite a while- I think they are so cute and fun! I have made just two blocks so far- I just LOVE how they came out!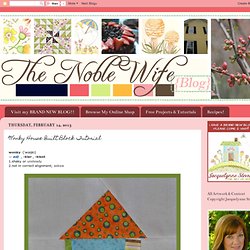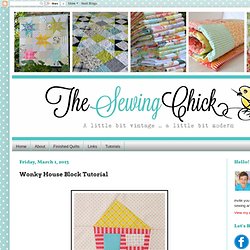 Wonky House Block Tutorial
It's good to be Queen!! As in the queen of my hive for the Newbee Quilters at Threadbias. I am asking my busy bees for a wonky house block so what better time to put up a tutorial.
City Windows Table Runner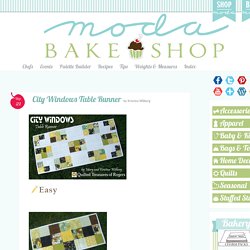 Finished Size: 14" x 30" Seam Allowance: 1/4" unless otherwise stated We are very excited to be sharing our first recipe on the Bake Shop! City Windows is a versatile runner that works great with any fabric style. We love it because it requires just one charm pack and an additional 1/2 yard of fabric to complete the entire project: front, back and binding! You'll want to keep this pattern on hand as you check out all the new Moda lines.
Bernina Video - Bite-size Quilting (with Nina McVeigh and Jennifer Gigas)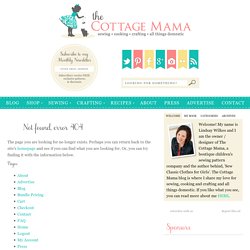 In case you missed my tutorial in , I wanted to share my Laptop / Kindle/ I-Pad Sleeve Tutoiral with you. Gift giving season just around the corner and what better way to show someone you care than with a custom laptop sleeve. This pattern can be made for any size laptop, Kindle, or I-Pad by adjusting the measurements accordingly. I used girly fabric here, but you could definitely make this more "manly" by using a more masculine print or perhaps even some wool suiting material.
Sometimes the patterns for quilts blocks lend themselves to glass panels quite nicely. In addition, its fun to have your fabric quilt accented by a stained glass panel hanging in a nearby window. Almost all quilt blocks can be customized for stained glass. These quilt block patterns can be made either way or both, or can be used for stencils.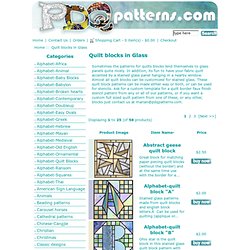 Quilt and stained glass coordinated patterns
Summer runner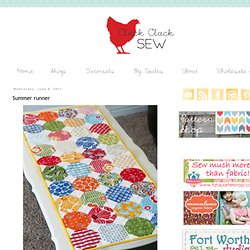 I finally dusted off my sewing machine and made this summery table runner for a gift using a charm pack and a half yard of white fabric. The fabric is Treasures and Tidbits. To make this quick runner cut 160 squares 1.75" x 1.75", and pick out 40 – 5" squares or use a charm pack.
This simple 6 inch by 9 inch (finished size) block was influenced by the proportions of the golden rectangle. It showcases the fabrics used and/or the quilting design. It's quick and easy construction makes it a good choice for a last minute gift or a quilt-in-a-day project. For the June 2011 Block Lotto, we are making blocks in an analogous colorway of green-blue-violet, including one green, one blue and one violet fabric in each block.
Free Patterns from Sophie Junction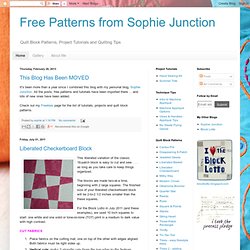 Oh, hi. I haven't been here in...oh...almost a year. There is a good reason for it.
sarah stitched
Quilts + Color
I had a wonderful day yesterday. My friend Robbie Payne came over and I got to see all her latest work. It is fantastic. Unfortunately I didn't take any pictures but you can see her work on her blog. We went up to the clubhouse where Nancy Burkhalter already had our table for lunch.
I Dance in Circles
Making this quilt felt a little bit like dancing. It is full of color and movement, and just the right touch of sexy. But don't be scared of all those curves; I assure you -- not a single pin or template was used in their construction.
Miter Binding at a Corner of the Quilt Fold the unsewn tail of quilt binding straight up, positioning it so that its right edge is parallel with the next side of the quilt to be bound. Coax the lower edge of the strip to form a 45-degree angle (top left illustration). Fold the binding down, leaving the top of the fold flush with the edge of the quilt top behind it and its raw edge aligned with the next side of the quilt.
Quilt Binding - How to Sew Mitered Quilt Binding - Quilt Binding Instructions
I'm so blown away by all the wonderful comments on my string quilt, now aptly named 'Kaleidoscope' (many thanks to Kerri who was the first to suggest it, followed by 9 others of you who had the same thought!) I think it's just perfect. And now, a quick tutorial – I had a few requests for a tutorial on making this type of quilt, so I figured I'd oblige (it's the least I can do, right?). This shows the paper piecing method, which is my preferred method. To start, you'll want to decide on the size of your blocks. For the Kaleidoscope quilt, my blocks were 11″ square.
Japanese Lantern
Binding Tutorial
Free Quilting Tutorials
Tube Tutorial - How to Quilt
How to Make a Coffee Mug Organizer
Free Quilting Tutorials
Tuesday Tutorial: Accurate 1/4″ Seam Allowances | McCall's Quilting Blog
Ryan Walsh Quilts, Modern Quilts, Sewing, Home Decor, Fabric: Bundles of Joy Quilt { A Tutorial }
A Sewing Journal - A Sewing Journal - Quick Baby Shower Quilt How-To
Attempting Applique - 7 Layer Studio
I Dance in Circles
Wonky RWB Rails
Pat Sloan Demonstrates Fusible Applique Techniques - 2013 Fall Quilt Market
Paintbox Quilt Along
Adding Mitered Border to a Quilt
Tube Tutorial - How to Quilt