Crochet
The Case for Crochet Hooks Crochet Pattern
Welcome to Crochet Pattern Central--an often updated online directory featuring precisely 19,691 links to free crochet patterns and tutorials. Choose from 90+ categories, including clothing, afghans, doilies, baby items, bags and totes, potholders, toys, stuffed animals (including amigurumi), and so much more. Begin browsing by category at the Free Crochet Pattern Directory or by keyword using CPC's site search feature:
Jump to:Parts of a Crochet Hook | Materials | Specialty Hooks | All About Hooks, Part 2 - Hook Sizes All About Hooks, Part 1 - General Info© 2012 Sandra Petit, http://www.crochetcabana.com Buying hooks can be confusing. Did you know that there are dozens of different kinds of hooks? I'm going to take some time to show you a few. I'm sure I will just touch the surface of this subject, but at least it will be a start.
Hooks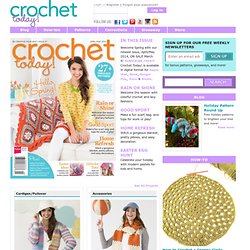 Welcome!
Welcome Spring with our newest issue, April/May 2014, ON SALE March 4! SUBSCRIBE TODAY!Crochet Today! is available in digital format for Apple iPad, Nook, Google Play, Zinio & Kindle.
Free Crochet Patterns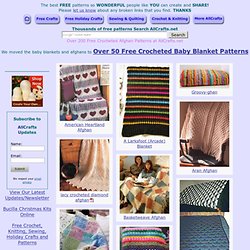 The best FREE patterns so WONDERFUL people like YOU can create and SHARE! Please let us know about any broken links that you find. THANKS Thousands of free patterns Search AllCrafts.net Over 200 Free Crocheted Afghan Patterns at AllCrafts.net
I saw this bag and it totally drove me crazy! For days! Can you imagine? As alluring as it could be, I had to restrain myself from placing another order to Knitpicks. They have some really wonderful wool yarns that are so soft and easy to crochet.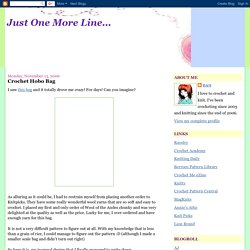 How to Do the Cluster Stitch The cluster stitch is made up of a number of stitches* that are half closed, then joined together as described below. *The number of stitches varies from pattern to pattern.
How to Do the Cluster Stitch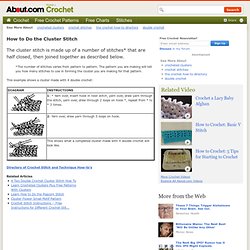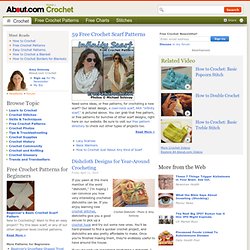 Crochet Dishcloth - Photo © Amy Solovay If you yawn at the mere mention of the word "dishcloth," I'm hoping I can convince you how very interesting crocheted dishcloths can be. If you enjoy learning new crochet stitches, dishcloths give you a good excuse to pick up a crochet hook and try out some new ones. You'll be hard-pressed to find a quicker crochet project, and dishcloths are also pretty affordable to make. Once you're finished making them, they're endlessly useful to have around the house. If you haven't yet considered crocheting a dishcloth, I hope you'll give it a try.